Hammer thrower Hunter makes Commonwealth Games standard
Last updated on .From the section Commonwealth Games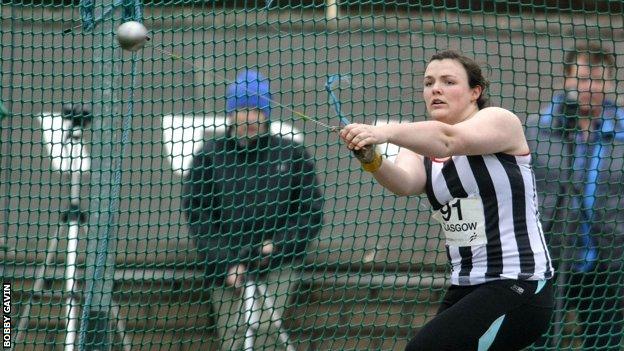 Ayr-based Rachel Hunter recorded the third-longest hammer throw ever by a Scottish woman at scottishathletics' Spring Throws event on Sunday.
Her throw of 62.76m cleared the 61m standard for this summer's Commonwealth Games, with another Games-standard throw still required for selection.
Shirley Webb and Susan McKelvie are the only Scotswomen to have thrown the hammer further.
Hunter, 20, is coached by Scottish record holder Chris Black.
"It was a wee bit surreal on Sunday because a week earlier I had treatment for a sore back and wasn't sure if I would compete," she said of the Grangemouth event.
"To get a standard is great and it has given me a real confidence boost. Suddenly I am thinking about getting the second one and the Games could be a reality.
"I feel as if the distance is there inside me - I just need to throw it out now.
"I've put my studies in nursing on hold a bit this year to try to chase the Commonwealth Games.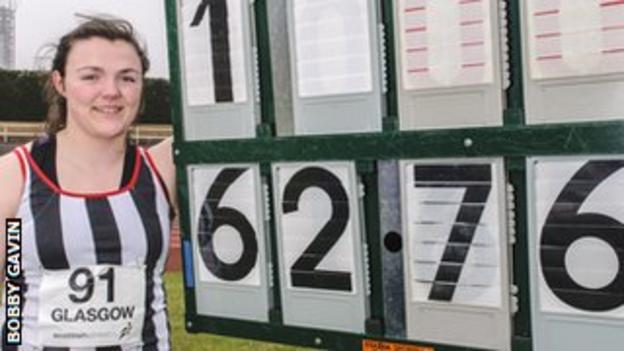 "Chris Black has been great. We train sometimes in Edinburgh and quite a lot at Kilmarnock. I will graduate now in December 2014 rather than September.
"Training is hard work but I love it. Chris and I were a little worried about peaking early season because last summer it took me until September to reach my best throw - 9cm short of the standard. So to get this in March is very encouraging."
Myra Perkins came close to a qualifying standard with her best throw of 60.69m auguring well for the season ahead.
She tweeted: "It is my third best throw ever and just 31cm away from that magical 61m distance. And it is only March. Bring it on!'
Kimberley Reed, who has an eye on the World Juniors standard of 60m, was close to that mark with a personal best of 59.84m.