Rhythmic gymnastics & squash places confirmed in Scottish team
Last updated on .From the section Commonwealth Games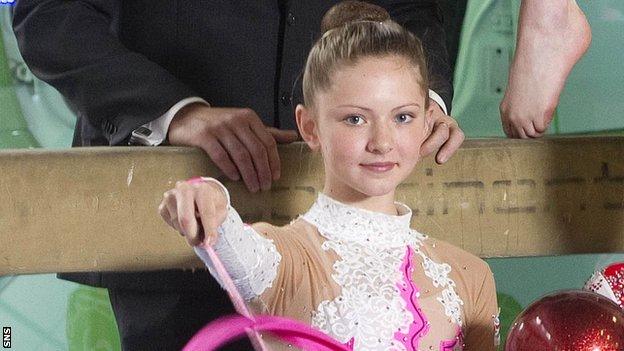 Team Scotland has confirmed its competitors in squash and rhythmic gymnastics for the Commonwealth Games.
In squash, Greg Lobban, Kevin Moran and Stuart Crawford will compete in the men's event, joining Alan Clyne and Harry Leitch at Glasgow 2014.
The women's team had already been confirmed as Frania Gillen-Buchert and Alexandra Clark.
And, in rhythmic gymnastics, Lauren Brash, aged 15, Rebecca Bee and Victoria Clow get the nod.
Brash is the youngest member of Team Scotland.
The inclusion of Lobban, Moran and Crawford in the team means disappointment for Douglas Kempsell and Lyall Paterson, who had also been under consideration.
Moran, 23, is ranked 136th in the Professional Squash Association World Tour.
And, speaking to BBC Scotland about his potential inclusion in Team Scotland last week, he said: "We are all very keen and representing our country is probably the best thing that any of us would ever do.
"But the main aim for us is to get a medal so, whoever is picked, we'll be helping them, because that's what it's all about at the end of the day - winning for Scotland."
Lobban, who is 75 in the rankings, and fellow 21-year-old Kempsell had also emphasised the need to support whoever did get picked.
Crawford, 33, is assistant national coach as well as partnering Lobban in the doubles.
Scotland's Commonwealth Games squash team
Alexandra Clark, Alan Clyne, Stuart Crawford, Frania Gillen-Buchert, Harry Leitch, Greg Lobban, Kevin Moran
Scotland's Commonwealth Games rhythmic gymnastics team
Rebecca Bee, Lauren Brash, Victoria Clow