Glasgow 2014: The Jamaican university that changed athletics
By Graham Fraser
BBC Scotland
Last updated on .From the section Commonwealth Games
As the Queen's Baton Relay spent this week in Jamaica, the preparations of one of the most talked-about nations that will appear at the Commonwealth Games were put into sharp focus.
The visit of the baton to the Caribbean coincided with some negative headlines for the island, with news that Asafa Powell - a former 100m world record holder and Olympic gold medallist - was banned for 18 months for failing a drugs test.
Powell was suspended along with fellow Jamaicans Sherone Simpson, an Olympic 100m medallist, and discus thrower Allison Randall. Powell and Simpson have indicated they will appeal.
Looking beyond the current troubles, how did an island of just under three million people come to be one of the leading nations in world sprinting?
One key element is the introduction of a home-based athletics programme that has been refined over the past 40 years.
"What we have is a system," says 62-year-old Anthony Davis (pictured above right), a former Jamaican sprinter and one of the leading sports administrators in the country.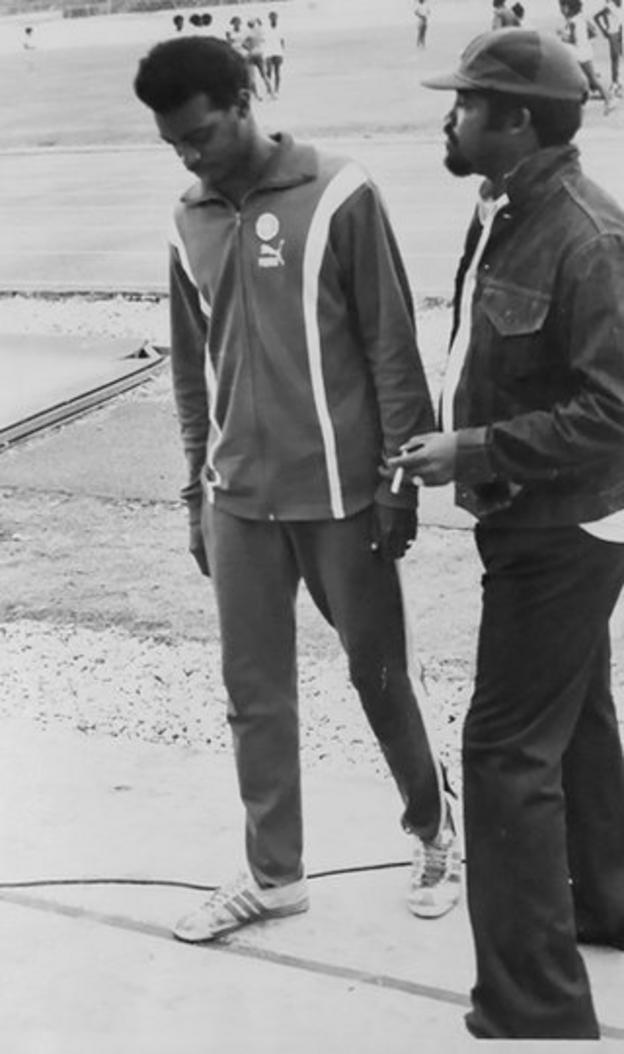 "It is our system that is producing the results."
To understand that system, Davis believes we have to go back to the late 1940s and the days of Olympic medallist Herb McKenley.
Jamaican athletes were growing up through the prestigious high school 'Champs' before moving to America to pursue their careers on the track and to escape poverty.
Dennis Johnson, a former 100 yards world record holder, was one of them. The Olympian was at San Jose State University and was taught by "Bud" Winter, one of the most celebrated coaches of all time.
When his time in the US ended, Johnson headed back to Jamaica with the dream of developing world class athletes at home.
In 1971, he started a programme at the College of Art, Science and Technology (Cast) in Kingston with the support of its principal Dr Alfred Sangster.
Johnson started training with 10 athletes, including a 20-year-old Davis, who had never run before, and introduced them to sprinting techniques that were unknown in Jamaica.
"'Bud' Winter was a master coach," reflects Johnson, now 75. "I decided to come back home and bring his methodology to training sprinters in Jamaica.
"Herb McKenley coached me in high school. What he did when he came back to Jamaica was spread the gospel of track and field. I just wanted to be like him."
One of the key elements for Johnson was the theme of relaxation in sprinting.
He adds: "If you ever watch the 100m, the guy who is winning is relaxed. The guys who are second/third are very stiff. They are working very hard, but they still come in second. If I tell you to stop running after 60 or 70 metres, they say: 'Come on Mr Johnson, are you crazy, I am trying to win this thing'.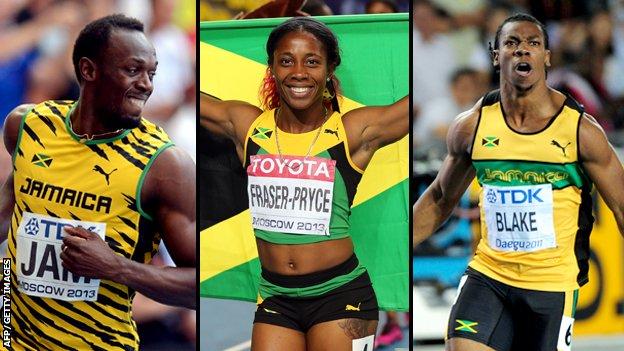 "But the truth of the matter is after 60 [metres] you can't increase speed."
Johnson's programme at Cast began to grow. Athletes from the college competed in the 1973 CAC Games, 1975 Pan Am Games and two - including Davis - took part in the 1980 Olympics. By the mid-1980s, Cast was offering sports scholarships.
Jamaicans were realising they didn't have to travel to the US to become the best. Cast achieved university status, becoming the University of Technology (UTech) in 1995.
In the late 1990s, Johnson entered a partnership with Stephen Francis and the MVP Track and Field club in Kingston, which was also interested in training adult athletes. The relationship between the organisations grew and, in the words of Davis, UTech became "a nursery for MVP".
MVP is now one of the leading clubs on the island. According to the university's research, three UTech students and a further four from MVP won medals at the Beijing Olympics. Athletes involved with the organisations include six-time Olympic champion Usain Bolt, Olympic (100m) and world (100m and 200m) champion Shelly-Ann Fraser-Pryce and two-time Olympic 4x100m relay champion Nesta Carter.
Davis, a former director of sport at UTech, says: "It is fair to say that without the home-based system, we would not be as dominant a force as we are.
"What the system before produced was individuals at intervals who ran well.
"There was always one Jamaican who would run well and medal at the Olympics. But the home-based programme has been able to produce many people who are dominant. The difference is the frequency of which the medals are won.
"When we went to Beijing, we completely dominated all the sprint events."
When you marry the success at UTech with the vibrant Jamaican inter-schools championships, the four universities and colleges in Jamaica that now offer sports scholarships, and the prominence of the Racers Track Club, the success of Jamaican athletes trained at home looks set to continue.
Davis adds: "Without that collegiate programme, there would be nothing. It has provided inspiration for many poor Jamaicans. If Shelly-Ann is from the ghetto and she can do it, then I could do it too."
Johnson, meanwhile, looks back on his coaching career with a great deal of satisfaction.
"Anthony was the one that allowed me to think that you can make most people run faster," he says. "He was the first person to go under 21 (seconds in the 200m) in Jamaica.
"I had the only club in Jamaica where you would train adult athletes. There was incremental improvement as we went along. Now, I would say we are the best in the world.
"It is a fantastic feeling. It took me almost 30 years - coming from scratch, moving along and now the method of sprinting is all over the country."
Jamaica will be one of the biggest draws at Glasgow 2014.
The Games are fast approaching and organisers will be hoping the Jamaican global superstars Bolt and Blake will join Fraser-Pryce and Kimberly Williams in Scotland to set new Commonwealth records and provide sporting memories for millions.
Davis, who is studying a PhD at the University of Glasgow focusing on the legacy of athletics, will work as a liaison for the team when they reach the city. Like many others, he awaits to see if Usain Bolt will compete.
"The Commonwealth Games in Glasgow is fortunate that there are a lot of athletes who are looking around and saying 'in my collection, that is the medal that is missing and I want to come to Glasgow to get that medal'.
"Usain would boost interest. I want to see all our ambassadors here having a good time. Almost any athlete we send is capable of winning."
It is hard to argue against that.