Glasgow 2014: Cydonie Mothersill on changed priorities as a mum
By Graham Fraser
BBC Scotland
Last updated on .From the section Commonwealth Games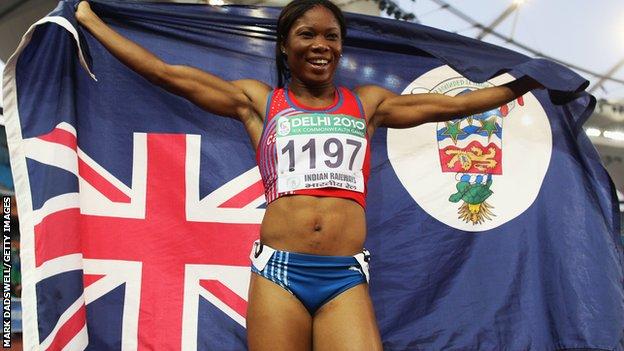 The life of every woman changes forever when her baby is born. For the likes of Cydonie Mothersill, striking the balance between being an elite athlete and a mother is just one of many challenges.
The current Commonwealth 200m champion, Mothersill, 36, has ruled out defending her title in Glasgow after she gave birth to a daughter last year.
The Cayman Islander, who won a bronze medal at the 2001 World Championships over the same distance, has joined retired Scottish sprinter Lee McConnell in deciding to give the Games a miss following a new addition to the family.
With 100m champion Natasha Mayers saying she hasn't the funds to get to the Games, it now looks like both the 100m and 200m women's sprint titles will have new champions in Glasgow.
Mothersill beat McConnell into fifth place as she won her Commonwealth gold in Delhi four years ago, the only time a Cayman Islander has won gold at the Games.
"I empathise more with [McConnell] as the Games are in her home town," Mothersill said.
"To not be able to be there, I am sure is quite crushing, but I do understand the pressure."
Mothersill thinks the physical changes of becoming a mother are a big challenge for elite athletes.
"Your body goes through something that you have never experienced before. Women in sports push back when we have children because it does affect you - it does take a while to come back," she added.
"If you are a bit older, it is even more challenging.
"I have never been the type of competitor to go to any competition because I could. I want to be in the finals, I want to be on the podium.
"I want to represent my country to the best of my abilities and there will be no way I can do that for these Commonwealth Games.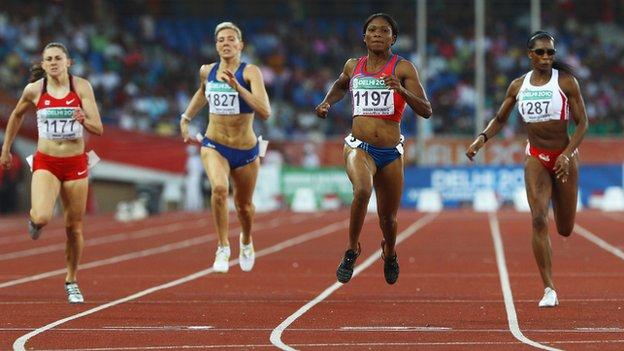 "I wouldn't want to go there and be knocked out in the first round. It would be quite embarrassing."
Mothersill, who is married to former Trinidad and Tobago sprinter Ato Stephens, gave birth to daughter Sophie 10 months ago.
Sophie was born prematurely, at only five and a half months, but mother and child are both well, and Mothersill is now pondering what the double life of elite athlete and parent would demand of her.
"Had it been a normal pregnancy for me, I would have jumped back into it," she added.
"I think when you become a mum, it changes your outlook but my experience changed me further.
"She changed my goals. Before I was pregnant, it was only me that I was responsible for.
"It has changed how I look at life. I haven't been at the place where I think I need to come back yet."
She also had these words of advice for Jessica Ennis-Hill, Britain's Olympic heptathlon champion, who announced her pregnancy in January.
"Enjoy being pregnant," said Mothersill. "It is such a special moment. I am sure she will come back.
"There will be other Commonwealth Games. I wish her all the best."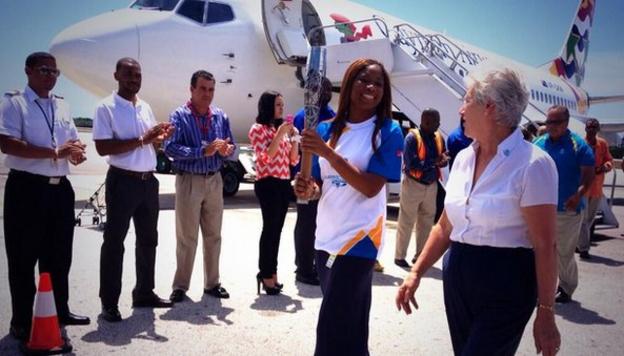 Mothersill started her athletics career after taking part in a school sports day in the Cayman Islands.
Her PE teacher, Evelyn Rockett, was also involved in the national athletics set-up and encouraged her in those early days.
Mothersill said: "I wasn't very interested. I wanted to go where my friends were going, and be involved in sports that my friends were but she was quite persistent in finding me, wherever I was, if I didn't come to practice."
Rockett's persistence paid off. Mothersill fell in love with sprinting and, like many other Caribbean athletes, saw her skills on the track as a way to leave home and enter the US college system to gain higher education.
Mothersill was awarded a scholarship from Clemson University in South Carolina and stayed in the US following her studies, training in Texas, Alabama and then Miami. She returned to the Cayman Islands in 2010.
Apart from her Commonwealth triumph and World Championships medal, Mothersill's highlights include an eighth place in the final of the 200m at the Beijing Olympics, and .she believes she has more to give before she follows in McConnell's footsteps and hangs up her spikes for good.
In the meantime, she hopes to come to Glasgow as a supporter and cheer on her fellow athletes from the Cayman Islands. She had the honour of being a baton bearer as the Queen's Baton Relay passed through the Caymans earlier this week.
For the Commonwealth Games, her decision not to compete means a new chapter for female sprinting will be written in the city.
Jamaican double Olympic 100m champion Shelly-Ann Fraser-Pryce is now the red-hot favourite. But when is sport ever that simple?