Queen's Baton Relay: Canada's Sourisseau expects 'tough' Games
Last updated on .From the section Commonwealth Games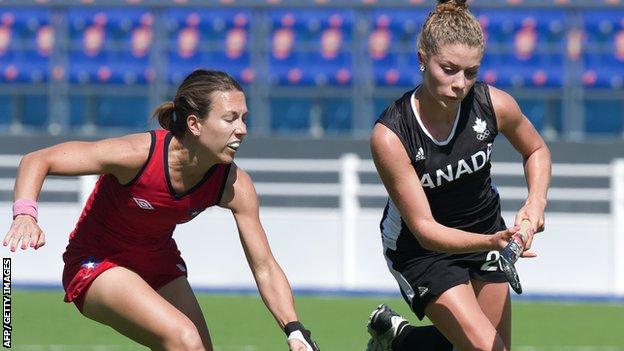 As the Canadian women's hockey team visit the UK to play their final warm-up matches, Gordon Cairns talks to one of their star players about their hopes for Glasgow 2014.
Room 120 in the Holiday Inn in Maidenhead the morning after a heavy defeat thousands of miles from home may seem an inauspicious venue in which to be following the dream of a Commonwealth medal.
For Canadian hockey player Natalie Sourisseau, it is experiences like this which will help build herself and her team.
She explains that it is only through long-distance trips like this that the team will improve.
"In Canada, we don't get a chance to test ourselves against the top teams," says the 21-year-old.
"Therefore when we play against overseas teams this really does help us progress, which means we will be way better for the next one."
Although despondent after losing the previous day against England, the combative midfielder still finds positives in her team's performance.
"It's been tough," she continues.
"We lost 6-1 and we could have played a lot better, but it's great to play against a team like England who are so talented.
"I think we have learned a lot about how we need to improve our game."
The Canadian women are in the United Kingdom to prepare their young squad for the upcoming Commonwealth Games, with a series of challenge matches against England and Wales.
The team's preparations were pulled into focus with the arrival of the Queen's Baton Relay in Canada.
A measure of their youth can be gauged by Sourisseau's team mate Abigail Raye earning her hundredth cap in the first match of the series at the age of 22.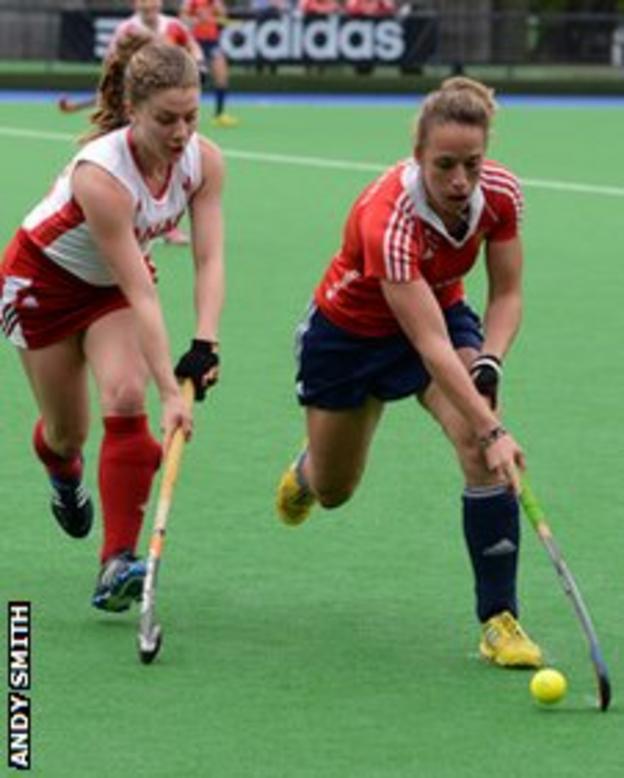 Ranked 23rd in the world, the Canadians have to be considered outside bets for the Games, competing against three of the top five hockey nations in the world - England, Australia and New Zealand.
However, they do have recent medal-winning experience at a tournament.
Sourisseau's proudest moment in the sport was coming third in last year's Pan American Cup, beating Chile 2-1 in the play-off match in Mendoza, Argentina.
It was their first bronze medal placing in almost 10 years.
Sourisseau sees the Commonwealth Games in Glasgow as more of an important learning experience for a team bedding in a crop of talented young players.
She explains: "Any chance we get to play against the top five nations in the world not only allows us to continue bench-marking our game but it also gives us a chance to test ourselves in a tournament setting where the goal is to win a medal.
"It's hugely important. And there are some fabulous teams going."
Then Sourisseau utters a phrase which best sums up her attitude to her sport.
"It will be tough but it will be really good for us," she says.
The necessary grind of touring is something that Sourisseau has got used to. She has already played 51 times for her country in the four years since she stepped up from junior level.
This involves three or four trips abroad a year for a couple of weeks at a time. She has had to fit her studies in Kinesiology at the University of British Columbia, from which she graduated earlier this year, around hockey.
"I wanted to finish my degree in the normal four years so it was a heavy load," she says.
"You just have to take a lot of classes when you come back from trips abroad and manage while you are away."
Sourisseau claims that the team's motivation stems from a love of hockey and a determination to compete in the top tournaments.
She says: "You have to be dedicated, especially when you're 23rd in the world, as you don't have the flashes of excitement of going to the Olympics.
"So you definitely have to love the sport to be playing it and remind yourself why you play the game."
Her ultimate goal is to compete in the Olympics, a competition Canada hasn't qualified for since 1992.
"The Olympics is where we want to be and what we train for every day," she states emphatically.
"We have a really young team; that is what he have to hold onto to, to give us hope in the future."
Follow the progress on the Queen's Baton Relay as it makes the journey around the Commonwealth ahead of the Games in Glasgow this summer.