Glasgow 2014: The Jersey siblings throwing for gold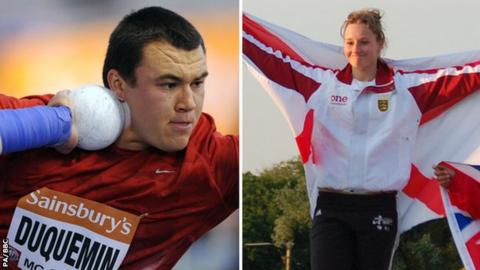 Jersey's Commonwealth Games athletics team will have a family feel as a brother and sister aim for discus medals.
Zane Duquemin is the number one-ranked discus and shot put thrower in Great Britain, while his sister, Shadine, is hoping to make the final.
The pair have come up through the island's athletics club's youth ranks and both for Jersey at the 2011 Island Games in the Isle of Wight.
"If the standard's the same as last time, then I'll be hoping to be in contention for medals," Duquemin, who will compete in both the shot put and discus, told BBC Channel Islands.
"I'm looking to go there and hopefully throw 20 metres in the shot, which would have been enough for a medal last time, and wherever that leaves me I'll be happy.
"I'll try and get close to 63 or 64 metres in the discus and that would have got me a silver medal last time," added 22-year-old Duquemin, who throws for Shaftsbury and Barnet Harriers.
His sister Shadine, 19, has thrown the fourth-longest distance of any British discus thrower this year, but is realistic about her chances of getting a first Commonwealth Games medal in any sport for a Jersey athlete since 1990.
"I'm still quite young in the field for throwers, so I'm hoping to go out there and get experience, make the final and get in the top eight.
"I feel like a bit of an underdog because I am so young.
"No-one expects me to do anything so if I do it'll feel like it's a bonus," she said.
Zane was selected by Jersey's Commonwealth Games Association to accompany Olympic diver Tom Daley to bring the Glasgow 2014 baton ashore in Jersey earlier this week, and is arguably Jersey's best hope for a medal.
The island last made the podium in Auckland in 1990, when Colin Mallett won gold in the individual fullbore shooting before teaming up with his father Cliff to take bronze in the pairs.
And Duquemin says he has dedicated his life to try and get to the top of his sport since taking it up at the age of 12.
"It's a lifestyle choice, it's not just a sport," he said.
"Your whole life does revolve around it, you've got to make the commitment.
"I don't view myself as the most talented, so I have to work harder than everybody else to try and close that gap.
"That's what I have to do to get to this level."