Shelley Rudman helping Jessica Ennis-Hill on baby comeback
Last updated on .From the section Athletics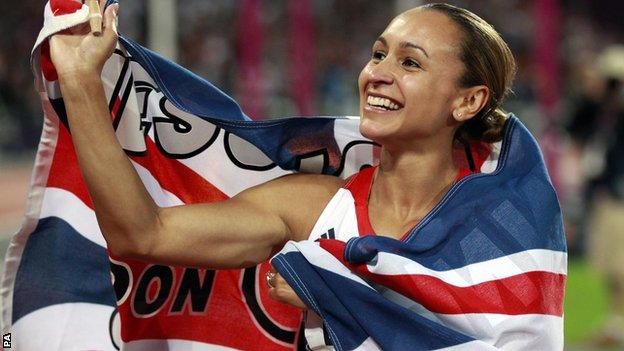 Jessica Ennis-Hill has taken advice from Winter Olympian Shelley Rudman on returning to elite-level competition after having a baby.
But she aims to be back in time to defend her Olympic title in 2016.
"It's nice to be able to speak to people who have gone away from their sport, then come back and been successful again," said Ennis-Hill.
The Sheffield-based 28-year-old added: "I've spoken to Shelley Rudman. She's given me advice on the things she was doing when she was pregnant. She came back to become world champion.
"I've taken advice from other people who have gone through it, through their events, but it's going to be very specific and individual to me. It's a journey I have to go on myself, I think.
"It's reassuring to know people can do it and have shown it's possible. But it's a huge challenge, it takes time and a lot of effort and sacrifice.
"Hopefully, come the end of next year I'll be back into the full swing of things, a full programme, pretty much as I was before."
In her absence, Ennis-Hill believes Katarina Johnson-Thompson has an "excellent chance" of winning Commonwealth Games gold.
"I think she's going to be a real contender for gold," said Ennis-Hill of the 21-year-old. "She's had a fantastic indoor season. I've seen some of her scores and events and they are going really well."
Johnson-Thompson, who competes for Liverpool Harriers, finished 15th in the heptathlon at London 2012 as a 19-year-old.
She has since won silver in the long jump at the World Indoor Championships as well as gold in both the long jump and high jump at the British Indoors.
Those results have persuaded Ennis-Hill, who is still intent on competing at the Rio Olympics in 2016, that Johnson-Thompson can win in Glasgow.
"I'd love to be there myself," she said. "The next best thing, though, would be for someone else from the team to take the gold."
The Commonwealth Games open on Wednesday, 23 July.