Glasgow 2014: New Zealand aim for more rugby sevens gold
Last updated on .From the section Commonwealth Games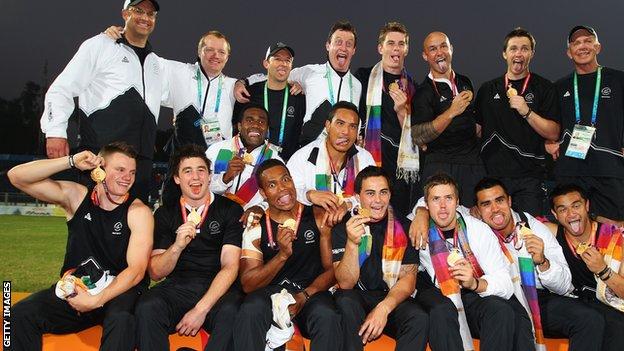 New Zealand rugby sevens captain DJ Forbes hopes the team's "brutal" training regime under coach Sir Gordon Tietjens can propel the All Blacks to a fifth straight Commonwealth Games gold medal in Glasgow.
The Kiwis have not lost a single match since the sport was introduced at the Games for the first time in Malaysia in 1998.
At the helm for all four gold medal successes in Kuala Lumpur, Manchester, Melbourne and Delhi, and in charge again this summer, is Tietjens, a coach with a formidable reputation for pushing his players to the limit.
"His methods are old school - 'brutal' is one of the words I'm sure a lot of people will agree with," Forbes, a gold medal winner at the 2010 Games, tells BBC Sport.
The 2014 tournament in Glasgow will be played at Ibrox Stadium over the weekend of 26 and 27 July, with New Zealand in the same group as hosts Scotland, Canada and Barbados.
Unsurprisingly Tietjens, 58, is demanding another gold as his side look to extend their long, unbeaten Commonwealth Games run.
New Zealand are world champions in the 15-a-side form of the game, but Tietjens claims his sevens side is the fittest rugby team in the country.
"It's fair comment that I'm quite hard, but I also believe I'm quite fair," he said.
"The condition levels required for rugby sevens are different to a 15-per-side game. In a 15-per-side game it's all about defence and there's not a lot of space.
"The guys who play sevens are all athletes. They're the fittest rugby players in New Zealand. They train so hard and you've got to have that type of commitment if you want to be successful."

More than 40 sevens players to have featured for Tietjens have gone on to play 15-a-side Test match rugby for New Zealand.
His efforts were recognised when he became the first sevens coach to be inducted into the International Rugby Board Hall of Fame.
"I've got a management team that works very hard," Tietjens added. "We go out and do our training early in the morning and the players know that. We live with what the players have to live with and make the same sacrifices. The team is everyone - the players and management.
"We find that every team that plays New Zealand goes into a game saying 'we've got nothing to lose'. So we treat every game like a final.
"I asked my players what drove them to gold in Delhi and they all said the same - they didn't want to be the first New Zealand sevens team to lose at a Commonwealth Games.
"The Games have been good to us and coming up in Glasgow the challenge for us is to get out there and hopefully win a fifth gold medal."