Alistair & Jonny Brownlee: Brothers battle to regain triathlon supremacy

By Tom Fordyce
Chief sports writer
Last updated on .From the section Commonwealth Games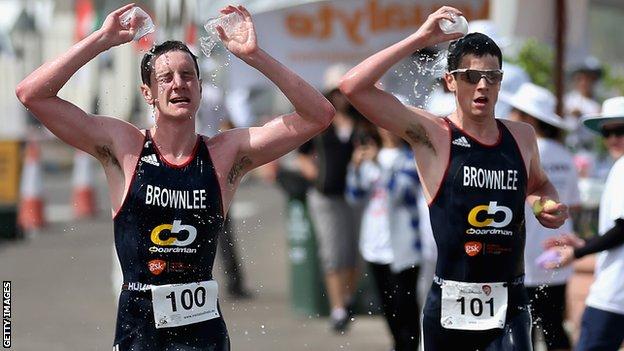 Who should be surprised that two such stalwart Yorkshire lads as Alistair and Jonny Brownlee feel a little ambivalent towards London? The capital has no Dales to pedal up, no Semerwater to swim in, no fells to run. And don't get any Leeds native started on the size of the fish and chip portions.
Yet London has defined them perhaps more than any other city. Both made their senior breakthroughs there. Both destroyed their rivals on its roads en route to becoming world champion. Both have ended races there collapsed on stretchers, and both, memorably, stood on the Olympic podium in that golden August fortnight two summers ago.
Now, as they prepare to return to Hyde Park once again for this weekend's critical World Series race, old ghosts are rattling their chains. Memories resurface. And even the happiest times have their weight.
"It's been a place of extremes," says Alistair. "I've had three of my best races in London and two of my very worst.
"In 2009 I basically won the World Series there. A year later I can't remember anything about the race until I woke up in a hospital bed covered in ice, with a thermometer sticking out of somewhere it shouldn't have been.
"And the Olympics… we can't escape it. We go back to London all the time, for events and dinners, and the Olympics is always there.
"We run round Hyde Park probably 10 times a year, and it's a constant reminder. You literally run up the finishing straight of an Olympic Games. In how many other sports can you do that?"
"The Olympics was incredible," says Jonny, stretching out on a bench in a leafy Leeds suburb, training done for the day, refuelling eagerly anticipated. "But I'm not sure I like going back. I like to do something and leave it behind.
"That day… I don't want to spoil it. To go back to Hyde Park, no matter how good a race, can never be as good.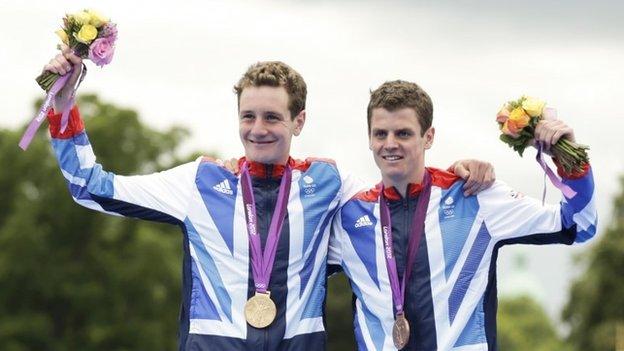 "When we travel down, we take the same train from Leeds, we stay in the same place. We do the same training run round Hyde Park, and the same cycle around Regent's Park, because there's nowhere else to go. We want to leave the Olympics behind."
"The support we get in Hyde Park is incredible, and the venue is great," says Alistair. "But I've never really got on with the course. Maybe it's because it's always more stressful, because of the pressure. There's always a sense of expectation, every time we both race."
If they felt the weight before - going into the Olympics as gold medal favourites; coming back a year later with the world title within reach for both of them, only for great rival Javier Gomez to poop the patriots' party - there is a new kind of pressure this weekend.
The Brownlees have been unsually fallible of late. In the three World Series races so far this spring, Gomez has emerged victorious every time. Jonny could not hang on to him on the run in Auckland or Cape Town. Alistair, a calf problem this season's inevitable injury issue, could not even compete.
Then, when all three did line up, a fortnight ago in Yokohama, the impossible happened: not so much Gomez winning again, but neither Brownlee even making the podium.
Alistair had won a remarkable 16 of his 22 World Series events before Japan. Jonny hadn't finished outside the top three in 49 races, a run stretching back almost four years.
Is the Brownlee era of domination starting to erode? Was this just an early season blip, or is Gomez - and his compatriot Mario Mola, and South Africa's Richard Murray - not just closing in, but moving away?
Both admit to an uncharacteristic lassitude in Japan, the cumulative result of both heavy training and constant travelling.
There are two approaches athletes can take on such a globe-hopping circuit as the World Series: fly out to a venue a fortnight in advance, giving themselves a chance of getting over the jetlag, but eating into precious training time at home, or arrive late and sleep when your body wants.
The latter worked for Jonny a year ago, when he beat Gomez comfortably in Yokohama. This time it left them heavy-legged and slow of foot. Alistair too is playing his usual game of catch-up, his run training interrupted by what he calls a "freakish" month of calf pops, infected cuts and debilitating stomach bugs.
"It's one of those things where there's probably no single reason," says Alistair. "There were probably 10 things that on their own you could deal with, but all together on one afternoon on a not so good day…"
Jonny nods. "It's over-complicating things to say we need to think about changing our tactics. If we're both on form, we can run at the front of the race.
"If you have a bad day, you can look into it too much and think, 'I've got to change everything.' What I'm doing has worked 49 times in a row, so hopefully it will carry on working."
Neither is Gomez's own burgeoning streak shaking their usual equanimity, even if he has been the only man over the past five years to interrupt their hegemony, the silver to their gold and bronze in 2012, the world champion in the Brownlee interregnums of 2010 and 2013.
"He's just been solid - I don't think we've seen anything spectacular," says Alistair, without resentment. "In Yokohama, three of them raced it out until the very end. The whole race was actually pretty slow. Compared to last year, the swim and bike weren't fast at all.
"The Commonwealth Games are massive for us, bigger than the World Series. So we don't want to come out flying in April and May, because we want to win a medal in late July. That's not something Gomez has to worry about.
"In the three years from 2009, I didn't really start racing properly until Madrid in the first or second week in June, which was the first World Series race you could take seriously.
"That's one of the things the expansion of the series has done. It makes it very tough, having a calendar all over the world. It's asking too much of athletes.
"It stops great performances," agrees his younger brother. "You can't physically do that much good training in the season now. We had three weeks between Auckland and Cape Town, and with travel either side you only end up with 10 days proper training in between.
"It forces athletes to race averagely all the way through, rather than being able to do something outstanding."
Neither of the two is superstitious. The feedback loop that dominates their lives is too simple: train hard, get fast. It's difficult to become delusional when so much of each day involves the sort of extreme and unrelenting exertion that would break most men of 24 and 26.
Yet such is the hold London has exerted that Alistair, one cold winter's night at the end of 2012, put logic to one side and decided to lay some of those ghosts to rest.
"I remember it vividly. We were in London for the BOA athletes' ball, staying in the same hotel as we had for the Olympics.
"I went down to Hyde Park and ran a lap of the course in the pitch black, dead turn and everything. It was freezing cold, no-one there.
"But it was good: very sobering, just a park, gone back to what it was before. It drew a line under it. Now I've got to get on and do other things."
Watch live coverage of the men's and women's triathlons in Hyde Park on BBC One from 14:00 to 17:10 BST on Saturday, 31 May