Glasgow 2014: Daniel Halksworth aims to lay Melbourne ghost to rest
By Brent Pilnick
BBC Sport
Last updated on .From the section Commonwealth Games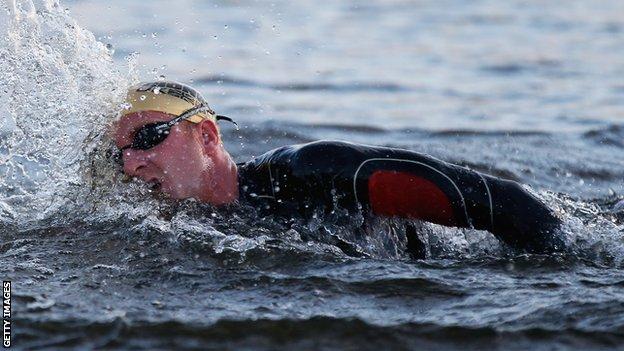 Daniel Halksworth was by the side of the pool at the Melbourne Commonwealth Games in 2006 when he made a life-changing decision.
The swimmer, then 20, had failed to get out of his heats in either the 200m or 400m individual medley.
That was not meant to have happened.
One of the best youngsters in Britain, he had become the first ever sports person from Jersey to win a gold medal at the Commonwealth Youth Games when he triumphed in Bendigo in 2004. He had dreamt of having a glittering swimming career, representing both Jersey and Great Britain.
But at that moment in March 2006 he knew his swimming dreams were over.
"That was my last swimming competition," he told me.
"I sat down on poolside after my event and hadn't achieved what I wanted to.
"I needed a change, I'd tried a triathlon the summer before and that was my decision made there and then, and I haven't looked back since."
Eight years on and the 28-year-old is now Britain's leading Ironman racer - an expert in what is billed as one of the toughest tests of human endurance you can find.
He has become so quick at swimming 2.4-miles (3.86 km), riding 112 miles (180.25 km) and topping it off with a marathon that he now races all over the globe for a German team.
Not many people can say they will be relieved to 'only' be doing an Olympic-distance triathlon, but that is what Halksworth thinks ahead of Glasgow 2014, where he will step down in distance to just a mere 1500m in the water, 40km on the bike and 10km on his feet to represent his island at a Commonwealth Games once again.
"I used to race Olympic distance when I first started out," Halksworth said.
"I still have some speed there, but I never really had what it takes to be at the top level with the Brownlees and people like that, so it's going to be a challenge to go back down in distance.
"But it's potentially only a two-hour or less race, compared to an eight or nine-hour race, so it'll be nice to get in, have a quick race and then we're finished, rather than the painful eight hours that I know."
The Commonwealth Games are, at times, criticised for their lack of competition, with many of the world's leading sporting nations not able to take part.
Not so in triathlon.
Olympic gold medallist Alistair Brownlee has said he is aiming for gold while his brother Johnny took bronze at London 2012,won that year's world title and was second in the 2013 World Series.
Australia, New Zealand and Canada are also strong, having taken all but one of the medals on offer in triathlon since it debuted in 2006.
"There are those guys who are racing Olympic distance all year long, that's what they do, so I have to respect that they do that and that's they're specialty.
"I'm going to go in and swim as well as I can, try and stay with the lead pack and then, on the bike, try and do what I do best - my cycling is pretty strong now, because I know I'm not going to be able to run as quick as the likes of the Brownlees.
"Those guys are very quick and I'm just going to have to race my race, rather than their race."
The Commonwealth Games coincide with the British Ironman Championships - an event Halksworth has won for the past two years.
So why does someone who is such a fierce competitor take a step down from being in with a solid chance of gold for the likelihood of finishing outside the medals at an event which is not even his speciality?
"I'm a Jersey boy and I think if you're born on an island and you train on an island, then you want to race for the island," he said.
"It's disappointing and I'm upset that I can't race in the British Ironman Championships, but I had to make a decision whether or not to do Commonwealth Games or Ironman, and, at the end of the day, I'm 28, I may not get another opportunity to race for Jersey at the Commonwealth Games, so I had to take the opportunity.
"It's quite a special feeling for anyone to represent their island and I've been doing that since I was 14.
"For me to represent not just my friends and family, but also everyone else who lives in the island, to try and get the best result I can for them, means a lot.
"I hope that whatever result I get is good enough and they'll be proud of me."