Glasgow 2014: Katie Archibald named in Scotland's cycling squad
Last updated on .From the section Commonwealth Games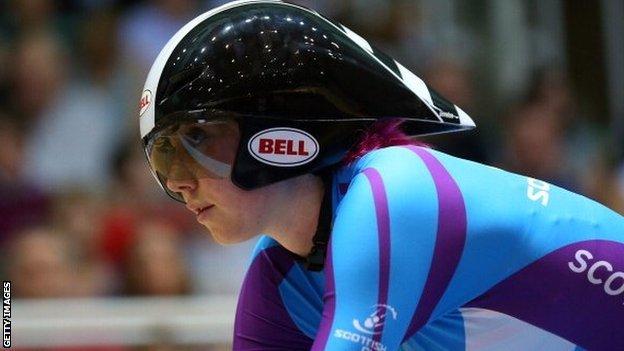 Recently-crowned world team pursuit champion Katie Archibald will lead Scotland's 30-strong cycling squad at the Commonwealth Games.
Sixteen men and 14 women will represent the host nation in track, road and mountain bike events.
Charline Joiner is included despite breaking her back earlier this year.
Paralympians Aileen McGlynn and Neil Fachie are also in the squad, with the latter piloted in the men's tandem track events by Craig MacLean.
The squad is Team Scotland's biggest ever cycling group for a Commonwealth Games.
McGlynn, who has won medals at the last three Paralympic Games, will race in both the sprint and time trial events with tandem pilot Louise Haston.
Despite only taking up the sport just over a year ago, Laura Cluxton and pilot Fiona Duncan - UCI World Cup gold-medallists - are also in the team.
In the men's tandem track events, Fachie will aim to add to his two World Championship titles and London 2012 1km time-trial gold and individual sprint silver. He will be piloted by MacLean, who earned Commonwealth medals in both 2002 and 2006.
There are also two road events, a time trial and road race.
Newcomer Archibald, who started her racing career on a grass track in the Highlands and has recently competed in the UK Women's Tour, will be accompanied by Joiner, Eileen Roe and Claire Thomas.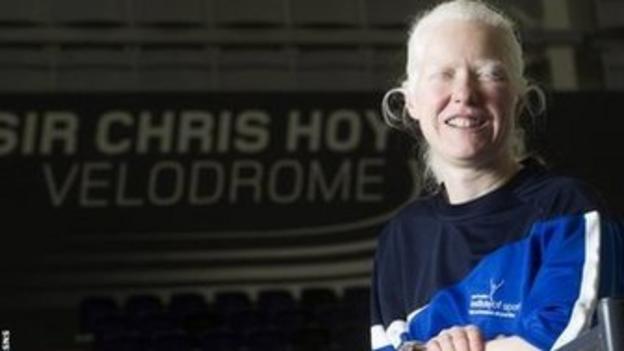 In mountain biking, 2013 British national cross-country champions Grant Ferguson and Lee Craigie will be joined by Gareth Montgomery, Kenta Gallagher and Jessie Roberts.
Team Scotland chef de mission Jon Doig said the size of the squad offered proof of cycling's burgeoning appeal.
"Scotland has always had a strong tradition in cycling and its popularity has gone from strength to strength on the back of the amazing achievements of Sir Chris Hoy and Craig MacLean, the accessibility of the magnificent velodrome in Glasgow and the determination of Scottish Cycling to maximise these fantastic opportunities," he said.
"This 30-strong team is proof of the progress that has been made over the last four years and we look forward to some exciting action on the track, on the road and over the cross-country course at Cathkin Braes."
Gary Coltman, Scottish Cycling's Head of Performance, said Glasgow 2014 offered "an opportunity of a lifetime" for the Scottish riders.
Team Scotland's cycling squad:
Men:
Jonathon Biggin (Track Sprint) Bruce Croall (Track Sprint) Neil Fachie (Track Para-Cycling) Andy Fenn (Time Trial, Road Race) Grant Ferguson (Mountain Bike XC) Kenta Gallagher (Mountain Bike XC) James McCallum (Track Endurance, Road Race) Craig McLean MBE (Track Para-Cycling Pilot) David Millar (Time Trial, Road Race) Gareth Montgomerie (Mountain Bike XC) Evan Oliphant (Track Endurance, Road Race) John Paul (Track Sprint) Christopher Pritchard (Track Sprint) Alistair Rutherford (Track Endurance) Callum Skinner (Track Sprint) Mark Stewart (Track Endurance)
Women:
Katie Archibald (Track Endurance, Time Trial, Road Race) Laura Cluxton (Track Para-Cycling) Lee Craigie (Mountain Bike XC) Jenny Davis (Track Sprint) Fiona Duncan (Track Para-Cycling Pilot) Anne Ewing (Road Race) Louise Haston (Track Para-Cycling Pilot) Charline Joiner (Track Endurance, Road Race) Aileen McGlynn OBE Track Para-Cycling Eleanor Richardson (Track Sprint) Jessica Roberts (Mountain Bike XC) Eileen Roe (Track Endurance, Road Race) Claire Thomas (Road Race) Anna Turvey (Track Endurance, Time Trial)