Jason Smyth's Commonwealth hopes fade in the Belfast rain
Last updated on .From the section Commonwealth Games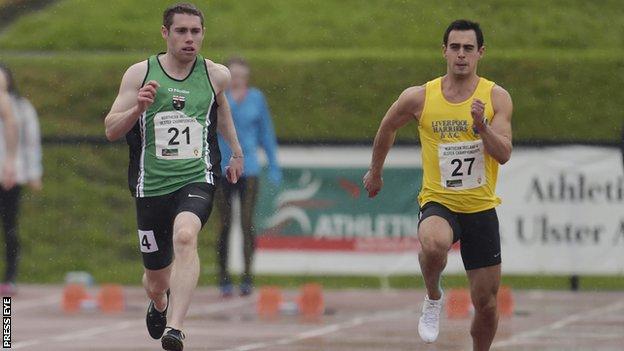 Jason Smyth admits his hopes of running at the Commonwealth Games appear slim after rain added to his injury woes at the Northern Ireland Championships.
Smyth, as expected, took the 100m title but his 10.87 time on the drenched Mary Peters Track was some .57 outside the qualifying mark he has been chasing.
"I just haven't been able to do the training because of a hamstring injury," said the Paralympic star.
"I'll keep a glimmer of hope but the bottom line is I haven't run the time."
Smyth added: "To be selected, I assume you have got to run the standard.
"It's out of my control and you just have to see what happens but at this stage, you've got to expect not [to be picked for the Commonwealth Games] with you not running the standard. That's fair enough."
The weather gods didn't do Smyth, or any of the other athletes for that matter, any favours on Saturday.
And being forced to run 50 metres in the final before being called back for a false start by another competitor didn't help the Derry man's cause.
"I felt that I got a decent start the first time but then felt I didn't get away as well the second time around," smiled Smyth ruefully.
"I wasn't ready for the second race. I was still out of breath a wee bit."
Smyth agreed that he probably wouldn't even have been at the Belfast meeting but for the Commonwealth Games issue.
"I pulled a hamstring seven or eight weeks ago and just haven't got on top of it.
"The preparations just haven't been there but I've been trying to chase the Commonwealths time so I just came out today and gave it a go."
Smyth will learn his Glasgow fate on Tuesday when the Northern Ireland Commonwealth Games Council confirm the remaining members of the track and field team.
Athletics Northern Ireland officials meet on Sunday morning to draw up a list of names which they will submit to the Commonwealth Games body.
The current 11 qualifiers will be recommended for selection and it's possible that Athletics NI may also forward Smyth's name as a 12th team member to the Commonwealths body.
However, if that does happen, and it is by no means certain, there would be major questions marks as to whether the Commonwealth Games Council would agree to accept the sprinter.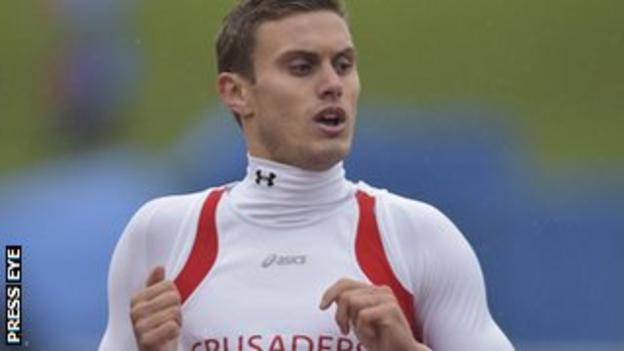 In terms of those who do look certain to be on the plane to Glasgow, Ben Reynolds and Jason Harvey were probably the pick of the bunch on Saturday.
Reynolds clocked a respectable 13.83 in the high hurdles on the sodden track - .44 outside his personal best set last year.
The Paul McKee-coached Harvey, meanwhile, produced a 51.72 400m hurdles in even worse conditions as he finished .19 ahead of Paul Byrne.
Harvey continues to look a huge talent and will surely duck under 50 seconds in the near future when he finds himself in stronger company and produces a clean race.
Of the other Commonwealth representatives, Katie Kirk moved down from 800m as she finished second in the 400m in 55.88, which left her behind DSD's Sinead Denny (55.81), with Newry talent Aishlinn Crossey (56.63) in third.
Amy Foster clocked 24.32 in her 200m heat before opting out of a final that was won by her club-mate Roseanna McGuckian 24.38 - a World Junior Championship B standard.
Christine McMahon pulled up early in her 400m heat for reasons that were not apparent while Glasgow-bound Zoe Brown did not even get to compete as the women's pole vault was one of several field events which had to be cancelled because of the awful conditions.
In terms of other performances, Letterkenny athlete Daniel Mooney produced the stand-out run with a runaway 1500m victory in 3:43.86 while Eddie McGinley moved down from his recent marathon adventures to win the 5,000m in 14:35.10.