Glasgow 2014: Jersey picks three-strong squash team
Last updated on .From the section Commonwealth Games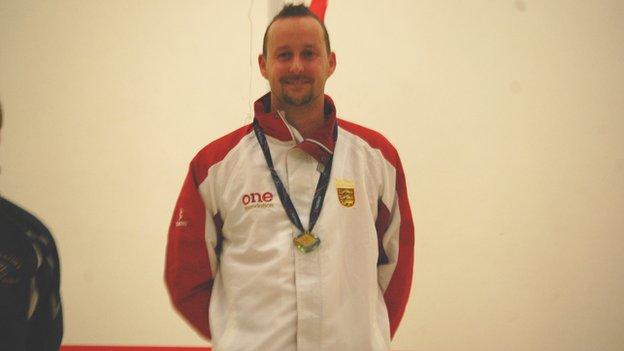 Jersey have picked a three-strong team to represent the island at the 2014 Commonwealth Games.
Former England international and 1995 and 1996 European champion Nick Taylor, 43, leads the team and will play in the singles, mixed and men's doubles.
He partners his wife Sarah, who won Island Games gold in Bermuda in 2013, in the mixed doubles, while she will also compete in the women's singles.
Scott Gautier will play in the men's singles and partner Taylor in doubles.
The trio are the final athletes to be selected by Jersey, who will send their biggest ever team to a Commonwealth Games with 40 athletes picked.
"We would like to think that someone can bring home a medal but we don't want to put that sort of pressure on them," Commonwealth Games Association of Jersey president Alan Cross told BBC Radio Jersey.
"We must stand a better chance of bringing home a medal on this occasion.
It's well overdue, it's been five games now since we last got a medal and I think it must be our turn."
The island last won a medal at the 1990 games in Auckland when fullbore shooter Colin Mallett took gold before teaming up with his father Cliff to take bronze in the pairs.
"I think it's an excellent team," Cross added.
"Over 50% of the team will be at their first games, but at the other end of the extreme you've got someone like Steve Le Coulliard in shooting who's going to his seventh games and that is a record."