Paralympic stars Smyth & Firth in Northern Ireland's Glasgow team
Last updated on .From the section Commonwealth Games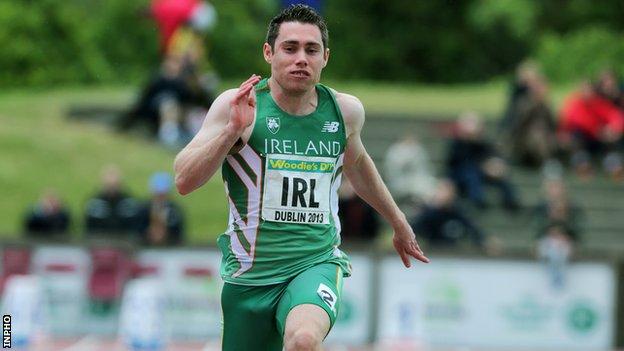 Paralympics stars Jason Smyth and Bethany Firth have been named in a 117-strong Northern Ireland team for the Commonwealth Games in Glasgow.
Firth, who has a learning disability, is one of 10 swimmers while cyclist Wendy Houvenaghel is also named.
London Olympics boxing medallists Paddy Barnes and Michael Conlan will compete.
The Northern Ireland squad, who will compete across 14 sports, is the country's largest ever Commonwealth Games team.
Boxing was Northern Ireland's most successful sport at the last Games in New Delhi when Barnes was among his country's three gold medallists, with the province's pugilists also taking home two silvers.
Barnes and Conlan will be among 11 boxers travelling to Glasgow, who include women fighters Michaela Walsh and Alanna Audley-Murphy.
Sprinter Smyth, 26, won T13 100m metres golds at the Beijing Paralympics and then made history two years later by becoming first Paralympic athlete to compete at an able-bodied European Championships.
Smyth reached the 100m semi-finals at those championships in Barcelona and just missed out on qualification for the 2012 Olympics before retaining his Paralympic titles in London.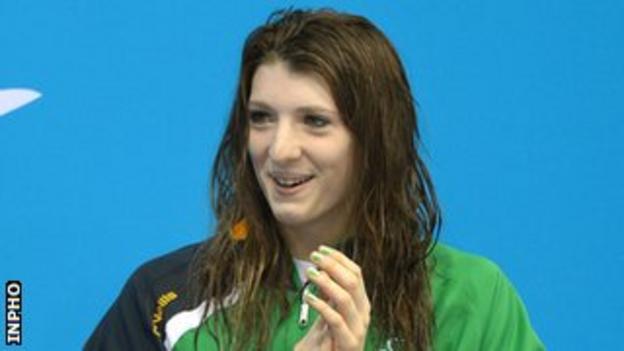 The swimming contingent, which will be led by medal hopeful Sycerika McMahon, includes the youngsest member of the team, 14-year-old Rachel Bethel.
Smyth will be joined in the athletics team by two other athletes who didn't manage to achieve qualifying standards - Letterkenny middle-distance runner Daniel Mooney and hammer thrower Dempsey McGuigan.
Mooney's 1500m personal best of 3:42.11 set this season in Watford was 2.11 seconds outside the Glasgow standard while McGuigan's hammer best of 66.62m was 1.38m shy of the qualifying mark.
Otherwise, the athletics squad contains no surprises with all qualified athletes being picked bar marathon runners Thomas Frazer and Breege Connolly who asked not to be considered for selection.
The badminton selection features two brother and sister combinations, Sinead and Ciaran Chambers and Alannah and Tony Stephenson.
2008 Olympic pursuit silver medallist Houvenaghel won her Delhi silver in the 3,000m individual pursuit but her sole event in Glasgow will be the road time trial.
The cycling squad will also include medal hope Martyn Irvine, who won the World Track Championship gold medal in Belarus last year and has also won World and European medals.
London Paralympics bronze medallists James Brown will also compete in Paralympic events being held in Glasgow.
Luke Carson is named in the gymnastic squad despite sustaining a second leg break in three lasts last September while other notable selections include squash player Madeline Perry, triathlete Aileen Reid and shooter David Calvert.
The 10-strong bowling squad will also have high hopes of winning medals.
Northern Ireland Commonwealth Games Team
Swimming: Rachel Bethel, Curtis Coulter, Michael Dawson, Bethany Firth, Danielle Hill, Gemma Kane, Sycerika McMahon, Conor Munn, Jordan Sloan, David Thompson
Athletics: Zoe Brown, Amy Foster, Gladys Ganiel, Kerry O'Flaherty, Christine McMahon, Peter Glass, Jason Harvey, Dempsey McGuigan, Daniel Mooney, Paul Pollock, Leon Reid, Ben Reynolds, Jason Smyth
Badminton: Caroline Black, Sinead Chambers, Alannah Stephenson, Ciaran Chambers, Tony Murphy, Tony Stephenson
Boxing: Paddy Barnes, Michaela Walsh, Ruairi Dalton, Michael Conlan, Joe Fitzpatrick, Alanna Audley-Murphy, Sean Duffy, Steven Donnelly, Connor Coyle, Sean McGlinchey, Steven Ward
Cycling: Claire Oakley, Roger Aiken, Connor McConvey, Lydia Boylan, Wendy Houvenaghel, James Brown, Marcus Christie, Sean Downey, Fraser Duncan, Peter Hawkins, Michael Hutchinson, Martyn Irvine, Philip Lavery, Dave Readle
Gymnastics: Sarah Beck, Nicole Mawhinney, India McPeak, Ciara Roberts, Luke Carson, Matthew Cosgrove
Judo: Lisa Kearney, Kirsty Kee, Caoimhin Thompson, Eoin Fleming, Mark Montgomery, Gavin McNeill
Bowls: Neil Booth, Paul Daly, Ian McClure, Martin McHugh, Neil Mulholland, Barbara Cameron, Mandy Cunningham, Jennifer Dowds, Donna McCloy, Catherine McMillen
Netball: Niamh Cooper, Michaelle Drayne, Gemma Gibney, Noleen Lennon, Nordia Masters, Lisa McCaffrey, Oonagh McCullough, Caroline O'Hanlon, Lisa Somerville, Fionnuala Toner, Marie Toner, Hannah Wills
Shooting: David Calvert, Jack Alexander, Gary Duff, Sam Kelly, Louise Aiken, Claudia McClung, Kirsty Barr, David Beattie, David Henning, David Christie, Clement Buchanan
Squash: Michael Craig, Madeline Perry
Table Tennis: Ashley Givan, Emma Ludlow, Hannah Lynch-Dawson, Amanda Mogey, Peter Graham, Paul McCreery, Ashley Robinson
Triathlon: Eimear Mullan, Aileen Reid, Emma Sharkey, Conor Murphy, Harry Speers, Russell White
Wrestling: Norik Koczarian, Hugh McCloskey