Glasgow Commonwealth Games 2014: England's team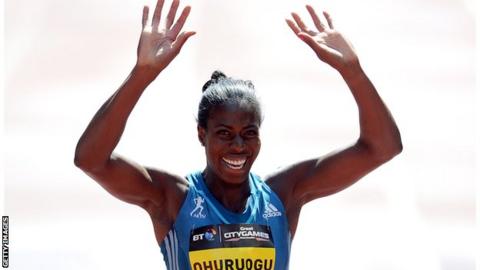 Glasgow 2014 Commonwealth Games
Dates: 23 July - 3 August Coverage: Live on BBC TV, HD, BBC Radio 5 live, Red Button, Connected TVs, online, tablets and mobiles
Team England head to the 2014 Commonwealth Games hoping to improve on a third-placed finish in Delhi 2010.
The team's 142 medals, including 38 gold, 58 silver and 46 bronze saw them finish highest of all the home nations, only behind Australia and hosts India in the medals table.
BBC Sport takes a comprehensive look at the athletes chosen to represent England in Glasgow.
Athletics
Olympic gold medal winners Christine Ohuruogu and Greg Rutherford have both been selected in England's athletics squad to compete in Glasgow.
Double Olympic champion Mo Farah had been due to run in both the 5,000 and 10,000m - the events in which he is reigning Olympic and World champion - but pulled out on the opening day of the Games after failing to recover from a recent illness.
Rutherford has been selected after breaking the British long jump record, while Ohuruogu will only compete in the 4x400m relay, despite being World champion at the individual event.
However, sprinter Chijindu Ujah, who ran the 100m in 9.96 seconds on 8 June, has not been picked as BBC Sport understands he was not considered for the event because his effort came after the qualification cut-off period ended on 1 June.
Athletics
Name
Discipline
From/Lives
Harry Aikines-Aryeetey
Men's 100m
Carshalton/Loughborough
Adam Gemili
Men's 100m
Dartford
Richard Kilty
Men's 100m
Stockton-on-Tees
Daniel Hooker
T37 Men's 100m
London
Ashleigh Nelson
Women's 100m
Stoke-on-Trent/London
Asha Philip
Women's 100m
London
Bianca Williams
Women's 100m
London
Selina Litt
T11/12 Women's 100m
Leicestershire
Ryan Henry-Asquith
T11/T12 Women's 100m (Guide)
Birmingham
Chris Clarke
Men's 200m
Milton Keynes/London
James Ellington
Men's 200m
London/Loughborough
Danny Talbot
Men's 200m
Trowbridge/Bath
Anyika Onoura
Women's 200m
Liverpool/Loughborough
Jodie Williams
Women's 200m
Welwyn Garden City, Hertfordshire
Michael Bingham
Men's 400m
USA
Nigel Levine
Men's 400m
Bedford/Uxbridge
Martyn Rooney
Men's 400m
London/Loughborough
Margaret Adeoye
Women's 400m
Nigeria/London
Shana Cox
Women's 400m
North Carolina
Kelly Massey
Women's 400m
Manchester
Andrew Osagie
Men's 800m
Harlow/London
Michael Rimmer
Men's 800m
Southport/Manchester
Jessica Judd
Women's 800m
Chelmsford/Canvey Island
Jenny Meadows
Women's 800m
Wigan
Marilyn Okoro
Women's 800m
London/USA
Lee Emanuel
Men's 1500m
Sussex/USA
Charlie Grice
Men's 1500m
Brighton/London
Richard Peters
Men's 1500m
Bristol
Will Smith
T54 Men's 1500m
Norwich
David Weir
T54 Men's 1500m
Wallington
Hannah England
Women's 1500m
Oxford/Birmingham
Jemma Simpson
Women's 1500m
Cornwall/Oregon
Laura Weightman
Women's 1500m
Alnwick/Leeds
Jade Jones
T53/54 Women's 1500m
Middlesbrough
Lauren Rowles
T53/54 Women's 1500m
Worcestershire
Shelly Woods
T53/54 Women's 1500m
Lancashire
Thomas Farrell
Men's 5000m
Carlisle/Oklahoma
Andy Vernon
Men's 5000m
Teddington
Helen Clitheroe
Women's 5000m
Preston
Emelia Gorecka
Women's 5000m
Bookham
Jo Pavey
Women's 5000m
Devon
Kate Avery
Women's 10,000m
Durham
Jonny Mellor
Men's 10,000m
Liverpool
Julia Bleasdale
Women's 10,000m
Teddington
Sonia Samuels
Women's 10,000m
Wallsend, Tyneside/Loughborough
Ben Moreau
Men's Marathon
Aldershot/London
Nicholas Torry
Men's Marathon
London
Steven Way
Men's Marathon
Poole
Louise Damen
Women's Marathon
Bournemouth/Winchester
Alyson Dixon
Women's Marathon
Sunderland
Amy Whitehead
Women's Marathon
Manchester/Nottingham
Lawrence Clarke
Men's 110m Hurdles
London/Bath
William Sharman
Men's 110m Hurdles
Northamptonshire/Long Eaton
Andrew Turner
Men's 110m Hurdles
Nottingham/Surrey
Tiffany Porter
Women's 100m Hurdles
USA
Serita Solomon
Women's 100m Hurdles
Orpington
Niall Flannery
Men's 400m Hurdles
Gateshead/Essex
Sebastian Rodger
Men's 400m Hurdles
Eastbourne/Bath
Richard Yates
Men's 400m Hurdles
Sheffield/Sale
Laura Wake
Women's 400m Hurdles
Hertfordshire
Hayley McLean
Women's 400m Hurdles
Essex
Ese Okoro
Women's 400m Hurdles
Walsall/USA
Luke Gunn
Men's 3,000m Steeplechase
Derby/Birmingham
James Wilkinson
Men's 3,000m Steeplechase
Leeds/Loughborough
Rachel Bamford
Women's 3,000m Steeplechase
Leeds
Pippa Woolven
Women's 3,000m Steeplechase
Wycombe/Birmingham
Andy Robertson
Men's 4 x 100m
Cheshire
Mark Lewis-Francis
Men's 4 x 100m
Birmingham
Louise Bloor
Women's 4 x 100m
Rotherham
Hayley Jones
Women's 4 x 100m
Wigan
Sophie Papps
Women's 4 x 100m
Berkshire/Bath
Daniel Awde
Men's 4 x 400m
Woodford Green
Matthew Hudson-Smith
Men's 4 x 400m
Birmingham
Conrad Williams
Men's 4 x 400m
London
Emily Diamond
Women's 4 x 400m
Bristol
Christine Ohuruogu
Women's 4 x 400m
London
Victoria Ohuruogu
Women's 4 x 400m
London
Chris Baker
Men's High Jump
Manchester/Loughborough
Martyn Bernard
Men's High Jump
Wakefield/London
Tom Parsons
Men's High Jump
Birmingham
Bethan Partridge
Women's High Jump
Telford/Birmingham
Isobel Pooley
Women's High Jump
Hampshire/Loughborough
Luke Cutts
Men's Pole Vault
Barnsley/Rotherham
Max Eaves
Men's Pole Vault
Berkshire/Preston
Steve Lewis
Men's Pole Vault
Staffordshire/USA
Katie Byres
Women's Pole Vault
Manchester/Loughborough
Sally Scott
Women's Pole Vault
Loughborough
JJ Jegede
Men's Long Jump
London
Greg Rutherford
Men's Long Jump
Milton Keynes
Chris Tomlinson
Men's Long Jump
Middlesbrough
Shara Proctor
Women's Long Jump
Anguilla/Loughborough
Jazmin Sawyers
Women's Long Jump
Stoke-on-Trent/Bristol
Lorraine Ugen
Women's Long Jump
Kent/Texas
Fiona Clarke
F37/F38 Women's Long Jump
Birmingham
Bethany Woodward
F37/F38 Women's Long Jump
Ringwood, Hampshire/Loughborough
Nathan Douglas
Men's Triple Jump
Oxford/Birmingham
Nathan Fox
Men's Triple Jump
London
Phillips Idowu
Men's Triple Jump
London/Australia
Yamile Aldama
Women's Triple Jump
Sudbury, London
Chioma Matthews
Women's Triple Jump
London
Laura Samuel
Women's Triple Jump
Birmingham/Leicester
Scott Rider
Men's Shot
Kent
Eden Francis
Women's Shot & Discus
Birmingham/Leicester
Sophie McKinna
Women's Shot
Norfolk
Rachel Wallader
Women's Shot
Berkshire/Grantham
Carl Myerscough
Men's Discus
Blackpool/California
Tom Norman
Men's Discus
London
Daniel Greaves
F42/44 Men's Discus
Loughborough
Jade Lally
Women's Discus
Horsham
Nick Miller
Men's Hammer
London
Alexander Smith
Men's Hammer
Hull
Amir Williamson
Men's Hammer
Essex
Shaunagh Brown
Women's Hammer
Gillingham
Sophie Hitchon
Women's Hammer
Burnley/Loughborough
Sarah Holt
Women's Hammer
Dewsbury/Loughborough
Joe Dunderdale
Men's Javelin
Lincolnshire/Sheffield
Benji Pearson
Men's Javelin
Wolverhampton
Isabelle Jeffs
Women's Javelin
Taunton
Freya Jones
Women's Javelin
Eastleigh
Goldie Sayers
Women's Javelin
Suffolk/London
Martin Brockman
Decathlon
Kent/London
Ashley Bryant
Decathlon
Slough/London
John Lane
Decathlon
Sheffield
Grace Clements
Heptathlon
Kent/London
Jessica Taylor
Heptathlon
North Yorkshire
Badminton
Londoner Rajiv Ouseph, men's singles silver medallist in Delhi, will be hoping to go one better in Glasgow after being chosen to represent England at the Games for the second time.
Men's doubles silver medallists in Delhi, Anthony Clark and Nathan Robertson, have both since retired, so Chris Adcock and Chris Langridge are to take up their mantel.
Adcock and his wife Gabby, meanwhile, will become the first married couple to compete in England's badminton team at the Commonwealths, after being named as one of two mixed doubles teams in a 10-strong squad for Glasgow.
Badminton
Name
Discipline(s)
Born/Lived
Chris Adcock
Mixed Doubles & Men's Doubles
Leicester/Milton Keynes
Gabby Adcock
Mixed Doubles & Women's Doubles
Leeds/Milton Keynes
Andrew Ellis
Men's Doubles
Leeds
Chris Langridge
Mixed Doubles & Men's Doubles
Epsom
Peter Mills
Men's Doubles
Nottingham
Heather Olver
Mixed Doubles & Women's Doubles
Eastbourne
Rajiv Ouseph
Men's Singles
Hounslow, London
Kate Robertshaw
Women's Doubles
Leeds
Lauren Smith
Women's Doubles
Carlisle
Sarah Walker
Women's Singles
Basildon
Boxing
Olympic champion Nicola Adams, 2014 European championship silver medallist Natasha Jonas, and 2012 World champion Savannah Marshall are the three women selected to represent England as female boxing makes its Commonwealth Games debut.
Antony Fowler, 2013 World Championship middleweight bronze medallist, and European Championship silver medallists flyweight Charlie Edwards and super-heavyweight Joe Joyce are included in the men's team.
Boxing
Name
Category
From
Nicola Adams
51kg
Leeds
Qais Ashfaq
56kg
Leeds
Warren Baister
91kg
Sunderland
Charlie Edwards
52kg
Croydon
Scott Fitzgerald
69kg
Preston
Antony Fowler
75kg
Liverpool
Natasha Jonas
60kg
Liverpool
Joe Joyce
91+kg
London
Savannah Marshall
75kg
Hartlepool
Sam Maxwell
64kg
Liverpool
Pat McCormack
60kg
Washington
Cycling
Sir Bradley Wiggins is one of eight Olympic champions to have been selected in Team England's cycling squad for the Commonwealth Games in Glasgow.
Laura Trott, Joanna Rowsell, Dani King, Ed Clancy, Steven Burke, Jason Kenny and Philip Hindes are included in the track team for events at the Sir Chris Hoy Velodrome, while Wiggins will be part of the men's track team.
London Olympic silver medallist Lizzie Armitstead is one of seven riders chosen for the women's road race, while two-time World Champion Sophie Thornhill will be piloted by Helen Scott as para-cycling makes its Commonwealth Games bow.
Cycling
Name
Discipline
From
Lizzie Armitstead
Women's Track Endurance
Otley, West Yorkshire
Dani King
Women's Track Endurance
Southampton
Joanna Rowsell
Women's Track Endurance
Cheam, Surrey
Laura Trott
Women's Track Endurance
Harlow, Essex
Steven Burke
Men's Track Endurance
Colne, Lancashire
Ed Clancy
Men's Track Endurance
Holmfirth, West Yorkshire
Jon Dibben
Men's Track Endurance
Southampton
Andy Tennant
Men's Track Endurance
Wolverhampton
Dannielle Khan
Women's Track Sprint
Solihull
Jess Varnish
Women's Track Sprint
Bromsgrove
Vicky Williamson
Women's Track Sprint
Norfolk
Matt Crampton
Men's Track Sprint
Manchester
Kian Emadi
Men's Track Sprint
Stoke-on-Trent
Philip Hindes
Men's Track Sprint
Krefield, Germany/Manchester
Jason Kenny
Men's Track Sprint
Bolton
Sir Bradley Wiggins
Men's Team Pursuit
Lancashire/London
Sophie Thornhill
Para Cycling Tandem
Stockport
Helen Scott (Pilot)
Para Cycling Tandem
Halesowen
Alice Barnes
Women's Mountain Bike
Northamptonshire
Beth Crumpton
Women's Mountain Bike
Worcestershire
Annie Last
Women's Mountain Bike
Derbyshire
Liam Killeen
Men's Mountain Bike
Malvern
Paul Oldham
Men's Mountain Bike
Colne, Lancashire
Lizzie Armitstead
Women's Road
Otley, West Yorkshire
Hannah Barnes
Women's Road
Northamptonshire
Lucy Garner
Women's Road
Leicestershire
Dani King
Women's Road
Southampton
Emma Pooley
Women's Road
Norwich
Joanna Rowsell
Women's Road
Cheam, Surrey
Laura Trott
Women's Road
Harlow, Essex
Stephen Cummings
Men's Road
The Wirral
Russ Downing
Men's Road
Rotherham
Alex Dowsett
Men's Road
Chelmsford
Tom Moses
Men's Road
Keighley, West Yorkshire
Ian Stannard
Men's Road
Chelmsford
Andy Tennant
Men's Road
Wolverhampton
Scott Thwaites
Men's Road
Ilkley, West Yorkshire
Diving
Olympic bronze medallist Tom Daley is the stand-out name in Team England's 15-strong diving squad for Glasgow.
Daley won gold on the 10m platform and Synchro in Delhi, while other big names include European silver medallists Tonia Couch and Sarah Barrow - also from Plymouth - who will be competing in their third Games, and former World Junior Champion Jack Laugher.
Victoria Vincent was a late addition to the squad, after needing confirmation from the Commonwealth Games Federation that the 13-year-old was eligible to compete.
Diving
Name
From
Tom Daley
Plymouth
Matthew Dixon
Plymouth
Daniel Goodfellow
Cambridge
Matty Lee
Leeds
Jack Laugher
Harrogate
Chris Mears
Reading
James Denny
Leeds
Nicholas Robinson-Baker
Farnborough
Freddie Woodward
Sheffield
Oliver Dingley
Harrogate
Tonia Couch
Plymouth
Sarah Barrow
Plymouth
Rebecca Gallantree
Chelmsford
Hannah Starling
Leeds
Alicia Blagg
Wakefield
Victoria Vincent
Plymouth
Gymnastics
Rebecca Downie, fresh from winning double bars gold at the European Championships in May, has been named in a 13-strong Gymnastics squad for Glasgow.
The squad includes 2012 Olympic bronze medallists Sam Oldham, Louis Smith, Kristian Thomas and Max Whitlock, alongside five-time European junior champion Nile Wilson in the men's artistic gymnastics team.
Smith had taken a break from the sport after winning individual silver as well as a team bronze at London, but returned to training to compete in Glasgow.
Gymnastics
Name
Discipline
From
Mimi Cesar
Rhythmic Gymnastics Team
Birmingham
Lynne Hutchison
Rhythmic Gymnastics Team
Tokyo/Bath
Stephani Sherlock
Rhythmic Gymnastics Team
Moscow
Rebecca Downie
Women's Artistic Team
Nottingham
Claudia Fragapane
Women's Artistic Team
Bristol
Ruby Harrold
Women's Artistic Team
Churchill, Bristol
Kelly Simm
Women's Artistic Team
Whiteley, Fareham
Hannah Whelan
Women's Artistic Team
Liverpool
Sam Oldham
Men's Artistic Gymnastics Team
Nottingham
Louis Smith
Men's Artistic Gymnastics Team
Peterborough
Kristian Thomas
Men's Artistic Gymnastics Team
Wolverhampton
Max Whitlock
Men's Artistic Gymnastics Team
Hemel Hempstead
Nile Wilson
Men's Artistic Gymnastics Team
Leeds
Hockey
England's men's hockey team, which came fourth at the recent World Cup, contains a blend of youth and experience, with captain Barry Middleton in his third Games alongside nine Commonwealth debutants, including Dan Fox and Mark Gleghorne.
Middleton's side will be hoping to improve on fourth-placed finishes in the previous two Commonwealth Games.
The women's team will be led by Kate Richardson-Walsh, who will be competing in her fourth Games and has accumulated 321 international caps, and will be looking to recover after a disappointing 11th-placed finish at the World Cup.
Men's Hockey
Name
Club
From
Position
George Pinner
Holcombe
Ipswich
Goalkeeper
Iain Lewers
Holcombe
Belfast
Defender
Dan Fox
Holcombe
Godalming, Surrey
Defender
Tim Whiteman
Beeston
Bungay, Suffolk
Midfield/Defender
Barry Middleton
Holcombe
Doncaster
Midfield/Forward
Henry Weir
Wimbledon
Nantwich
Midfield
Ashley Jackson
East Grinstead
Tunbridge Wells
Midfield/Forward
Simon Mantell
Reading
Street, Somerset
Forward
Harry Martin
Beeston
Ipswich
Midfield
Nick Catlin
Holcombe
Marlow
Midfield/Forward
Alastair Brogdon
Wimbledon
Hale, Manchester
Forward
Michael Hoare
Wimbledon
Formby, Merseyside
Defender
David Condon
East Grinstead
Leicester
Midfield
Phil Roper
Wimbledon
Chester
Forward
Mark Gleghorne
East Grinstead
Antrim
Forward
Adam Dixon
Beeston
Nottingham
Defender/Midfield
Women's Hockey
Name
Club
From
Position
Maddie Hinch
Holcombe
West Chiltington, Sussex
Goalkeeper
Giselle Ansley
Surbiton
Kingsbridge, Devon
Defender
Sophie Bray
East Grinstead
Surrey
Forward
Laura Unsworth
Holcombe
Sutton Coldfield
Defender
Lily Owsley
Uni of Birmingham
Bristol
Forward
Zoe Shipperley
Buckingham
Marsh Gibbon
Defender
Georgie Twigg
Surbiton
Lincoln
Midfielder
Ellie Watton
Beeston
Oakham
Forward
Susie Townsend
Reading
Egerton, Kent
Midfielder
Susie Gilbert
Reading
Lichfield
Midfielder
Kate Richardson-Walsh
Reading
Stockport
Defender
Hollie Webb
Surbiton
Belper, Derbyshire
Defender
Sam Quek
Reading
Wirral, Merseyside
Defender
Nicola White
Leicester
Oldham
Forward
Alex Danson
Reading
Odiham, Hampshire
Forward
Lucy Wood
Holcombe
Horsham, Sussex
Forward
Judo
Judo makes its return to the Commonwealth Games for the first time since 2002, and England's 14-strong judoka squad includes Olympic silver medallist Gemma Gibbons.
Colin Oates, 2013 European bronze medallist Ashley McKenzie and Kelly Edwards are the three other London Olympians chosen for Glasgow, while Jodie Myers is the youngest member of the squad at just 19.
Judo
Name
Discipline
From
Ashley McKenzie
U60kg
Queens Park
Colin Oates
U66kg
North Lopham
Jan Gosiewski
U73kg
Hounslow/Poland
Owen Livesey
U81kg
St Helen's
Thomas Reed
U81kg
Devizes
Gary Hall
U90kg
Bristol
Danny Williams
U73kg
Shrewsbury
Kelly Edwards
U52kg
Telford
Nekoda Davis
U57kg
Acton, London/Walsall
Faith Pitman
U63kg
Todmorden
Megan Fletcher
U70kg
Wokingham
Katie-Jemima Yeats-Brown
U78kg
Tonbridge/Walsall
Gemma Gibbons
U78kg
Greenwich, London
Jodie Myers
O78kg
Moreton, Wirral
Lawn Bowls
Defending Commonwealth Games champions Ellen Falkner and Natalie Melmore have both been named in England's lawn bowls squad for Glasgow.
Falkner, alongside partner Amy Monkhouse, won gold in Delhi with a tie-break win over Malaysia, while Melmore returns to defend her singles title in a 15-strong squad.
Lawn Bowls
Name
Discipline(s)
From
Ellen Falkner
Women's Triples & Fours
Wisbech, Cambridgeshire
Sian Gordon
Women's Triples & Fours
Canterbury
Natalie Melmore
Women's Singles & Pairs
Torquay
Sophie Tolchard
Women's Triples & Fours
Torquay
Jamie-Lea Winch
Women's Pairs & Fours
Northampton
Stuart Airey
Men's Triples & Fours
Sunderland
Jamie Chestney
Men's Triples & Fours
Kings Lynn
Andrew Knapper
Men's Pairs & Fours
Taplow, Buckinghamshire
John McGuinness
Men's Triples & Fours
Londonderry, N. Ireland/Buckinghamshire
Sam Tolchard
Men's Singles & Pairs
Torquay
Paul Brown
B6/B7/B8 (Para) Triples
Bristol
David Fisher
B6/ B7/B8 (Para) Triples
Iserlohn, Germany/Colchester
Bob Love
B6/B7/B8 (Para) Triples
Birmingham
Doreen Flanders*
B2/B3 (Para) Mixed Pair
London
Steven Simmons*
B2/B3 (Para) Mixed Pair
London
*Supported by Jeffrey Smith (Sawley, Derbyshire) and Moira Sheenhan (Nottingham)
Netball
Jade Clarke, of New Zealand's Canterbury Tactix, has taken over the England Netball team's captaincy in place of Pamela Cookey, who will miss the Commonwealth Games with an Achilles injury.
The squad, which will begin in Glasgow against Wales on 25 July, contains five members who play their netball in the ANZ Championships in Australia and New Zealand.
Netball
Name
Position
From
Jade Clarke
Wing Attack/Centre/Wing Defence
Manchester
Sara Bayman
C/WD
Manchester
Ama Agbeze
Goal Defence/Goalkeeper
Selly Oak, Birmingham
Eboni Beckford-Chambers
GK/GD
Solihull/Bristol
Kadeen Corbin
Goal Attack/Goal Shooter
London/Hertfordshire
Sasha Corbin
WA/C
London/Hertfordshire
Rachel Dunn
GS/GA
London
Stacey Francis
GD/WD/GK
Birmingham/Bath
Serena Guthrie
WD/C
Jersey/Bath
Joanne Harten
GS/GA
Harlow
Helen Housby
GA/GS
Carlisle/Manchester
Geva Mentor
GK/GD
Bournemouth
Rugby Sevens
England have selected a tried and tested rugby sevens squad for the Commonwealth Games.
While some countries have chosen well-know full internationals, coach Simon Amor has decided to stick to the centrally-contracted squad that finished fourth in last season's Sevens World Series.
There is, though, a call-up for London Scottish No.8 Mark Bright, at the age of 35. The 12-man squad will be captained by Tom Mitchell and features Dan Norton, who is fifth on the all-time list of Sevens World Series try scorers.
There is also a place for Marcus Watson, older brother of England 15-a-side international Anthony.
Rugby 7s
Name
Position
Lives/From
Daniel Bibby
Fly-half
London/Wigan
John Brake
Scrum-half
Woking/London
Mark Bright
Forward
Twickenham/Nelson, New Zealand
Philip Burgess
Forward
Farnborough/Frimley, Surrey
Michael Ellery
Forward
London/Penrith, Cumbria
Charles Hayter
Centre
London/Bath
Christian Lewis-Pratt
Fly-half
London/London
Tom Mitchell
Fly-half/Centre
London/Cuckfield, Sussex
Daniel Norton
Wing
Bristol/Gloucester
Tom Powell
Forward
Weybridge/Rotherham
James Rodwell
Forward
Chertsey, Surrey/Wendover
Marcus Watson
Fly-half
Walton-on-Thames, Surrey/Hillingdon
Shooting
Current BBC Young Sports Personality of the Year Amber Hill has been included in Team England's clay target shooting squad.
The 16-year-old from Berkshire became the youngest winner of a senior World Cup in skeet shooting, and is joined in the team by England's most decorated athlete Mick Gault.
Gault, who has won 17 Commonwealth Games medals, retired after Delhi 2010, but has been tempted out of retirement to compete in Glasgow.
Shooting
Name
Discipline
From
Matt French
Clay Target
Ickford, Buckinghamshire
Mike Gilligan
Clay Target
Derby
Sarah Gray
Clay Target
Woodchurch, Kent
Aaron Heading
Clay Target
Kings Lynn
Amber Hill
Clay Target
Windsor, Berkshire
Charlotte Kerwood
Clay Target
Cuckfield, West Sussex
Rachel Parish
Clay Target
Worcester/Nottingham
Caroline Povey
Clay Target
Matlock
Steve Scott
Clay Target
Lewisham
Dave Sipling
Clay Target
Scunthorpe
Rory Warlow
Clay Target
Plymouth
David Luckman
Full Bore
Bristol
Parag Patel
Full Bore
Cobham, Surrey
Sheree Cox
Small-bore Rifle
Ashford, Middlesex
Lina Jones
Small-bore Rifle
Redhill, Surrey
Sharon Lee
Small-bore Rifle
Leicester
Kenny Parr
Small-bore Rifle
Sutton, London
Hannah Pugsley
Small-bore Rifle
Lightwater, Surrey
Dan Rivers
Small-bore Rifle
Didcot, Oxfordshire
Larissa Sykes
Small-bore Rifle
Haverhill, Suffolk
Gerri Buckley
Small-bore Pistol
Snaith, East Yorkshire/York
Kristian Callaghan
Small-bore Pistol
Midgham, Reading
Mick Gault
Small-bore Pistol
Dereham, Norfolk
Victoria Mullin
Small-bore Pistol
Woking, Surrey
Stewart Nangle
Small-bore Pistol
Bacup, Lancashire
Squash
Team England will be hoping to continue their strong showing in squash in recent Commonwealth Games, having topped the medals table in Delhi with six, including golds for world champion Nick Matthew in the men's singles and doubles alongside Adrian Grant.
Sheffield's Matthew and London's Grant will have the chance to defend their medals in Glasgow, while James Willstrop and Peter Barker, who won silver and bronze in 2010, are also named.
In the women's discipline, much of England's hopes lie with 2010 singles and doubles silver medallist Jenny Duncalf and world champion Laura Massaro.
Squash
Name
Discipline(s)
From
Peter Barker
Men's Singles & Mixed Doubles
London
Emma Beddoes
Women's Singles
Warwickshire/Leeds
Jenny Duncalf
Women's Singles & Women's Doubles
Netherlands/Harrogate, North Yorkshire
Adrian Grant
Men's Doubles
London
Sarah Kippax
Mixed Doubles
Chester/Halifax
Laura Massaro
Women's Singles & Women's Doubles
Great Yarmouth
Nick Matthew
Men's Singles & Men's Doubles
Sheffield
Daryl Selby
Men's Doubles & Mixed Doubles
Essex
Alison Waters
Women's Singles, Women's Doubles & Mixed Doubles
London
James Willstrop
Men's Singles & Men's Doubles
North Walsham, Norfolk
Swimming
Francesca Halsall, 2010 Commonwealth Games 50m butterfly champion, has been picked as part England 39-strong swimming squad, hoping to defend her title.
Double Commonwealth champion Liam Tancock has also been chosen, as has Paralympic Champion Ollie Hynd.
Swimming
Name
From
Aimee Willmott
Middlesbrough
Amelia Maughan
Hammersmith
Amy Smith
Kidderminster
Danielle Lowe
Birkenhead
Eleanor Faulkner
Sheffield
Elena Sheridan
Chadwell Heath, London
Elizabeth Simmonds
Beverley/Lincoln
Francesca Halsall
Liverpool
Jessica Fullalove
Oldham/Rochdale
Jessica Lloyd
Oldham
Lauren Quigley
Stockport
Molly Renshaw
Mansfield
Rachael Kelly
Stoke-on-Trent
Rebecca Turner
Rotherham
Siobhan-Marie O'Connor
Bath
Sophie Allen
Lincoln
Sophie Taylor
Sheffield
Tilly Gray
Swindon
Stephanie Slater
Preston
Adam Barrett
Reading
Adam Brown
Hatfield
Adam Peaty
Uttoxeter
Andrew Willis
Frimley, Surrey
Benjamin Proud
London/Plymouth
Chris Walker-Hebborn
Enfield
Daniel Fogg
Edmonton
James Disney-May
Chertsey
James Guy
Bury
James Wilby
Glasgow
Jay Lelliott
Dorchester
Joseph Roebuck
Rotherham
Joshua Walsh
Blackburn
Lewis Coleman
Bury
Liam Tancock
Exeter
Max Litchfield
Pontefract
Nicholas Grainger
Rotherham
Roberto Pavoni
Harold Wood
Thomas Hamer
Rossendale
Oliver Hynd
Sutton-in-Ashfield
Table Tennis
Five-time Commonwealth Games medallist Andrew Baggaley - the home nations' most decorated table tennis player - has been chosen to represent England as his fourth Games.
Men's national champion Liam Pitchford - ranked 55th in the world - will be looking to improve on his silver and bronze from Delhi, while husband and wife duo Paul and Joanna Drinkhall have been selected after their mixed doubles bronze in 2010.
There is also a place for 15-year-old Tin-Tin Ho, Britain's leading junior player, whose father named her after the initials of the sport.
Table Tennis
Name
From
Andrew Baggaley
Northampton/Milton Keynes
Joanna Drinkhall
Chertsey, Surrey
Paul Drinkhall
Middlesbrough/Chertsey, Surrey
Hannah Hicks
Swindon/Kettering
Tin-Tin Ho
London
Karina Le Fevre
Stockton-on-Tees
Liam Pitchford
Chesterfield
Daniel Reed
Northallerton/Yarm, Teesside
Kelly Sibley
Leamington Spa/Sheffield
Samuel Walker
Sutton in Ashfield/Worksop
Triathlon
Olympic triathlon champion Alistair Brownlee and his brother Jonathan will compete at the Commonwealth Games for the first time in Glasgow, and will be joined by former national champion Aaron Harris.
World Championship silver medallist Jodie Stimpson, Vicky Holland and Lucy Hall will race in the women's event at Strathclyde Country Park.
Triathlon
Name
From
Alistair Brownlee
Leeds
Jonathan Brownlee
Leeds
Aaron Harris
Bideford, Hampshire
Lucy Hall
Lutterworth, Leicestershire
Victoria Holland
Gloucester
Jodie Stimpson
Oldbury, West Midlands
Weightlifting and powerlifting
Zoe Smith, England's first female Commonwealth Games weightlifting medallist at Delhi 2010 when she won bronze, has been included in a youthful looking 16-strong weightlifting and powerlifting squad for Glasgow, despite recently struggling with injury.
Smith is joined in the team by 15-year-old Rebekah Tiler, who became the youngest weightlifter to win a senior women's title in May.
Former Miss England contestant Sarah Davies has also been chosen, in the 63kg class.
Weightlifting and powerlifting
Name
Discipline
From
Natalie Blake
Lightweight Powerlifting
Newark
Ali Jawad
Lightweight Powerlifting
Leeds
Joanne Calvino
48kg
London
Zoe Smith
58kg
Greenwich
Emily Godley
63kg
Farnborough
Sarah Davies
63kg
Preston/Leeds
Rebekah Tiler
69kg
Bradford
Mercy Brown
75kg
London
Jaswant Shergill
62kg
Birmingham
Christopher Freebury
69kg
Derby
Shaun Clegg
77kg
Ashton-under-Lyne
Jack Oliver
77kg
Sidcup
Bradley Burrowes
85kg
Bristol
Owen Boxall
94kg
Dartford
Sonny Webster
94kg
Ivybridge, Devon/Bristol
Ben Watson
105kg
Oxford
Wrestling
European bronze medallist Olga Butkevych and double European silver medallist Yana Rattigan, both born in Ukraine, have been chosen to represent England at wrestling in Glasgow.
Leon Rattigan and Oleksandr Madyarchyk, two medallists at the last Commonwealth Games, are also included, as is Rattigan's Ukraine-born wife Yana.
Wrestling
Name
Discipline
From
Olga Butkevych
Women's 58kg
Zaporizhia, Ukraine/Manchester
Chinu Chinu
Men's 125kg
Ludhiana, India/Oldbury
Sophie Edwards
Women's 75kg
Warrington
Michael Grundy
Men's 74kg
Billinge
Sarah Grundy
Women's 58kg
Wigan
Oleksandr Madyarchyk
Men's 61kg
Khust, Ukraine/Sale
Louisa Porogovksa
Women's 55kg
Preston
George Ramm
Men's 61kg
Bolton
Leon Rattigan
Men's 97kg
Bristol/Manchester
Yana Rattigan
Women's 48kg
Khmelnitsky, Ukraine/Manchester
Philip Roberts
Men's 65kg
Bolton
Chloe Spiteri
Women's 63kg
Leytonstone
Omar Tafail
Men's 57kg
London