Glasgow 2014: Alyson Dixon achieves 'lifelong' marathon dream
Last updated on .From the section Commonwealth Games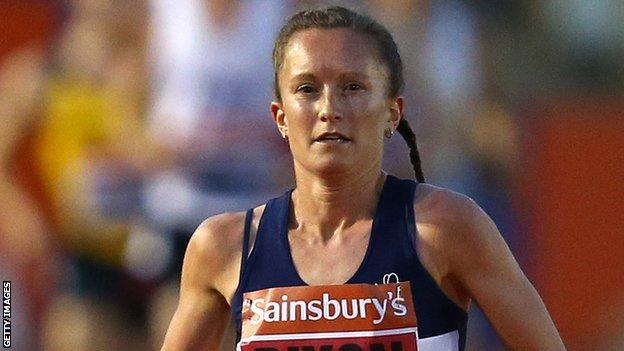 For the last fortnight, Sunderland marathon runner Alyson Dixon has been struggling to keep a secret.
On Monday, 16 June at 11:00 BST, she was finally able to share her big news.
The announcement was formal; the 35-year-old would be competing at a major athletics championships for England - the 2014 Commonwealth Games - and, in doing so, would achieve a life-long goal.
"The last two weeks have been the hardest of my life," Dixon told BBC Sport.
"I found out about two weeks ago but we've had to keep it quiet. It was announced at 11 and I had to leave for work at quarter-past.
"That 15 minutes was absolutely chaotic.
"When I read the press release I still cried and then spent the rest of my car journey into work - I probably shouldn't have driven - just hyper and going between stages of total excitement and tears."
Selection is the culmination of a lifetime's graft with early mornings spent pounding the streets and spare time spent cramming track sessions in with education and, later, work.
"I found my old record of achievement from school and 19 years ago I'd written in there that, one day, I would love to run the marathon at the Olympics or Commonwealth Games.
"Here I am. I've been selected, I'm going to do that. It shows it's been a lifelong dream.
"Six weeks down the line I'm going to be running around the streets of Glasgow with the red and white of England on my chest. It's hard to put into words how it feels."
With World Championship half and full marathon events on her CV, Dixon already has experience of elite level competition but one of the two major events remained elusive.
Injury hampered her efforts to qualify for the 2012 Olympic Games in London and, with that opportunity gone, this year's Commonwealth Games became a huge incentive to continue.
"I had a big injury in 2011 when I had three broken bones in my foot and then I had the focus of the Olympics the year after - which was a long shot - but I wanted to give it my best," she continued.
"When I missed out it was a case of 'I'm getting on, I'm 34 years old, is it worth going on?', but then I thought about the fact the Commonwealth Games are in Glasgow and I had to go for it even if it was the last thing I do.
"That's what gets me out of bed in the morning to get in the miles.
"People ask me about Rio (2016 Olympics) but it's two years down the line and I'm taking every day as it comes."
Despite her own admission that she is "getting on" in years, Dixon is not alone in competing through her mid-30s within the marathon field.
Compatriot Paula Radcliffe has maintained her presence in athletics at the age of 40, while three of the current top 10 women in the world were, like Dixon, born in the 1970s.
"I'm 36 in September and people keep asking me about retiring but I'm setting personal bests and making championships so why retire when you're still improving?" she said.
"I'm taking everything as it comes, appreciating everything that I've got because you never know when it will be taken away from you."
Once the Games are over, Dixon may well contemplate hanging up her runners but, first, she is keen to savour the prospect of a 'home' games atmosphere up in Glasgow.
Her route will take her around the city and right into the heart of the crowds.
"I'm never going to get the chance to compete on such a big level any closer to home, it's just amazing I can get friends and family up there," Dixon said.
"There's going to be lots of support on the streets for England and Scotland, it will be amazing and add to the atmosphere."