Glasgow 2014: Helen Clitheroe aiming to inspire at 40
Last updated on .From the section Commonwealth Games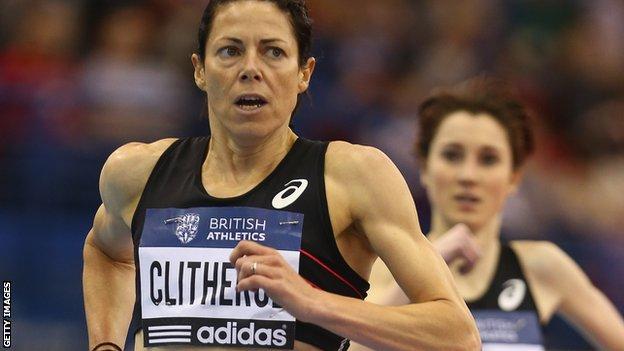 Helen Clitheroe hopes competing at the Glasgow Commonwealth Games will provide inspiration for other veteran athletes.
"We see that it's a great thing we're doing - showing that women can compete at a high level in their forties," Clitheroe told BBC Radio Lancashire.
"Hopefully we can inspire a few people to not give up so early."
Pavey has been selected less than a year after giving birth to her second child, while Clitheroe, who won 1,500m bronze in Manchester back in 2002, is set to compete in her fifth Commonwealth Games.
She continued: "I've had such an amazing time competing in the Commonwealth Games over the years.
"The first one [Kuala Lumpur in 1998] was a fantastic experience. I was sharing an apartment with Kelly Holmes and Diane Modahl, and it was a real eye-opener to what professional athletics entailed.
"Then I won a medal in Manchester, so I've had some fantastic experiences and I'm so delighted that I can do another one in Britain."
Clitheroe said she felt "excited" at being selected after two consecutive seasons disrupted by injury and has no immediate plans to retire.
"When you've had two years of disappointment, especially missing out on London 2012, it was a real motivation to know that Glasgow was around the corner," she added.
"I'm really excited that I've done enough to get selected. When people see you've not been racing for a couple of seasons, they just assume you've finished when you're at the age I am.
"I certainly didn't want to finish because my body had let me down. I wanted to finish on my own terms.
"I'm not saying I'm going to finish after this. If I feel I can be fit enough to be competitive, that's great."