Glasgow 2014: Jade Lally relieved to make England squad
Last updated on .From the section Commonwealth Games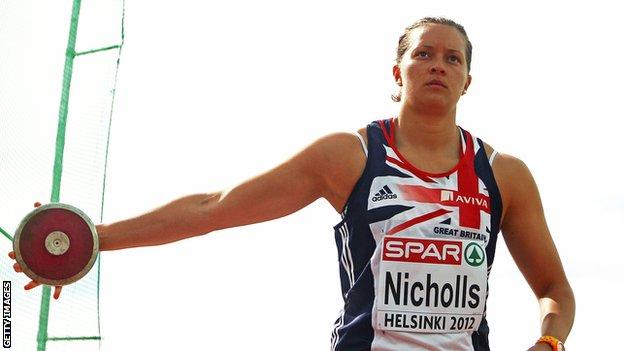 Horsham discus thrower Jade Lally is relieved to be named in England's squad for the Commonwealth Games.
The 27-year-old missed out on selection for the Olympic Games in 2012 and last year's World Championships despite reaching the 'B' qualifying standard.
She told BBC Sussex: "I thought I shouldn't get carried away and think I was automatically on the squad.
"Because of two years ago and last year I wasn't getting my hopes up. My expectations were lower."
She added: "I couldn't allow myself to be confident enough to think 'I've got this'.
"With the disappointment of the Olympics and the World Championships last year it is nice to qualify for something and be selected for it.
"I felt there was no good reason for me not to be on the squad. I was really happy with it."
Lally, who finished sixth at the Commonwealth Games in Delhi four years ago, says the disappointment of missing out on London 2012 and Moscow has spurred her on.
"It's the best thing to do," she said.
"It is not a case that you fall at the first hurdle and that is the end of it. You carry on going, keep your head down and get on with the job.
"I made the Commonwealths last time, wanted to make this year's home Games and want to go to the next one in Australia.
"There are lots of things I still want to do in the sport.
"If you think you have got more to give - and I think I have more to give in discus - you just knuckle down and get on with it."
Lally is the indoor British record holder, a three-time British discus champion and her personal best is a throw of 60.76m.
The Sussex athlete is confident of performing well in Glasgow next month.
"As long as I concentrate on what I think I can do distance-wise, if I go and throw something close to my personal best, that should equate to a good finishing position," Lally said.
"A few years back I was aiming for a medal. I still think that is a realistic possibility.
"You have got to be in it to win it and I just need to get through the qualifiers and that is the first hurdle.
"Hopefully once I am in the final it is about making sure I am in the top eight and am throwing really well."