Glasgow 2014: Robert Weale relishes eighth Commonwealth Games
By Aled Williams
BBC Wales Sport
Last updated on .From the section Commonwealth Games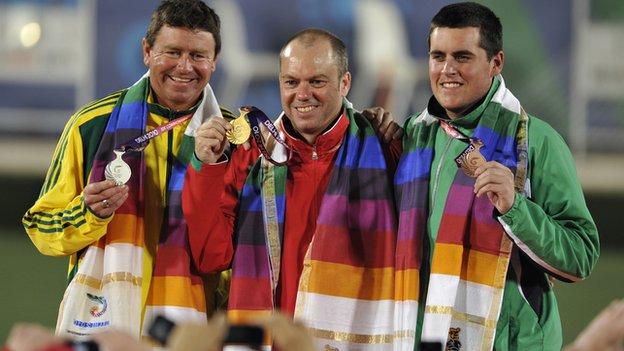 Glasgow 2014 Commonwealth Games
Dates: 23 July - 3 August. Coverage: Live on BBC TV, HD, BBC Radio 5 live, Red Button, Connected TVs, online, tablets and mobiles
Glasgow is Robert Weale's eighth time competing in lawn bowls at a Commonwealth Games and the 51-year-old has a wealth of memories over the 28 years he has taken part.
For starters, he has amassed more Commonwealth bowls medals than anyone else - two gold, three silver and a bronze and he won the singles at Delhi four years ago.
Weale, from Presteigne but based in Hereford, first played bowls when he was an 11-year-old and won his first tournament three years later.
He won the World Indoor Bowls Championships in 2000 but it is his exploits at the Commonwealth Games which have made his name. He shared his memories with the BBC ahead of starting his singles title defence at Glasgow 2014.
Edinburgh 1986
Gold medal in the men's fours; with Jim Morgan, Hafod Thomas, and William Thomas
"Being picked for the Commonwealth Games at 23, it didn't really sink in about what it meant which was probably a good thing. Things I guess washed over me and I was able to take it in my stride.
"It was a tremendous experience but the one disappointment is that we didn't reside in the Commonwealth Games village. We were out at the Nautical College in Leith so we were a little detached.
"I was playing in the Groups and we won game one, game two then game three and you start to look at the league table and who's in the gold medal position and that's when it started to sink in with me.
"That was the sudden realisation of what it was all about."
Auckland 1990
No medals won. Lost in men's pairs bronze play-off with William Thomas.
"This was my second or third trip abroad having played in New Zealand in 1988 in the World Championships and I also played in 1988 in the Bicentenary Games that Australia held.
"In that I was selected with Williams Thomas to represent Britain in the pairs and we won that event so in Auckland we were selected in the pairs and we were one of the favourites.
"We suffered only one loss in the group section but unfortunately in those days only the top of each group played off for gold and silver and that one loss knocked us out of gold medal contention.
"Even though we performed well we lost one tight game and that was it and then we lost in the bronze medal play-off. We weren't far away but not quite there.
"We played Australia, who went on to win the pairs, in a warm-up game and beat them comfortably and they were quite pleased we didn't make it from our group to face them."
Victoria 1994
Silver medal in the men's pairs with John Price.
"It was great to be selected in the pairs with John Price, a legend of the game and who had done so much indoor and outdoor.
"We would have been one of the fancied combinations in that event and we were successful in winning the silver but lost a very close game in the final to Australia only by a matter of two or three shots.
"We were very close in getting gold there."
Kuala Lumpur 1998
Silver Medal in the men's pairs with William Thomas.
"In Kuala Lumpur, Will Thomas and I were back in the pairs with John Price in the singles. It was a combination that had we had success with in the past in the World Championships and it was another silver for me.
"It was another loss to Australia in the final in another close game and again only by a couple of shots. It was disappointing but you sit back and think of it as a successful tournament to get a silver.
"At Kuala Lumpur I had the huge honour of carrying the flag in the opening ceremony for Wales. That was one of the proudest achievements of my lifetime, to lead your fellow athletes out.
"Bowls doesn't always get recognition like that so it was a huge honour especially with my dad sitting in the crowd of 100,000."
Manchester 2002
Bronze medal in the men's singles
"Similar to this year's Games in Glasgow, it was a 'home' Games, and you were a lot more aware of the build-up and the media attention.
"It was my first Commonwealth singles and I was delighted to get a bronze medal.
"It was an interesting Games in that my sister-in-law Joanna Weale was representing Wales in the ladies' team and in the pairs with Anwen Butten.
"If I wasn't playing singles I was always at the venue supporting my sister-in-law in her efforts in the competition and she did manage to go on and win the bronze.
"That was obviously hugely significant for the family."
Melbourne 2006
Silver medal in the men's singles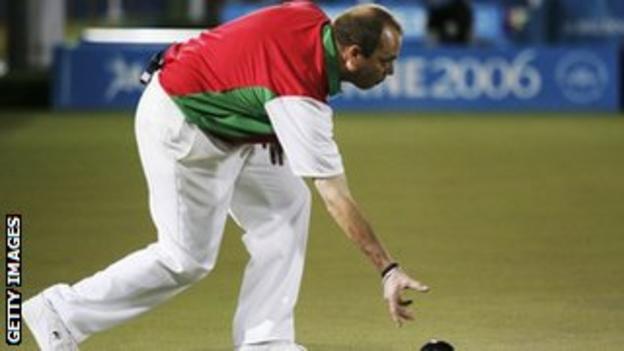 "Before the final I felt comfortable in myself and looking forward to the final and it was a great game of bowls against Kelvin Kerkow.
"The crowd were pretty vocal supporting Kelvin but I had my game plan, to take my time and not to let the home crowd put me off.
"I finished with a silver but I was really happy with my performance that night.
"The Australian bowls team members were there at the other end in the competitors area and they ran onto the green when he won the gold and he was on their shoulders in no time before the shaking of hands."
Delhi 2010
Gold medal in the men's singles
"Being selected in the singles again was another opportunity to show what I could and the ultimate aim of coming back with gold.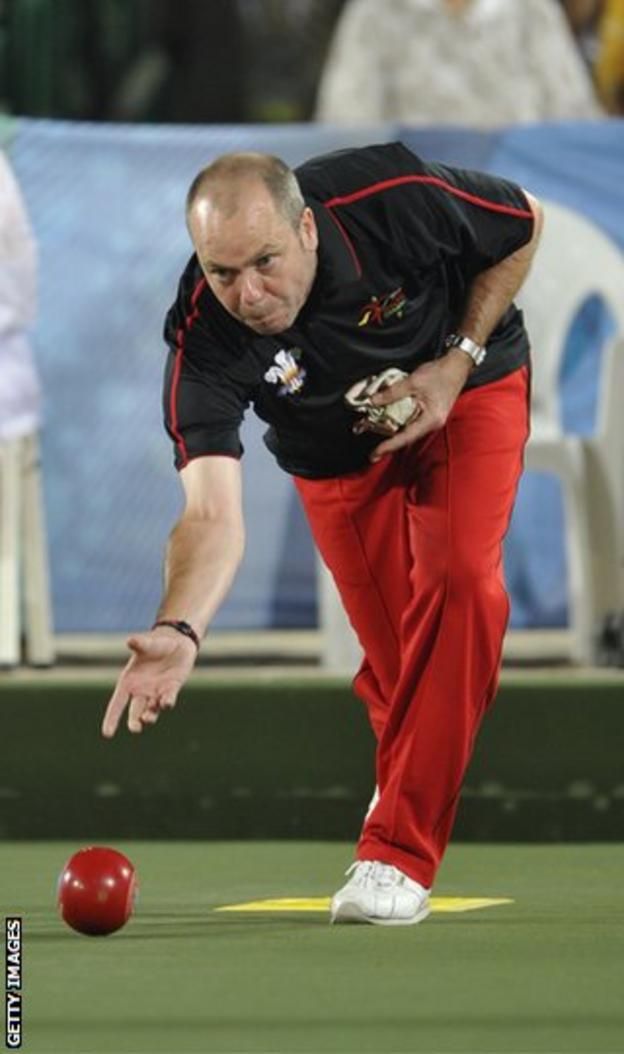 "I did go down with illness, probably 'Delhi belly' and was in isolation for a couple of days prior to the tournament starting so I missed a couple of days practice.
"But I managed to come from that and it was all good in the end.
"I managed to finally get over my nemesis. I had won three silvers at Commonwealth Games and each time I had lost in the final to Australia.
"To finally get one over Australia, even though it was a different competitor in Leif Selby, was very satisfying.
"That day, in two sets, I was probably in 90% in control of those two sets and looking to win 2-0 but he just managed to come back at the end of the second set to take into a tie-break.
"Thoughts do go through your mind. It was sort of "here we go again" but I was determined to take my time and think 'I'm not going to lose it this time."
"There was relief at the end of the game and realisation of finally doing it was fantastic.
Glasgow 2014
"This will be my eighth Commonwealth Games and I'm hugely excited and hoping it's going to go well.
"We've got hugely experienced players throughout the Welsh squad who have competed at Games before.
"It's a different format this time in that it's more of a World Bowls format in that we play in two events. I'm playing in singles and pairs so I've got two bites of the cherry to medal."