Glasgow 2014: 'Icon' David Millar leads Scotland's cyclists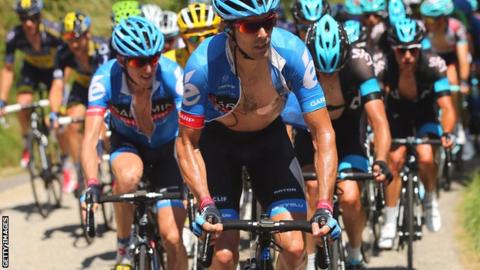 Glasgow 2014 Commonwealth Games
Dates: 23 July to 3 August
Coverage: Live on BBC TV, HD, BBC Radio 5 live, BBC Radio Scotland, Red Button, Connected TVs, online, tablets and mobiles
Scottish Cycling's head of performance is bracing himself for a sprint before the marathon.
The Commonwealth Games begin in Glasgow in a week's time and the 34 riders under Gary Coltman's command will push themselves to the limit for Team Scotland across seven days of racing.
The cogs will not stop turning when the road race ends on 3 August, though. At that point, Coltman will continue to build towards the 2016 Olympics in Rio and beyond.
When he speaks of his plans for the sport in Scotland, you almost picture a map showing the gradients of a Tour de France stage, with Commonwealth Games, World Championships and Olympics the series of peaks to be conquered.
Coltman, 48, has been in post at the Sir Chris Hoy Velodrome for 15 months now since moving from British Cycling in Manchester.
He looks on cycling as four sports in one, comprising the sprint discipline, mountain biking, road racing and para-cycling. His job is to develop the entire infrastructure from youth riders to those challenging for honours at major events.
Glasgow 2014: cycling events
24-27 July Track cycling at Sir Chris Hoy Velodrome
29 July Mountain bike cross-country at Cathkin Braes
31 July Time trial in Glasgow city centre
3 August Road race in Glasgow city centre
A few podium finishes at Glasgow 2014 would be a welcome boost, not only for him but also for his coaches and the volunteers he is keen to champion as an essential element of cycle racing.
"If we can make a bit of a difference to the results in Glasgow, that would be tremendous, but it's really a much longer-term view," he tells BBC Scotland.
"Our strongest medal hopes are the riders who are on the GB programme, though they are not our only medal hopes."
Mountain biker Grant Ferguson, road racer Andy Fenn and track riders Callum Skinner and Katie Archibald are among those in the Scotland team whose progress is being helped by British Cycling.
The veteran road rider David Millar and mountain biker Lee Craigie, are not part of the Manchester set-up but they too could add to Scotland's medal tally at the Games.
The impression, though, is that Games medals would at this stage represent mere decoration. What really motivates Coltman is the fundamentals - plans, programmes, coaching structures, facilities - for sustained success.
"We are putting in place the building blocks for the future but, at the same time, we are squeezing out as much as we can from the athletes now for the Games," he says.
"But every day we are thinking about what we are doing after the Games."
Coltman describes Milngavie's Archibald, who won silver in the British National time trial last month, as "just a joy". She has made rapid progress, from racing on Highland Games grass tracks in 2011 to helping set a new world record in the team pursuit with Team GB in October last year.
"Katie is brilliant to work with. She takes everything in her stride," says Coltman when asked how she might handle the pressure of being one of Team Scotland's top prospects.
"With the support she gets in Manchester and having been to World Championships now, she will cope with it really well.
"I guess that's another example of where someone on the GB programme gets that extra help in all those lifestyle areas."
If pressure is new to Archibald, for Millar, 37, it is now routine. He had expected to join the Scotland team to defend his Commonwealth time trial title after his final Tour de France but, much to his dismay, he was not selected to compete by Garmin-Sharp, his professional team.
"David is a bit of an icon," says Coltman. "He was so determined to end his career at the Tour de France on a high.
"But he's already looking forward to making sure that his last races in Scotland - the Commonwealth Games time trial and road race - will be his best.
"He absolutely loves competing for Team Scotland. He doesn't want a hotel, he wants to go straight into the athletes' village. He wants to be part of the team as soon as possible.
"I can't wait to have him as part of that team and for the younger riders to be around him because he is definitely inspiring."
Coltman wants the Scottish cycling team to have "a professional approach, with a very structured programme, a lot of good discipline, looking like a team, acting like a team, working with the sportscotland Institute of Sport".
The latter, he claims, is a resource that has been used too sparingly in the past.
Scottish Cycling feeds into and, from his time looking after Britain's best under-16 riders, Coltman wants that to continue.
"We just can't match the investment that is in that programme, as it stands at the moment," he says.
"We are part of the pathway but I think we can enhance that pathway which will pay back for not only Team GB in the future but also for Scottish Cycling.
"So for example, maybe [we could do] something like a talent ID around sprint cycling. We have a number of velodromes in the UK now but I don't know of anyone who is moving sprint forward as a discipline.
"We have the Sir Chris Hoy Velodrome - the name says it all, there is a big opportunity for us there.
"We also have a massive opportunity to do even more in mountain biking. We are very strong in terms of our presence in GB anyway but I think we can move that even further forward.
"So the benefits will be not only be more athletes on GB programmes which benefits GB in future Olympics, but also Team Scotland at future Games and the sport in general."
First, though, the Glasgow Games beckon.
Team Scotland's cycling squad:
Men:
Jonathon Biggin (Track Sprint), Bruce Croall (Track Sprint), Neil Fachie (Track Para-Cycling), Andy Fenn (Time Trial, Road Race), Grant Ferguson (Mountain Bike XC), Kenta Gallagher (Mountain Bike XC), James McCallum (Track Endurance, Road Race), Craig McLean (Track Para-Cycling Pilot), David Millar (Time Trial, Road Race), Gareth Montgomerie (Mountain Bike XC), Evan Oliphant (Track Endurance, Road Race), John Paul (Track Sprint), Christopher Pritchard (Track Sprint), Jack Pullar (Road Race), Alistair Rutherford (Track Endurance), Callum Skinner (Track Sprint), Mark Stewart (Track Endurance)
Women:
Katie Archibald (Track Endurance, Time Trial, Road Race), Laura Cluxton (Track Para-Cycling), Lucy Coldwell (Time Trial), Lee Craigie (Mountain Bike XC), Jenny Davis (Track Sprint), Fiona Duncan (Track Para-Cycling Pilot), Anne Ewing (Road Race), Louise Haston (Track Para-Cycling Pilot), Charline Joiner (Track Endurance, Road Race), Kerry MacPhee (Mountain Bike XC), Aileen McGlynn OBE (Track Para-Cycling), Gemma Neil (Road Race), Eleanor Richardson (Track Sprint), Jessica Roberts (Mountain Bike XC), Eileen Roe (Track Endurance, Road Race), Claire Thomas (Road Race), Anna Turvey (Track Endurance, Time Trial)