Glasgow 2014: Swimmer, 14, follows in mother's footsteps
Last updated on .From the section Commonwealth Games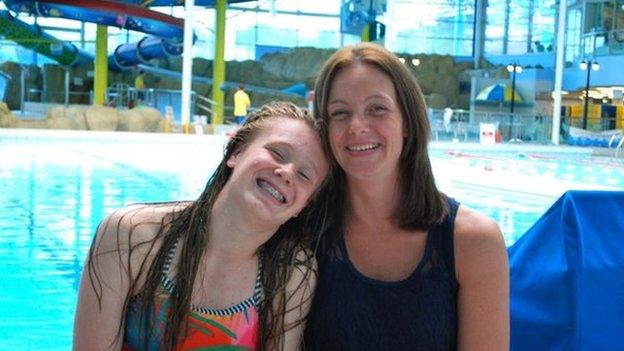 A 14-year-old school girl from Lancashire is set to follow in her mother's footsteps by representing the Isle of Man at the Commonwealth Games.
Niamh Robinson, the youngest member of the team, will contest five events in Scotland - 24 years after her Manx-born mum Suzanne swam at the 1990 Auckland Games.
Robinson is one of nine Manx swimmers chosen for Glasgow and is hoping to add to the island's only ever swimming medal; a bronze won by Alexandra Jackson at the 1970 Games in Edinburgh.
Despite the understandable nerves, the young swimmer is relishing the opportunity to compete on the biggest stage that a Manx athlete can represent the island on.
"I just want to show people what I can do. It has been great being able to speak to mum about her experiences and hopefully I can learn from them," said Robinson.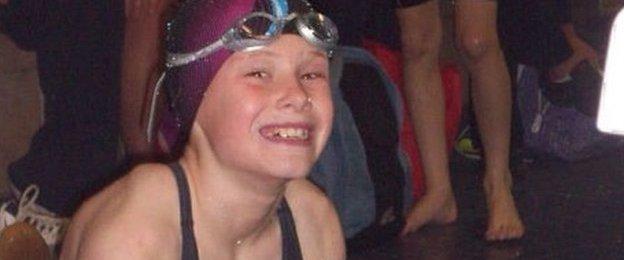 Mother Suzanne, who competed in the breaststroke and 200m individual medley in Auckland, said: "New Zealand was an experience I will remember forever, but I was the only female Manx swimmer that year and I found it very difficult as it was a long way from home.
"I was disappointed with how I performed but I think there were various factors including the pressure I put on myself to do well.
"I was 16 and Niamh is even younger at 14 but she already has more experience of competing at a higher level, she is better prepared than I was and has a great team backing her up."
Niamh, who swims with the Pioneer 79 club, will contest the 50m backstroke; 50m, 100m and 200m breaststroke and 50m butterfly in Glasgow.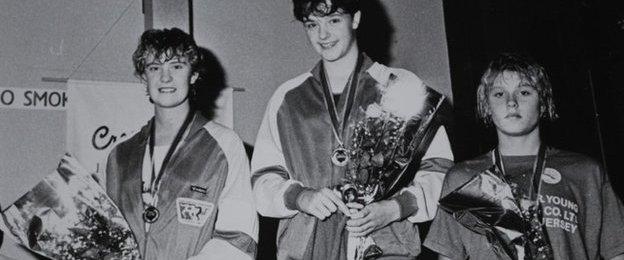 This time last year she admitted she could not have dreamt of being in this position.
"It's all happened so quickly," she said. "My coach suggested I tried to hit some qualification times and I've managed 28."
The young swimmer, who idolises two-time British Olympic gold medallist Rebecca Adlington, is currently training 16 hours a week to be in the best shape possible for Glasgow - although she is realistic about her medal hopes.
"I'm under no illusions and realise I am unlikely to be challenging for a medal this time. I just want to do my best, go as far as I can and make everyone proud.
"Hopefully I can reach a final and maybe in four years I can challenge for medals in Australia," she said.
Isle of Man coach Lee Holland, who has been instrumental in her involvement with the Manx team, said she has already "exceeded expectations".
He said: "Despite her age she is very strong willed and mature both in terms of the work she puts in and the psychology. She is an exciting member of the strongest team we have sent.
"Her coach Mike Wilson and her parents have kept her grounded and she has a fantastic attitude and her potential is massive."
Watching her daughter train alongside Holland at the National Sports Centre in Douglas, mum Suzanne added: "I will be as proud as punch in Glasgow.
"I will be sat in the gallery crying my eyes out and screaming and shaking. My partner and I are both swimmers and we took her for her first lesson when she was three and now we are here.
"We are so proud of her achievements."
Robinson is the youngest member of the 46-strong Manx team which will contest nine sports in Glasgow.
Manx Commonwealth Games medal winners
Gold:
1966, Kingston: Peter Buckley - cycling (road race), 1986, Edinburgh: Nigel Kelly - shooting (skeet), 2006, Melbourne: Mark Cavendish - cycling (scratch race)
Silver:
1998, Kuala Lumpur: David Moore - shooting (50m rifle prone)
Bronze:
1958, Cardiff: Stuart Slack - cycling (road race), 1970, Edinburgh: Alexandra Jackson - swimming (200m freestyle), 1978, Edmonton: Stewart Watterson - shooting (50m rifle prone), 2006, Melbourne: Trevor Boyles and David Walton - shooting (team clay pigeon trap), 2010, Delhi: Mark Christian - cycling (points race), 2010, Delhi: Tim Kneale - shooting (double trap)