Glasgow 2014: Chris Langridge eyes badminton medal
Last updated on .From the section Commonwealth Games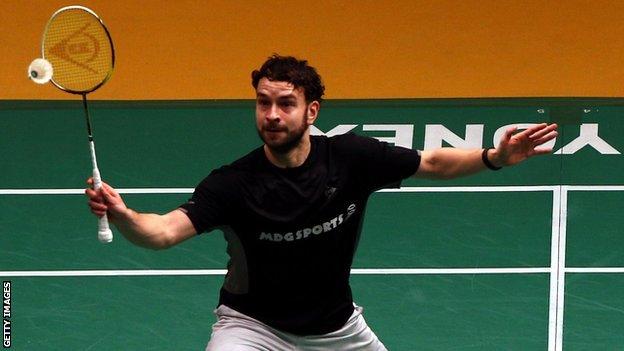 Badminton player Chris Langridge says winning a medal at the Commonwealth Games in the face of fierce opposition would be a great achievement.
"Badminton almost has it tougher than some other sports as we have Malaysia, Singapore and India who are very good nations," he told BBC Surrey.
"It'll be hard to get a medal but it'd be amazing to come back with one."
He added: "There is a lot of competition in the Commonwealths at badminton. In other sports it is a fair bit easier.
"This year I have had some good results and if myself and my partners play at the higher end of our level then there is no reason why we can't achieve great results.
"The form I have had is good and I am still gradually improving."
Langridge is excited by the prospect of competing in Glasgow, at what will be his first Commonwealth Games.
"I'm looking forward to knuckling down and being in top condition for when the tournament starts," he explained.
"It's a big event for people in sport but maybe not a massive event for people in badminton as they don't deem it as big as the Worlds, Europeans or Olympics.
"For me it is a prestigious event as you have to be selected. I am really hoping I can come away with a medal or two.
"We start with the team event and then I've got men's doubles and mixed doubles. It is quite a lot of games over a long period of time.
"It will take its toll as I don't think I've played an event which lasts over two weeks. That will play a bit of a role with fatigue and we will have to manage that."
Langridge has recently signed for Surrey Smashers in the inaugural National Badminton League and believes the new domestic competition could improve the strength of the game in England.
"The league is really exciting because, as players, we have been suggesting it is a great idea," he said.
"The best country in badminton in Europe is Denmark, and they have had a fantastic league for a very long time. I believe that is one reason why they are so good - because of their club system.
"If we can attempt to recreate that there is no reason why in five years' time we can't have improved our youngsters to the level that our juniors are nearly as good as our seniors.
"Obviously it will take a long period of time to get to the level they are at.
"At the moment there is a void between juniors and seniors."