Commonwealth Games: Guernsey cyclists 'well prepared' for Glasgow
Last updated on .From the section Commonwealth Games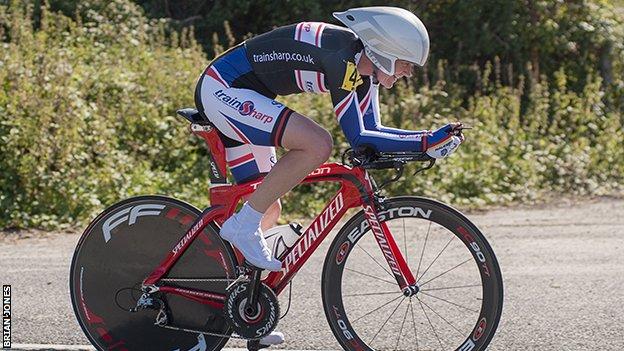 Guernsey cyclist Karina Bowie says the island's riders are gelling well in preparation for the Commonwealth Games.
Bowie is part of a four-strong women's road race team led by former national hill climb champion Ann Bowditch, along with Jo Watts and Marina Bleasdale.
"We've done a lot of races off-island together and we've gelled really well," Bowie told BBC Radio Guernsey.
"It's a great team, we've got great morale and great motivation and a great team leader in Ann."
Bowie broke Bowditch's five-year-old 25-mile time trial Guernsey record at the weekend, becoming the second woman on the island to break the one-hour mark as she finished in 59:49, 10 seconds inside the old mark.
"The course on the island we have has a lot of corners and turns so it's difficult to ride it at a consistent 25mph.
"In the UK it's a lot easier to do that because you have dual carriageways to race on, but it's a difficult task over here.
"So it's great to see that all the training and hard work that myself and the team have been doing is all coming together," she added.