Commonwealth Games: Imogen Bankier's triple chance for success

By Keir Murray
BBC Sport Scotland
Last updated on .From the section Commonwealth Games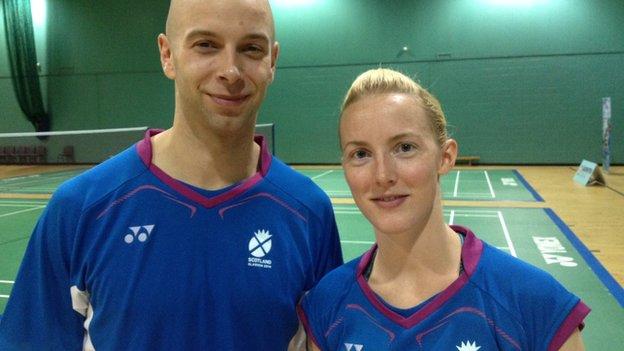 Imogen Bankier is delighted to have three chances of a badminton medal as Scotland aim for a place on the podium at the Commonwealth Games in Glasgow.
The 26-year-old is targeting a place in the semi-final at least as she competes in the mixed doubles, the women's doubles and the team event.
"It's fantastic that we've got three bites at the cherry," she said.
"We're seeded in the top four for the mixed doubles - that gives you an indication of where we hope to get to."
Bankier and women's partner Kirsty Gilmour will spearhead Scotland's 10-player badminton challenge.
Veteran Robert Blair will also team up with Bankier in the mixed doubles, a pairing that is currently ranked amongst the best in Europe.
"We're really, really hoping to get to a semi-final, then I think with a wee bit of home advantage hopefully it should pull us through. It would be nice," said Bankier.
"With the doubles we're trying to be a bit more of a dark horse. It's a secondary event but I'm quite excited about it - it's an open field of play in the ladies' doubles so I'm really looking forward to getting out there."
The Glaswegian and partner Blair have been playing in Superseries events in Tokyo, Jakarta and Sydney in recent weeks. Their best result was a second-round exit in the Australia Open, which highlights the standard of opposition in those tournaments.
Better results there would have boosted their Commonwealth seeding further but they are still well placed for Glasgow 2014.
Bankier told BBC Scotland: "If you're seeded in the top four then you're not going to meet any of the big pairs, the dangerous pairs until the later rounds, and that was really what we were after at the start of the season.
"A couple of weeks ago we went into the top 10 and it looked for a time like we were going to get the second seeded position which would have been amazing, but unfortunately the Singapore pair we were really close with had a couple of good results then we had a couple of first-round exits.
"The way it's worked out they're ahead of us, but we're still in the top four and that's where we had hoped to be at the beginning of the season so it's quite positive.
"We've got a strong team, we've also got a young team. England, Singapore and Malaysia have very strong and very experienced and established teams so I think it'll be really tough for us, but saying that we're particularly strong in the ladies' singles with Kirsty and in the mixed doubles there aren't that many pairs that we would be fearing.
"We've also got some young developing players in the men's singles and the men's doubles. That is when you hope the home advantage you hope it pulls through - the crowd can really get behind us and be the twelfth man.
"I've played with pressure my whole career and I love representing Scotland and I love being part of a team."