Glasgow 2014: Hannah Miley hopes Games experience is key
By Jane Lewis
BBC Scotland
Last updated on .From the section Commonwealth Games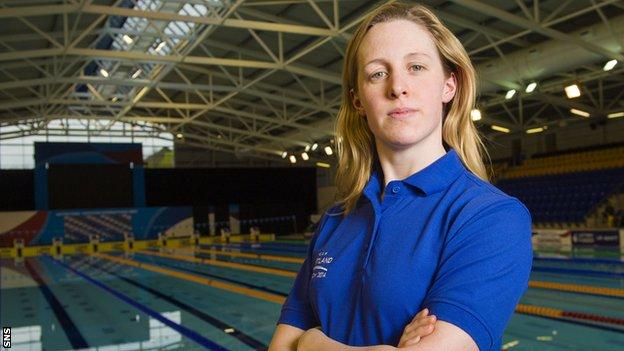 Hannah Miley is just 24 but as she prepares for her third Commonwealth Games she intends to put her extensive experience to good use at Glasgow 2014.
The Scottish swimmer's first taste of the Games came as a 15-year-old in Melbourne in 2006, where she finished fourth in the 400m individual medley.
She won the event four years ago in Delhi and is out to defend her crown on the first day of action in Glasgow.
"I've come a long way, the journey I've made has been incredible," she said.
"It's awesome, the progression I've made from starting off as the rookie of the team in 2006 to being the veteran of the team in 2014.
"Delhi was amazing, and to come away with a medal was pretty spectacular.

"It was certainly an interesting Games. It probably didn't go according to plan for some people but it really taught us about respect and appreciating what we have - the fact that whatever the circumstances you just had to stand up and fight.
"A lot of people were getting ill, the venues maybe weren't up to the high standards we are used to, so for us it was an eye-opener to making sure that you have to make do with what you've got."
Miley was unable to secure a podium spot at London 2012, finishing fifth in her favoured event.
But she will use her experience from the Olympics to aid her bid for glory in Glasgow this summer.
"It's very rare for an athlete to have two home Games on their CV," Miley added.
"What I experienced in London, I thoroughly enjoyed the crowd, it was just wonderful. The whole package of it, I've been able to work out what I need to take from that, and hopefully use it to my advantage at the Commonwealths.

"I don't like tempting fate, I don't like to state 'this is what I want and this is what's going to happen' because anything can happen.
"All I can do is swim the fastest I can. If that's good enough to win a medal that's great. I can't control what my competitors do - I might swim a personal best and finish fourth and I can't knock that, I've swam out my skin and it just so happens the other swimmers were quicker.
"I just make sure I'm in it for what I need to do, I'm not going to worry about anybody else."