Glasgow 2014: Eilidh Child wants her fastest time at Games
By Jane Lewis & Cheri Burns
BBC Scotland
Last updated on .From the section Commonwealth Games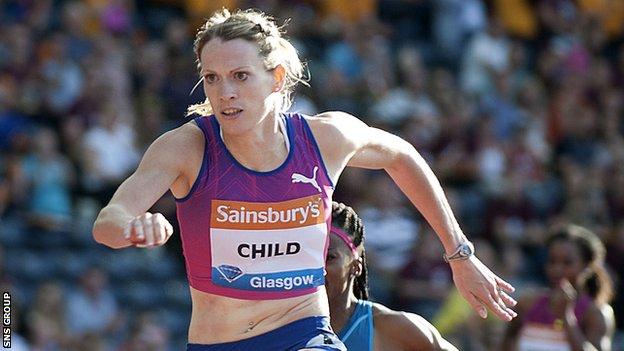 Eilidh Child will be carrying the hopes of a nation when she takes to the Glasgow 2014 track and is enjoying the prospect of glory on home soil.
And Child is aiming to go one better than the Commonwealth Games silver medal she won in Delhi four years ago.
"I want to go there and run to form and for my fastest race of the year to be at Hampden," she told BBC Scotland.
"People will look at where I am in the rankings and expect me to get a medal. It's definitely within my reach, but I'm trying to not think about that too much at the moment - anything can happen, especially in hurdles."
"It all depends on what goes on that day," she added.
On Friday, Child impressed on the newly-laid athletics track at Hampden, winning comfortably and recording a season's best of 54.39 seconds, just a fraction off her Scottish record of 54.22.
A poster girl for the Glasgow event, Child is determined to savour every moment of her home Games.
"It's important to enjoy everything; the build-up, the opening ceremony and all the other things, rather than just competing," she explained.
"I'm more relaxed about my athletics now and enjoying it a lot more than I was during the Olympics in 2012. That's making a big difference to my performances and confidence.
"I took a lot from Delhi, being in the village and with the other athletes. It was my first major medal, too, so I can take the experience I got there and build on it in Glasgow."

Life could have been very different for Child, who started off as a swimmer, showing promise as a youngster.
But having cemented her place among Scotland's greatest track and field stars, she says much of the success that has come her way is down to the tutelage of coach Malcolm Arnold.
"I moved to Bath to train with Malcolm," she said. "He's had a world champion, an Olympic champion and a world record holder at both sprint and 400m distances, so he's the hurdles guru.
"His experience and his knowledge is just invaluable."
Living and training away from her homeland, Child admits she's missed out on a lot of the hype surrounding the Games, but it is the passion of her fellow Scots that she hopes will spur her on to success.
"Everyone knows the Scots are very patriotic and to pull on a Scottish vest gives you a great feeling of pride," she added.
"It's really nice that people are getting behind it all, and I hope I can do them proud.
"I've such fond memories of Hampden, being a football supporter, and to get anything close to the cheer the footballers get when they run out will be amazing. I can't wait."