Glasgow 2014: Commonwealth Games Para-sport schedule
Last updated on .From the section Commonwealth Games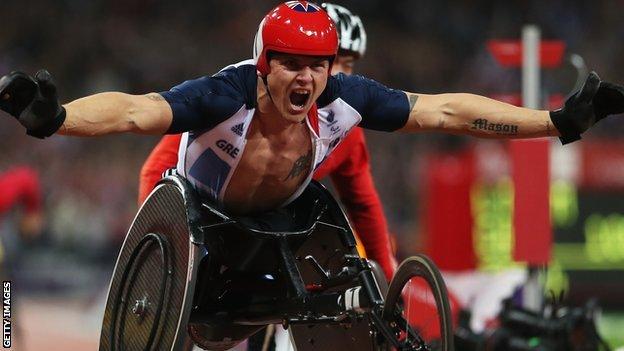 The 2014 Glasgow Commonwealth Games programme is the biggest ever with 22 medals up for grabs across five sports - athletics, swimming, cycling, lawn bowls and powerlifting.
Competitors will include London 2012 gold medallists David Weir, Aled Davies, swimmer Ollie Hynd and cyclist Neil Fachie while newcomers Sophie Thornhill (cycling) and Steph Slater (swimming) will be hoping to make their mark as they work towards the Rio Paralympics.
It is also the first Games that swimmers with an intellectual disability will compete in with a men's 200m freestyle event for S14 swimmers.
Thursday, 24 July
Swimming
19:42-19:46: Men's S9 100m freestyle (S7 & S8 also eligible)
Cycling
16:30-16:40, 17:11-17:21, 17:29-17:34: Women's tandem (B/Vi) sprint finals (best of three)
Friday, 25 July
Swimming
20:36-20:40: Women's S8 100m freestyle (S7 eligible)
Cycling
16:11-16:31 Men's tandem (B/Vi) kilo
Saturday, 26 July
Swimming
19:29-19:33: Men's S14 200m freestyle
Cycling
16:09-16:19, 16:53-17:03 17:15-17:20: Men's tandem (B/Vi) sprint finals (best of three)
Lawn Bowls
11:45-14:45: Mixed pairs (B2/B3) - visually impaired
Sunday, 27 July
Swimming
20:02-20:07: Women's SB9 100m breaststroke (SB8 eligible)
Athletics
14:30-15:45 Women's F37/38 long jump
Cycling
16:13-16:28: Women's tandem (B/Vi) kilo
Monday, 28 July
Swimming
19:37-19:42: Men's SM8 200m IM (S7 eligible)
Athletics
10:00-11:05: Men's F42/44 discus
20:00-20:05: Women's T12 100m
20:40-20:45: Men's T37 100m
Tuesday, 29 July
Swimming
20:03-20:10: Women's SM10 200m IM (SM9 eligible)
Thursday, 31 July
Athletics
19:20-19:35: Women's T54 1500m
19:35-19:40: Men's T54 1500m
Lawn Bowls
08:45-11:45: Open triples (B6/B7/B8) - physical impairment
Saturday, 2 August
Powerlifting
10:00-12:00: Women's lightweight (up to 61kg)
10:00-12:00: Women's heavyweight (from 61.01kg)
14:00-16:00: Men's lightweight (up to 72kg)
18:00-20:00: Men's heavyweight (from 71.01kg)