Glasgow 2014: Cheat sheet to the badminton events
Last updated on .From the section Commonwealth Games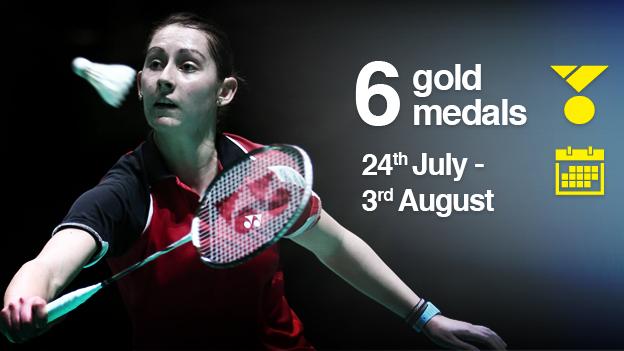 The sport in brief
With shuttlecocks whizzing round at over 200mph, badminton has claims to be the world's fastest racquet sport, and is one of just four sports to feature on every day of Glasgow 2014. There are six events: men's and women's singles and doubles, mixed doubles, and a team competition.
Home Nations' prospects
English mixed doubles pair Chris & Gabby Adcock have gold on their fingers after getting married last year, now they want it round their necks.
Scotland's Imogen Bankier & Robert Blair are among their main rivals though, and certainly will not make life easy for them.
England's Rajiv Ouseph should pick up a medal in the men's singles while Scotland's Kirsty Gilmour also has a good medal chance in the women's singles.
Commonwealth class acts
There seems to be a jinx on the top-ranked players with both current singles champions, Lee Chong Wei and Saina Nehwal pulling out not long before the Games.
But their team-mates could step into the breach - Lee's Malaysian compatriot Chong Wei Feng will now fancy his chances of gold in the men's singles. And PV Sindhu could benefit from fellow Indian Nehwal's absence in the women's singles.
What's new for Glasgow 2014?
No significant changes since Delhi 2010 - but badminton's world governing body are testing out a new scoring system so a shake-up could be on the cards.
Pub bore
The world's largest shuttlecock - 48 times bigger than normal - lives in the Kansas City Museum, USA.
Best medal performance by the Home Nations
England: 32 gold medals (most recently Tracey Hallam, women's singles, 2006; Gail Emms & Nathan Robertson, mixed doubles, 2006).
Scotland: One gold (Dan Travers & Billy Gilliland, men's doubles, 1986).
Wales: One gold (Kelly Morgan, women's singles, 1998).