Glasgow 2014: Cheat sheet for Commonwealth Games gymnastics
Last updated on .From the section Commonwealth Games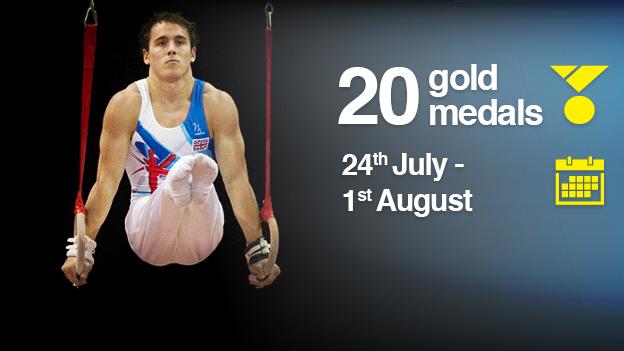 The sport in brief
There are 20 gold medals on offer: 14 in artistic gymnastics and six in rhythmic gymnastics. In the artistic version there are the men's and women's team competitions and all-around finals, followed by 10 apparatus finals for the top eight qualifiers in each.
There are six apparatus for men: floor, parallel bars, horizontal bar, vault, rings and pommel horse. Women compete on four: uneven bars, vault, floor and beam.
Rhythmic gymnasts perform routines to music - incorporating dance, acrobatics and flexibility with the use of multiple apparatus. The equipment used in the current four-year cycle is hoop, ball, clubs and ribbon and there are four individual apparatus medals available, plus an individual all-around and team all-around competition.
Click here for BBC Sport's video guides to the various gymnastics disciplines.
Home Nations' prospects
The battle for artistic team gold could be between the Auld Enemy, with England's Max Whitlock, Louis Smith and Kristian Thomas up against their British team-mates Daniel Keatings and Dan Purvis for Scotland.
Both countries will also have high hopes of dominating the men's individual finals. England's artistic women also look strong, with Rebecca Downie and Claudia Fragapane their main medal contenders.
Wales have a good chance of picking up a team medal in the rhythmic competition with current British champion Laura Halford and Commonwealth Games silver medallist Frankie Jones in their ranks, and they could be in contention for individual honours.
Commonwealth class acts
Australian artistic gymnast Lauren Mitchell swept the board in Delhi and she has made an impressive comeback this year following surgery.
Canada are traditionally strong and Ellie Black heads their challenge, while their 17-year-old rhythmic gymnast Patricia Bezzoubenko is the one to watch in this year's competition.
What's new for Glasgow 2014?
The Commonwealth Games have become one of the five major multi-sport events in the gymnastics calendar - raising the minimum age to 16 for women and 18 for men in the year of competition. Tie-break rules have changed and it is now possible for gymnasts to share a medal or finalist placing if they receive the same score.
Another change in rhythmic gymnastics is artistry has become part of the execution score, rather than having separate judges for this element of the performance.
Pub bore
Rhythmic gymnasts might not have a high profile in this country but that is certainly not the case in Russia. One of their most successful ever, Alina Kabaeva, appeared on the front of Vogue Russia in 2011 and was rumoured to be in a relationship with President Vladimir Putin.
Best medal performances by the Home Nations
England: 19 artistic gold medals (most recently Luke Folwell, all-around/vault, 2010 & Imogen Cairns, floor/vault, 2010); eight rhythmic bronze medals (most recently team all-around, 2010).
Scotland: One artistic gold medal (Steve Frew, rings, 2002); one rhythmic bronze medal (Joanne Walker, hoop, 1994).
Wales: Two artistic silver medals (most recently David Eaton, high bar, 2006); one rhythmic silver medal (Frankie Jones, hoop, 2010).