Glasgow 2014: Cheat sheet for Commonwealth Games judo
Last updated on .From the section Commonwealth Games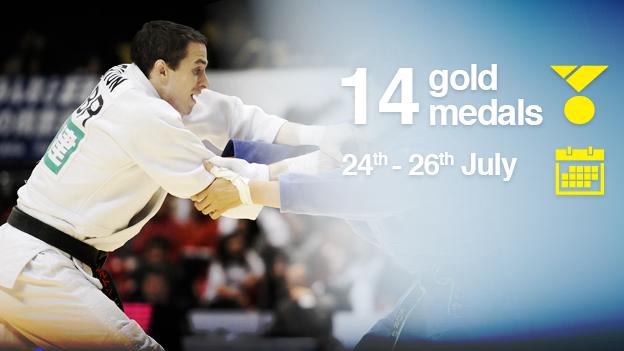 The sport in brief
The aim in judo is to outscore your opponent. There are various ways of scoring points, and throwing your opponent to the floor and pinning them down in submission, known as an ippon, automatically wins the bout.
Contests last five minutes for men, and four for women.
There are seven weight categories for each gender, with a knockout format used unless a lack of entrants prompts a round-robin start.
Home Nations' prospects
There is a far greater chance of players from Scotland, England, Wales and Northern Ireland medalling at a Commonwealth Games than at an global level.
Many of the big London 2012 names participate and should draw a crowd, including the enigmatic Ashley McKenzie, Colin Oates and the now husband-and-wife team of Gemma Gibbons and Euan Burton.
Commonwealth class acts
The strongest country appears to be Australia, so keep an eye out for Portuguese-born Ivo Dos Santos at 66kg, teenager Jake Bensted at 73kg and Chloe Rayner at 48kg.
Ghanaian Emmanuel Nartey is one of only a few competing judoka who also participated at the Games in Manchester 12 years ago.
Many of the squads are depleted as federations focus resources on the World Championships in late August.
What's new for Glasgow 2014?
Judo's inclusion. It was last on the Commonwealth programme in Manchester 2002.
Pub bore
Survival expert and TV personality Ray Mears may not strike you as much of a sportsman. But he says judo's ideology and entire way of life has influenced him from a very young age. "The lessons of judo are always with me," he explains. "I have tested their veracity in other places and circumstances and never found them lacking."
Best medal performance by the Home Nations
England: 22 gold medals (most recently eight golds, 2002)
Northern Ireland: One silver (Lisa Bradley, 52kg, 2002)
Scotland: Two gold medals (most recently Graeme Randall, 81kg, 2002)
Wales: Three silver medals (most recently Jo Melen, 78kg and Angharad Sweet, +78kg, 2002)