Glasgow 2014: Cheat sheet for Commonwealth Games boxing
Last updated on .From the section Commonwealth Games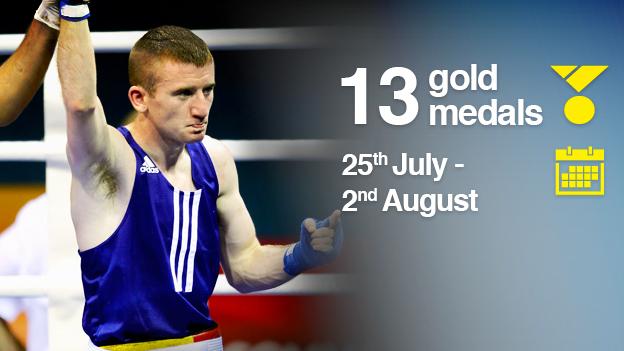 The sport in brief
Men will compete in 10 weight classes, with bouts contested over three rounds of three minutes each. There are three events for women, who box over four two-minute rounds.
Points are scored for landing the knuckles of a punch on an opponent's head or upper body. Rounds are scored out of 10, with the winner always getting 10. Each bout is decided in the first place by rounds won, rather than points.
More information can be found in the Get Inspired guide to boxing.
Home Nations' prospects
Plenty - this is a sport where Home Nations interest is high. Look out for London 2012 Olympians trying to make their mark again: Nicola Adams is a big draw at flyweight, and Paddy Barnes, Michael Conlan and Andrew Selby all expect to leave with medals, ideally gold.
Commonwealth class acts
Canada and India are the traditional non-Home Nations powerhouses, and expect their contingents to fare well again. Watch out for middleweight Vijender Singh and heavyweight Samir El-Mais.
Africa's top hopes include Oteng Oteng of Botswana in the men's flyweight and Benson Gicharu Njangiru of Kenya at bantamweight.
What's new for Glasgow 2014?
The Commonwealths Games is to reflect the rest of amateur boxing in not having head and face protection for men. Women, however, will still wear headguards.
The method of scoring has changed to the professional game's 10-Point Must system, so-called because a judge must award 10 points to the winner of a round.
Pub bore
Stat attack: the amateur boxing board looked at 15,000 boxers, half of whom had competed with headgear and half without. They found that in the 7,352 rounds that took place with boxers wearing headgear, the rate of concussion was 0.38%, compared with 0.17% per boxer per round in the 7,545 rounds without headgear.
And that's why the men won't wear helmets in Glasgow.
Best medal performance by the Home Nations
England: 49 gold medals (most recently Thomas Stalker, 60kg, and Simon Vallily, 91kg, Delhi 2010)
Northern Ireland: 11 gold medals (most recently Patrick Barnes, -49kg, Patrick Gallagher, 69kg, and Eamonn O'Kane, 75kg, Delhi 2010)
Scotland: 15 gold medals (most recently Callum Johnson, 81kg, Delhi 2010)
Wales: Four gold medals (most recently Sean McGoldrick, 56kg, Delhi 2010)
Jersey: 2 x bronze (most recently John Sillitoe (54kg), Edinburgh 1986)