Glasgow 2014: Your guide to Commonwealth Games wrestling
Last updated on .From the section Commonwealth Games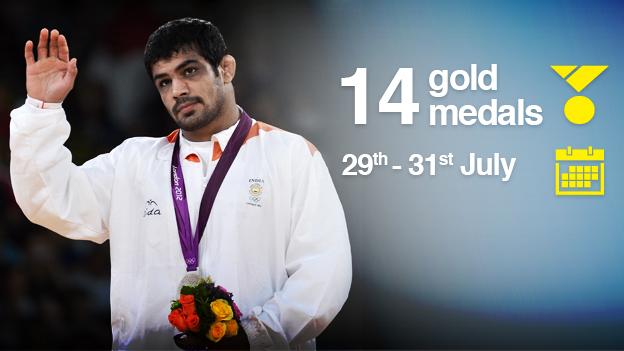 The sport in brief
Brute strength, speed, technical skill, mental toughness and endurance combine to make the best wrestlers. Though not a popular sport on the UK, wrestling has a huge global following.
Wrestlers grapple for two rounds of three minutes with 30 seconds rest in between. There are seven weight categories each for men and women
Home Nations' prospects
British wrestlers could take medals at all sorts of weights. For England, Oleksandr Madyarchyk at 61kg is a strong contender, as are Leon Rattigan at 97kg and his wife Yana at 48kg.
Scotland's formidable fortysomething twins Fiona and Donna Robertson are hoping to do the hosts proud.
Commonwealth class acts
Watch out for Indian superstar Sushil Kumar at 74kg and Yogeshwar Dutt at 65kg. African nations should also do well, particularly Bokang Masunyane of South Africa at 57kg and Nigeria's Ifeoma Iheanacho at 69kg.
What's new for Glasgow 2014?
Wrestling has a place on the Commonwealth Games roster for the first time since Edinburgh 1986. Freestyle featured alongside Greco-Roman at Delhi four years ago, but this year only freestyle has been granted a place.
Many weight categories are also subtly different from four years ago.
Pub bore
After Henry VIII performed expertly in the archery competition at the Field of the Cloth of Gold in 1520, on the spur of the moment he challenged the French king, Francis I, to a wrestle. But Henry was was quickly thrown by the French monarch and lost a significant amount of face.
Best medal performance by the Home Nations
England: Four gold medals (most recently Noel Loban, 90kg, Edinburgh 1986)
Northern Ireland: One bronze medal (Ivan Weir, 82kg, Edmonton 1978)
Scotland: One gold medal (Edward Melrose, 57kg, London 1934)