Glasgow 2014: Cheat sheet for Commonwealth Games lawn bowls
Last updated on .From the section Commonwealth Games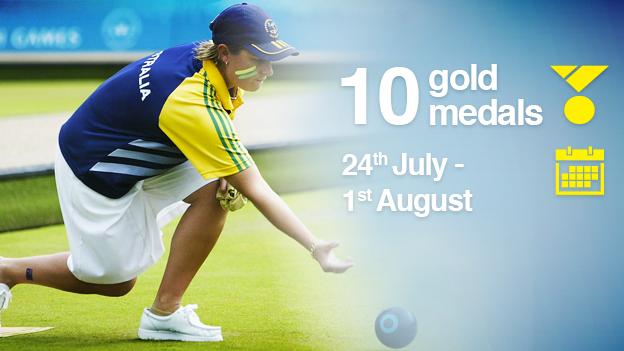 The sport in brief
It's curling on grass, and everybody loved curling at the 2014 Winter Olympics, didn't they?
The objective is simple: roll your bowl closer to the jack (a smaller ball) than your opponent and you score a point. In singles, the winner is the first player to reach 21 points. In pairs, triples and fours, a set number of ends are played and the total score decides the winner.
Home Nations' prospects
Welshman Robert Weale has won two Commonwealth titles and six medals in total over 28 years.
Defending champions Natalie Melmore and Ellen Falkner again play for England, along with Stuart Airey, who took silver in Delhi.
Nine of the 10 players selected by Scotland have played in a combined total of 20 previous Games, with world number one Paul Foster heading the pack.
Commonwealth class acts
Australia's squad is young but strong, led by 2012 world singles champion Karen Murphy. New Zealand's Jo Edwards and Val Smith form a formidable partnership in the women's pairs, while South Africa include world silver medallist Bobby Donnelly and defending champions Tracy-Lee Botha and Susan Nel.
What's new for Glasgow 2014?
The number of events has risen from six to 10, with para events included for the first time since Manchester 2002, along with the fours for men and women. Rules have been relaxed so that bowlers can enter two events each, and the format of all games has shifted from sets to points.
Pub bore
In 1617, King James I issued his Book of Sports. It declared that archery, dancing and Maypoles were acceptable pastimes on the Sabbath, but that playing lawn bowls was as bad as enjoying bear or bull baiting and was to be banned.
Best medal results by the Home Nations
England: 18 x gold (most recently women's pairs, 2010)
Northern Ireland: 4 x gold (most recently men's fours, 1998)
Scotland: 13 x gold (most recently men's pairs, 2006)
Wales: 3 x gold (most recently Robert Weale, men's singles, 2010)
Guernsey: 1 x silver (women's pairs, 1986)