Glasgow 2014: Cheat sheet for Commonwealth weightlifting
Last updated on .From the section Commonwealth Games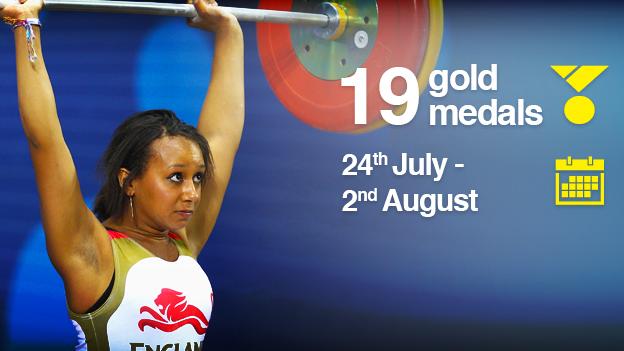 The sport in brief
Athletes have three attempts at two types of lift: the Snatch, where the barbell is lifted above the head in one go, and the Clean-and-Jerk, where it is lifted in two movements. The weights lifted are added together with the highest total winning gold.
The para-sport of powerlifting features one type of lift, with the barbell raised from a prone position.
Home Nations' prospects
Fifteen-year-old English schoolgirl Rebekah Tiler could be one of the stories of the Games, while team-mate Zoe Smith is hoping to improve on the bronze she won as a 16-year-old in Delhi.
At the other end of the age scale, Michaela Breeze of Wales has come out of retirement for another shot at glory.
In the men's events, Scotland's Peter Kirkbride is aiming to upgrade his Delhi silver to gold. England's Ali Jawad wants gold in the powerlifting, which would help erase his London 2012 heartbreak.
Commonwealth class acts
Samoa's Opeloge siblings are expected to acquire more medals for the family trophy cabinet - Ele, who won gold on the same day as her brother in Delhi, will be back to defend her +75kg title.
Nigeria took all six medals on offer in the powerlifting in 2010 and should celebrate more success in Glasgow.
What's new for Glasgow 2014?
An extra two powerlifting events have been added, making four in total.
Pub bore
Weightlifting provided Great Britain with its first Olympic gold medal. Launceston Elliot won the one-armed lift at the inaugural modern Games in 1896.
Best medal performances by the Home Nations
England: 41 gold medals (most recently Delroy McQueen, 105kg overall, snatch & clean and jerk, 2002; Giles Greenwood, +105kg, snatch, 2002)
Wales: 18 gold medals (most recently Michaela Breeze, 63kg combined, 2006)
Scotland: Two gold medals (most recently Phil Caira, 82.5kg combined, 1962)