Glasgow 2014: Cheat sheet for Commonwealth Games swimming
Last updated on .From the section Commonwealth Games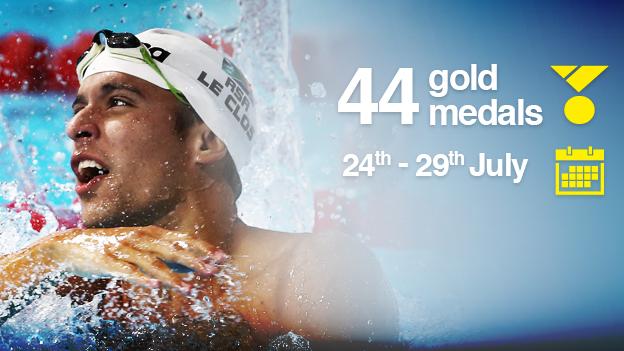 The sport in brief
Swimming at the Commonwealth Games is the gold-medal gift that keeps giving. At London 2012, there were 32 events, in Glasgow - even without the absent open water races - there are 44. Swimming is a core Commonwealth sport and has appeared at every Games.
Home Nations' prospects
Scotland's poster boy Michael Jamieson will be expected to turn Olympic 200m breaststroke silver into gold. Despite being ill, England's sprint specialist Fran Halsall took her Commonwealth medal tally to seven in Delhi and should add a few more in Glasgow.
Team-mate Liam Tancock returns to defend his 50m & 100m backstroke crown amid fitness concerns following injury. Jazz Carlin could finally emerge from the shadow of Rebecca Adlington to be a multiple Welsh medallist in the long-distance freestyle events.
Commonwealth class acts
Chad Le Clos produced one of London 2012's defining moments with 200m butterfly gold ahead of Michael Phelps. Expect the South African to make regular podium visits.
In contrast, James "The Missile" Magnussen - and the Australian team at large - have much to prove after a poor Olympics. The exception is Alica Coutts; a five-time Olympic medallist in London, she won five silver medals at last year's World Championships having, guess what, won five medals (all gold) at the 2010 Commonwealth Games.
What's new for Glasgow 2014?
The para-sport events have changed since Delhi 2010. At Glasgow we will see: Men - 100m freestyle S9 (S7/S8 eligible), 200m freestyle S14 and 200m individual medley SM8 (SM7 eligible). Women - 100m freestyle S8 (S7 eligible), 100m breaststroke SB9 (SB8 eligible) and 200m individual medley SM10 (SM9 eligible).
Pub bore
The 1900 Olympics in Paris featured underwater swimming on the programme. Swimmers were given one point for each second they were under water and two for every metre covered. Don't hold your breath for it to be added to the Commonwealth Games however - Paris was its only Olympic appearance.
Best medal results by the Home Nations
England: 84 golds (seven in 2010 - Liam Tancock (two), James Goddard (two), Rebecca Adlington (two), Fran Halsall)
Scotland: 17 golds (Two x gold in 2010 - Hannah Miley, 400IM & and Robbie Renwick, 200m freestyle)
Wales: Four golds (David Davies, 2006, 1500m freestyle)
Isle of Man: One bronze (Alexandra Jackson, 1970, 200m freestyle)