Glasgow 2014: Cheat sheet for Commonwealth Games netball
Last updated on .From the section Commonwealth Games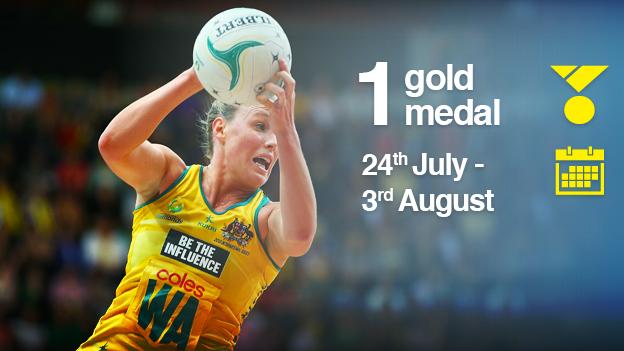 The sport in brief
The 12 teams compete in two pools of six and the top two teams from each group progress to the semi-finals.
Teams consist of seven players and matches are played over four 15-minute periods, with the prospect of extra-time if teams are level in a medal or classification match.
Home Nations prospects
England have their best ever opportunity to end the Antipodean stranglehold over this event. Usually they are the best of the rest - they have won three bronze medals at the last four Commonwealth Games and finished third at the last World Championships.
Anna Mayes' side demonstrated their credentials with their first ever series victory over Australia last year and have targeted a place in the final.
Commonwealth class acts
New Zealand and Australia are the heavyweights in this field. They have contested all four finals since the sport became part of the Games in 1998 and both countries have won two gold medals apiece.
Australia will be looking for revenge after losing out to New Zealand in the previous two finals. Jamaica are regular semi-finalists and provide England's biggest threat for the third place.
What's new for Glasgow 2014?
For the first time all four of the Home Nations will be represented as Scotland and Northern Ireland make their debuts in the competition. There will also be a first appearance for the Caribbean island of St Lucia.
Pub bore
The sport apparently has New Orleans sports teacher Clara Baer to thanks for its distinctive zonal rules after she misinterpreted pencilled lines on a diagram as meaning players couldn't leave those areas.
Best medal performance by the Home Nations
England: Three bronze medals (most recently 2010).