Glasgow 2014: Cheat sheet for Commonwealth Games shooting
Last updated on .From the section Commonwealth Games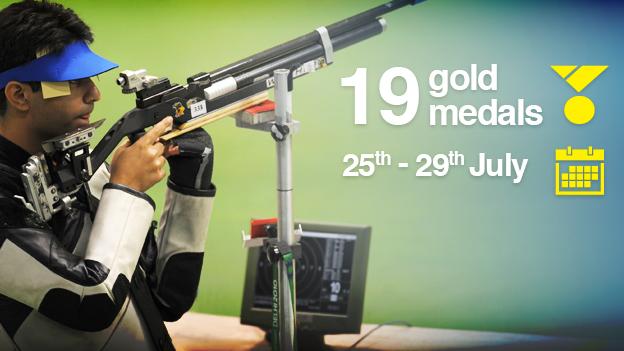 The sport in brief
There are four shooting disciplines. In pistol and small-bore rifle events, shooters aim at a static 10-ringed target from a set distance (10m, 25m or 50m).
Clay target competitors shoot at moving disks launched above and in front of them, while full-bore marksmen fire at mounted targets over distances of 300-1,000 yards.
With the exception of the full-bore rifle, the top six or eight shooters - depending on the event - progress from qualification to the final stage, for which scores are reset and a knockout format introduced.
Click here for video guides to the shooting events.
Home Nations' prospects
England's 60-year-old pistol shooter Mick Gault needs one medal to equal the Games record of 18, while rifle specialist Jen McIntosh can become the most decorated Scottish woman in Commonwealth history.
England's Amber Hill, a World Cup winner aged 15 last year, will face world bronze medallist Elena Allen of Wales in the skeet, Northern Ireland's David Calvert, 63, makes a record 10th appearance in the full-bore rifle and Manxman Tim Kneale goes into the double trap as the new world record holder.
Commonwealth class acts
India have topped the shooting medal table at the last two Commonwealth Games and boast 2012 Olympic medallists Vijay Kumar (pistol) and Gagan Narang (rifle), plus 2008 air rifle champion Abhinav Bindra.
Australia are particularly strong in clay target: Michael Diamond and Russell Mark have three Olympic gold medals between them, while Mark's wife Lauryn has won three Commonwealth skeet titles.
What's new for Glasgow 2014?
Qualifying scores are no longer carried over to the final stage, with the remaining shooters starting afresh in a knockout format introduced last year.
The number of events has been almost halved from 36 to 19, in large part due to all pairs events being dropped except in the full-bore rifle.
Pub bore
An obsessive pursuit of perfection by India's Abhinav Bindra has led the 2008 Olympic champion to have his love handles surgically removed, undergo brain mapping, import yak milk from China when told it aided concentration (it doesn't), and shave a millimetre off the sole of one shoe after testing a pair for 20 days.
Best medal performance by the Home Nations
England: 42 gold medals (most recently Parag Patel, full-bore rifle Queens Prize, 2010)
Northern Ireland: Five gold medals (most recently David Calvert, full-bore rifle Queens Prize, 2002)
Scotland: 12 gold medals (most recently Jon Hammond, 50m rifle prone, 2010)
Wales: Five gold medals (most recently David Phelps, 50m rifle prone, 2006)
Jersey: One gold medal (Colin Mallett, full-bore rifle Queens Prize, 1990)
Guernsey: One gold medal (Adrian Breton, rapid-fire pistol, 1990
Isle of Man: One gold medal (Nigel Kelly, skeet, 1986)