Glasgow 2014: Cheat sheet for Commonwealth Games diving
Last updated on .From the section Commonwealth Games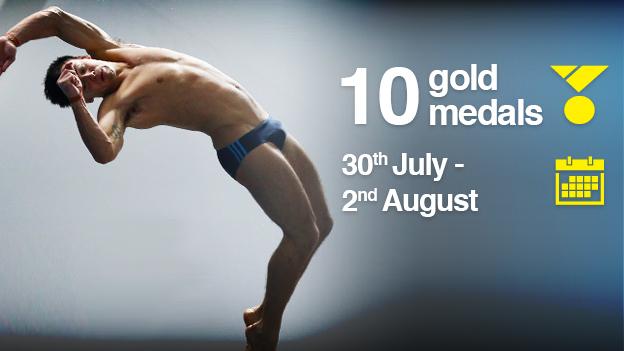 The sport in brief
There are 10 diving events (five for each gender) held over three heights: a springboard set either 1m or 3m above the water, and a rigid 10m platform.
There's a preliminary round in all individual events, with the top 12 divers progressing to the final. The synchronised competitions - in which divers compete in pairs - are straight finals.
A panel of judges mark each dive based on its difficulty and execution.
Home Nations' prospects
England and Scotland are the only Home Nations represented in diving. England have medal prospects in most of the events, led by defending 10m platform champion and Olympic medallist Tom Daley.
Former world junior champion Jack Laugher is among the favourites in the 3m springboard events, while 25-year-olds Tonia Couch and Sarah Barrow form part of a world-class synchronised 10m field.
Commonwealth class acts
Canada won half of the Commonwealth diving events four years ago and look particularly strong in the women's events this time.
World-class synchronised pairs Jennifer Abel and Pamela Ware (springboard) and Meaghan Benfeito and Roseline Filion (10m platform) are all pretty handy in the individual events too.
Look out for the Australians, led by 2008 Olympic champion Matthew Mitcham, and the Malaysians.
What's new for Glasgow 2014?
The degree of difficulty of some dives has been revised since the last Commonwealth Games to reflect rising standards.
The number of judges scoring a dive in synchronised events has increased from nine to 11.
Both of these changes were also in place for the London 2012 Olympics.
Pub bore
Early dives were basic and the 1904 Olympics included the plunge for distance; the aim was to glide the furthest underwater after diving in from a whopping height of 18 inches.
The emergence in the early 20th century of diving involving gymnastic movements, such as somersaults, was referred to as fancy diving. For several years, separate competitions were held for plain and fancy diving.
Best medal performance by the Home Nations
England: 23 gold medals (most recently Tom Daley, men's 10m platform, 2010)
Scotland: Three gold medals (most recently Peter Heatly, men's 10m platform, 1958)
Wales: One gold medal (Robert Morgan, men's 10m platform, 1990)