Glasgow 2014: Zharnel Hughes out of Commonwealth Games

By Graham Fraser
BBC Scotland
Last updated on .From the section Commonwealth Games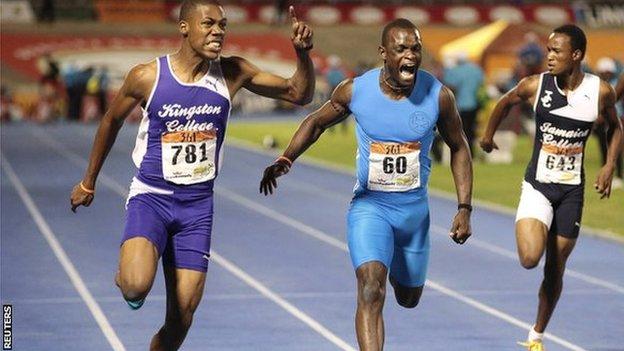 Anguillan sprinter Zharnel Hughes will miss the Commonwealth Games after picking up an injury earlier this year.
Hughes, 19, broke the 100m record at the Jamaican Inter-Secondary Schools Boys and Girls Athletics Championships in March.
His time of 10.12 seconds beat the previous fastest time by Yohan Blake.
However, Hughes injured his hamstring in the same event and he has decided to concentrate on the World Junior Championships in Oregon next week.
The teenager had initially hoped to compete at both the Oregen event and Glasgow 2014, but amended his plans to ensure he suffers no recurrence of his injury.
Hughes also won the 200m in the CAC Junior Championships in Mexico earlier this month.
"The CAC Championships was my first race after the injury," he explained. "After I won the race, I went back to Jamaica and then we started to talk about it.
"My coach said, 'You have just come off an injury and I don't want you to put pressure on yourself'.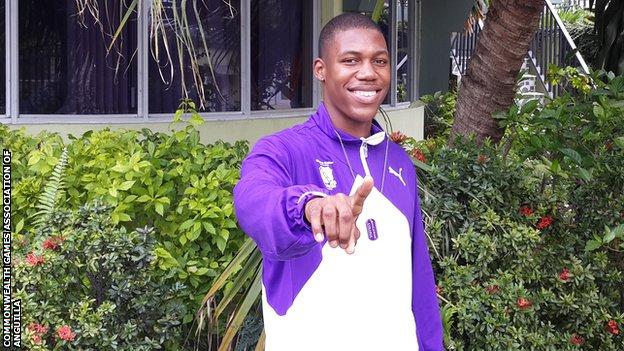 "I don't want what happened at the champs to happen again at the world juniors."
Hughes and his team were also concerned at the proximity of the world juniors to the Commonwealth Games and what effect the travel demands would have on his body.
The final of the 200m in Oregon, which Hughes will be hoping to win, takes place five days before the first round of the same distance in Glasgow.
Hughes - who trains at the High Performance Training Centre in Kingston next to Usain Bolt and Blake - told the BBC in April about his hopes to one day represent Team GB at an Olympic Games.
Anguillans can compete at the Commonwealth Games and World Championships but, as a British Overseas Territory, athletes from the island are unable to enter the Olympics as Anguilla is not recognised by the International Olympic Committee.
Hughes may choose to follow in the footsteps of long jumper Shara Proctor, who decided to represent Team GB in 2010.
"It is just in the back of my mind. I haven't made a decision as yet," he added.