Glasgow 2014: Scotland's Commonwealth Games team

By Keir Murray
BBC Sport Scotland
Last updated on .From the section Commonwealth Games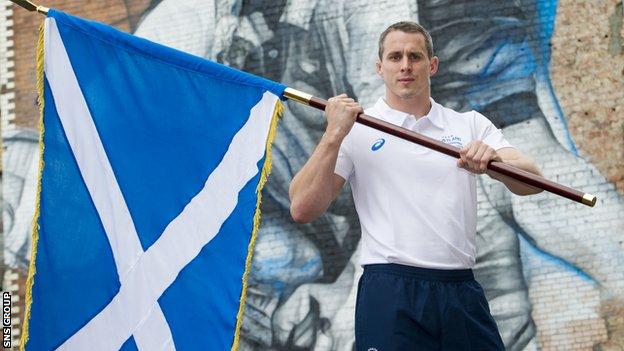 Glasgow 2014 Commonwealth Games
Dates:
23 July - 3 August
Coverage:
Live on BBC TV, HD, BBC Radio 5 live, BBC Radio Scotland, Red Button, Connected TVs, online, tablets and mobiles
Scotland is hosting the Commonwealth Games for the third time following the tournaments in Edinburgh in 1970 and 1986.
This time it's Glasgow's turn and 310 athletes, comprising 168 men and 142 women, will have the honour of representing Scotland.
Here's a list of who is in the team.
AQUATICS (44 athletes)
Ryan Bennett, 4x100m Medley, Born: Cambridge/Lives: Stirling
Craig Benson, 100m Breaststroke, Livingston/Livingston
Cameron Brodie, 200m Butterfly, Inverurie/Stirling
Martin Cremin, 1500m Freestyle, Stirling/Stirling
Craig Hamilton, 1500m Freestyle, Edinburgh/Edinburgh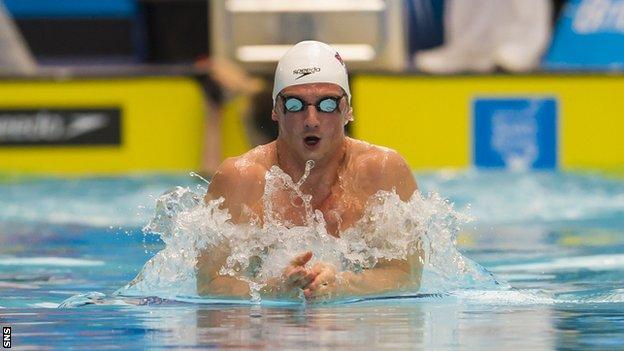 Michael Jamieson, 100m & 200m Breaststroke, Glasgow/Bath
Rory Lamont, 50m Backstroke, Alexandria/Dumbarton
Gareth Mills, 4x200m Freestyle, Scarborough/Sheffield
Andrew McGovern, 50m Backstroke, Aberdeen/Aberdeen
Kieran McGuckin, 4x100m Freestyle, Falkirk/Edinburgh
Craig McNally, 200m Backstroke, 4x100m Medley, Edinburgh/Edinburgh
Stephen Milne, 400m &1500m Freestyle, Inverness/Perth
Ross Muir, 400m Individual Medley (IM), Falkirk/Falkirk
Ross Murdoch, 50m, 100m & 200m Breaststroke, 4x100m Medley, Alexandria/Stirling
Jack Ness, 50m Backstroke,Aberdeen/Aberdeen
Robbie Renwick, 200m & 400m Freestyle, 4x100m Freestyle, 4x200m Freestyle, 4x100m Medley, UAE/Glasgow
Craig Rodgie, S14 200m Freestyle, Dunfermline/Dalgety Bay
Richard Schafers, 50m Freestyle, 4x100m Freestyle, Whitburn/Livingston
Duncan Scott, 4x200m Freestyle Relay, Glasgow/Alloa
Jak Scott, 4x200m Freestyle, Edinburgh/Stirling
Lewis Smith, 200m Butterfly, 400m IM, Edinburgh/Stirling
Calum Tait, 200m Breaststroke, Milngavie/Glasgow
Jack Thorpe, 4x100m Freestyle, Glasgow/Edinburgh
Mark Tully, 50m Breaststroke, Tranent/Tranent
Daniel Wallace, 400m Freestyle, 200m & 400m IM, 4x200m Freestyle, Edinburgh/Florida
Joseph Welstead, 50m Breaststroke, Inverness/Stirling
Katie Armitage, 100m Breaststroke, Watford/Watford
Erraid Davies, SB9 100m Breaststroke, Dundee/Skeld, Shetland
Kathleen Dawson,50m Backstroke, 4x100m Medley, Kirkcaldy/Warrington
Fiona Donnelly, 4x100m Medley, Sydney, Australia/Virginia
Megan Gilchrist, 4x200m Freestyle, Livingston/Swansea
Sian Harkin, 50m Freestyle, 50m Butterfly, 4x100m Freestyle, 4x100m Medley, Bridgend/Bridgend
Camilla Hattersley, 800m Freestyle, Edinburgh/Glasgow
Lucy Hope, 4x200m Freestyle, Melrose/Jedburgh
Kathryn Johnstone, 50m & 100m Breaststroke, 4x100m Medley,Dunfermline/Edinburgh
Rachel-Louise Masson, 4x100m Freestyle, Aberdeen/Aboyne
Caitlin McClatchey, 200m Freestyle, 4x100m Freestyle, 4x200m Freestyle,Portsmouth/Edinburgh
Hannah Miley, 800m Freestyle, 200m Breaststroke, 200m & 400m IM, Swindon/Inverurie
Rachel O'Donnell, 4x100m Freestyle, 4x200m Freestyle, Kirkcaldy/Charlestown
Corrie Scott, 50m &100m Breaststroke, Bellshill/Edinburgh
Andrea Strachan, 50m Breaststroke, Lerwick//Edinburgh
Aisha Thornton, 800m Freestyle, St Helens/Warrington
DIVING (2)
James Heatly, 1m Springboard, 3m Springboard, Edinburgh/Edinburgh
Grace Reid, 1m Springboard, 3m Springboard, Edinburgh/Edinburgh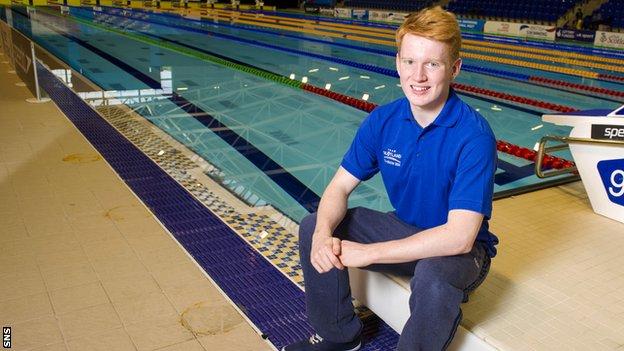 ATHLETICS (58 athletes)
Christopher Bennett, Hammer, Born: Glasgow/ Lives: Glasgow
David Bishop, 1500m, Darmstadt/Chippenham
Raymond Bobrownicki, High Jump, Pennsylvania/Glasgow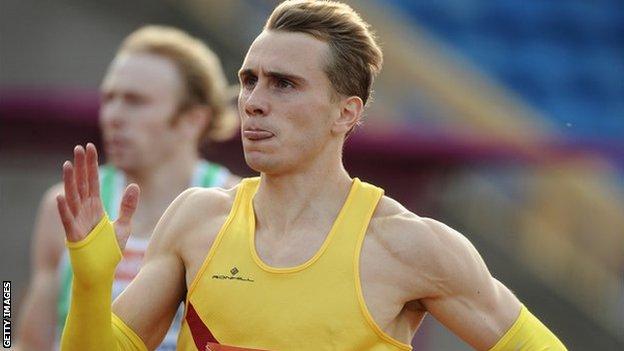 Jamie Bowie, 4 x 400m Relay, Inverness/Edinburgh
Luke Caldwell, 5,000m & 10,000m, Redhill/Betchworth
James Campbell, Javelin, Cheltenham/Leeds
Lewis Clow, T37 100m, Aberdeen/Ellon
Mark Dry, Hammer, Milton Keynes/Loughborough
Andrew Frost, Hammer, Isle of Wight/Broxburn
Callum Hawkins, 10,000m, Paisley/Elderslie
Derek Hawkins, Marathon, Paisley/Elderslie
Ross Houston, Marathon, Dumfries/Roslin, Midlothian
Guy Learmonth, 800m, Berwick upon Tweed/Loughborough
Andrew Lemoncello, 10,000m, Tokyo/Nairn
Stephen Lisgo, 3,000m Steeple-chase, Sutton-in-Ashfield/Mansfield
Greg Louden, 4 x 400m Relay, Edinburgh/Dalkeith
Chris O'Hare, 1500m, Edinburgh/West Linton
Gregor Maclean, Pole Vault, Montrose/Loughborough
Jason Maclean, T37 100m, Inverness/Nairn
Angus McInroy, Discus, Glasgow/Helensburgh
Nicholas Percy, Discus, Glasgow/Isle of Wight
Grant Plenderleith, 4 x 400m Relay, Falkirk/Falkirk
Kris Robertson, 4 x 400m Relay, Glasgow/Glasgow
Allan Smith, High Jump, Paisley/Birmingham
David Smith, High Jump, Paisley/Birmingham
Jax Thoirs, Pole Vault, Glasgow/Seattle
Jake Wightman, 1500m, Nottingham/Loughborough
Zoey Clark, 4 x 400m Relay, Aberdeen/Aberdeen
Libby Clegg, T12 100m, Cheshire/Edinburgh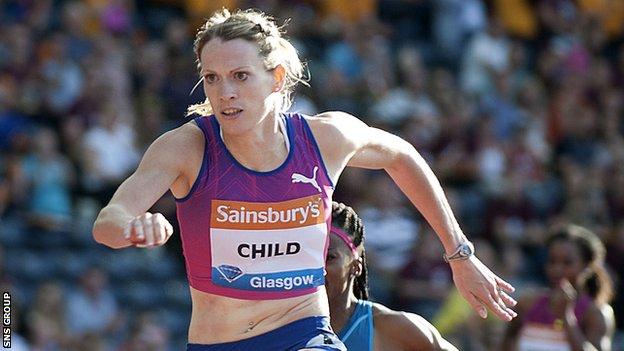 Eilidh Child, 400m Hurdles, Perth/Cumbernauld
Meggan Dawson-Farrell, T54 1500m, Stirling/Tullibody
Emily Dudgeon, 800m, Glasgow/Gullane
Hayley Haining, Marathon, Dumfries/Kilbirnie
Rachel Hunter, Hammer, Irvine/Ayr
Samantha Kinghorn, T54 1500m, Melrose/Gordon
Kirsty Law, Discus, Inverness/Loughborough
Rachael MacKenzie, High Jump, Inverness/Inverness
Kirsten McAslan, 4 x 400m Relay, Manchester/Manchester
Eilish McColgan, 3000m Steeplechase, Dundee/Dundee
Susan McKelvie, Hammer, Broxburn/Broxburn
Laura Muir, 1500m, 800m, Milnathort/Glasgow
Gemma Nicol, 4 x 400m Relay, Dunfermline/Dunfermline
Jade Nimmo, Long Jump, Falkirk/Falkirk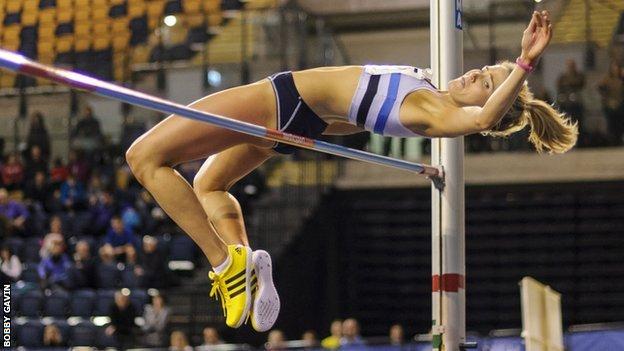 Jayne Nisbet, High Jump, Edinburgh/Loughborough
Emma Nuttall, High Jump, Edinburgh/Langely,Canada
Susan Partridge, Marathon, Lanark/Sowerby Bridge
Henrietta Paxton, Pole Vault, Salisbury/Loughborough
Myra Perkins, Hammer, Falkirk/Falkirk
Elizabeth Potter, 5,000, 10,000m, Glasgow/Glasgow
Diane Ramsay, 4 x 400m Relay, Glasgow/Glasgow
Alison Rodger, Shot Put, Glasgow/Loughborough
Lynsey Sharp, 800m, Dumfries/Edinburgh
Stephanie Twell, 5000m, Colchester/Twickenham
Lennie Waite, 3000m Steeplechase, Paisley/Houston, USA
Sarah Warnock, Long Jump, Edinburgh/Prestonpans
Laura Whittle, 5000m, Blackpool/Loughborough
Kirsty Yates, Shot Put, Dumfries/Castle Douglas
*Joasia Zakrzewski, Marathon, Durham/Dumfries
* Replaces Freya Ross withdrawn injured.
BADMINTON (10 athletes)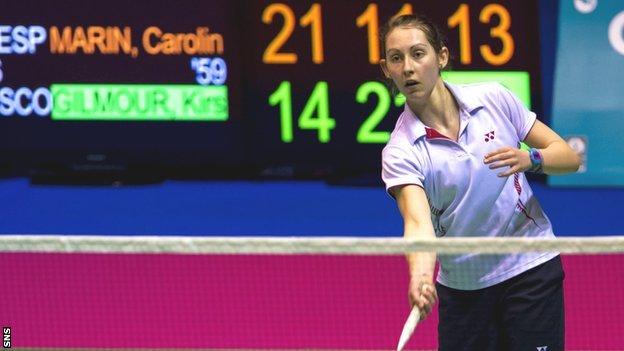 Robert Blair, Mixed Doubles, Men's Doubles, Team, Born: Edinburgh/Lives: Glasgow
Martin Campbell, Men's Doubles, Team, Edinburgh/Glasgow
Patrick MacHugh, Men's Doubles, Team, Kirkcaldy/Glasgow
Kieran Merrilees, Men's Singles, Team, Glasgow/Glasgow
Paul Van Rietvelde, Men's Doubles, Mixed Doubles, Team, Edinburgh/Longniddry
Imogen Bankier, Mixed Doubles, Women's Doubles, Team, Glasgow/Glasgow
Jillie Cooper, Mixed Doubles, Team, Edinburgh/Glasgow
Rebekka Findlay, Team, Paisley/Erskine
Kirsty Gilmour, Women's Singles, Women's Doubles, Team, Bellshill/Bothwell
Caitlin Pringle, Team, Glasgow/Glasgow
BOXING (10 athletes)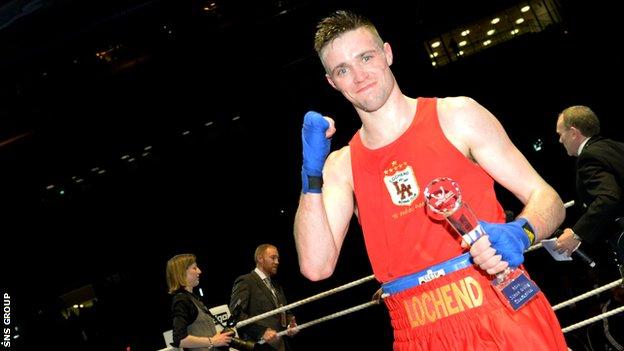 Aqeel Ahmed, 49kg, Born: Dundee/Lives: Motherwell
Reece McFadden, 52kg, Bellshill/Motherwell
Joe Ham, 56kg, Glasgow/Glasgow
Charlie Flynn, 60kg, Lanark/Motherwell
Josh Taylor, 64kg, Edinburgh/Prestonpans
Lewis Benson, 69kg, Edinburgh/Edinburgh
Kieran Smith, 75kg, Livingston/Greenrigg
Scott Forrest, 81kg, Johannesburg/Forth
Stephen Lavelle, 91kg, Glasgow/Glasgow
Ross Henderson, 91+kg, Leeds/Motherwell
CYCLING (34 athletes)
Jonathan Biggin, Track Sprint, Born: Rutherglen/Lives: Glasgow
Bruce Croall, Track Sprint, Edinburgh/Edinburgh
Neil Fachie, Track Para-Cycling, Aberdeen/Manchester
Andy Fenn, Time Trial, Road Race, Birmingham/Maidstone
Grant Ferguson, Mountain Bike XC, Road Race, Peebles/Manchester
Kenta Gallagher, Mountain Bike XC, Sheffield/Inverness
James McCallum, Track Endurance, Road Race, Edinburgh/Bellshill
Craig McLean, Track Para-Cycling Pilot, Grantown-On-Spey/Cheadle
David Millar, Time Trial, Road Race, Malta/Girona
Gareth Montgomerie, Mountain Bike XC, Dumfries/Castle Douglas
Evan Oliphant, Track Endurance, Road Race, Thurso/Edinburgh
John Paul, Track Sprint, Wick/Glasgow
Jack Pullar, Road Race, Lancaster/Carnforth
Christopher Pritchard, Track Sprint, Sheffield/Sheffield
Alistair Rutherford, Track Endurance, Manchester/Manchester
Callum Skinner, Track Sprint, Glasgow/Manchester
Mark Stewart, Track Endurance, Dundee/Dundee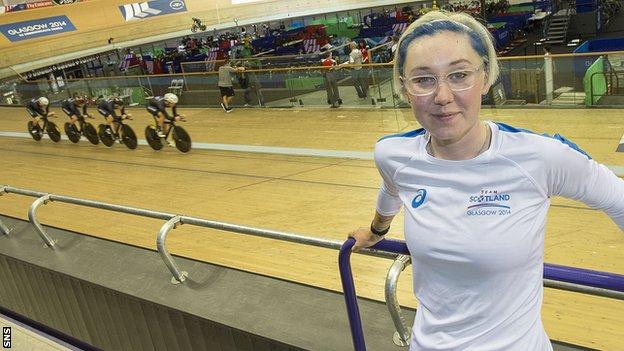 Katie Archibald, Track Endurance, Time Trial, Road Race, Walton-on-Thames/Manchester
Lucy Coldwell, Time Trial, Glasgow/Clydebank
Laura Cluxton, Track Para-Cycling, Aberdeen/Tullibody
Lee Craigie, Mountain Bike XC, Glasgow/Inverness
Jenny Davis, Track Sprint, Dechmont/Edinburgh
Fiona Duncan, Track Para-Cycling Pilot, Glasgow/Aberdeen
Anne Ewing, Road Race, Perth/Edinburgh
Louise Haston, Track Para-Cycling Pilot, Edinburgh/Edinburgh
Charline Joiner, Track Endurance, Road Race, Dunfermline/Dunfermline
Kerry MacPhee, Mountain Bike XC, Glasgow/Stirling
Aileen McGlynn, Track Para-Cycling, Paisley/Glasgow
Gemma Neill, Road Race, Forfar/Arbroath
Eleanor Richardson, Track Sprint, London/Dundonnell by Garve
Jessica Roberts, Mountain Bike XC, Northallerton/Bristol
Eileen Roe, Track Endurance, Road Race, Dunfermline/Dunfermline
Claire Thomas, Road Race, Edinburgh/Edinburgh
Anna Turvey, Track Endurance, Time Trial, Sunderland/Newcastle
GYMNASTICS (13 athletes)
ARTISTIC (10)
Frank Baines, Team, Individual, Born: Liverpool/Lives: Crosby
Adam Cox, Team, Individual, Edinburgh/Livingston
Liam Davie, Team, Individual, Bellshill/Carnbroe
Daniel Keatings, Team, Individual, Kettering/Corby
Daniel Purvis, Team, Individual, Liverpool/Crosby
Cara Kennedy, Team, Individual, Paisley/Paisley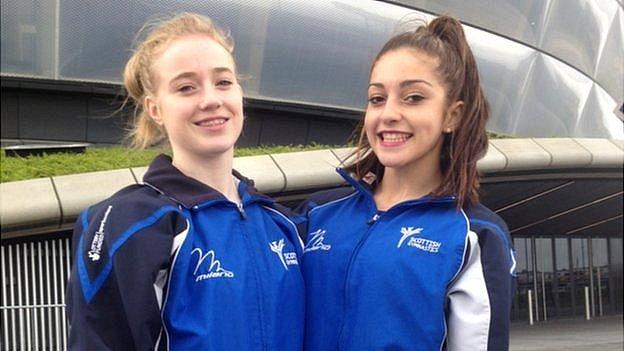 Erin McLachlan, Team, Individual, Huddersfield/Huddersfield
Amy Regan, Team, Individual, Glasgow/Glasgow
Carly Smith, Team, Individual, Glasgow/Glasgow
Emma White, Team, Individual, Dunfermline/Birmingham
Rebecca Bee, Team, Individual, Aberdeen/Aberdeen
Lauren Brash, Team, Individual, Livingston/Livingston
Victoria Clow, Team, Individual, Giffnock/Essex
HOCKEY (32 athletes)
Kenneth Bain, Forward, Born: Glasgow/Lives: Paisley
Michael Bremner, Defender, Paisley/Glasgow
Jamie Cachia, Goalkeeper, Edinburgh/Cupar
Daniel Coultas, Defender, Beverley/High Wycombe
Alan Forsyth, Forward, Paisley/Paisley
David Forsyth, Defender, Paisley/Paisley
Chris Grassick, Midfield - Captain, Edinburgh/Edinburgh
Gareth Hall, Forward, Dundee/Glasgow
William Marshall, Defender, Paisley/Glasgow
Gordon McIntyre, Midfield, Greenock/Greenock
Ian Moodie, Forward, Edinburgh/Edinburgh
Christopher Nelson, Midfield/Forward, Paisley/Paisley
Nicholas Parkes, Midfield, Glasgow/London
Iain Scholefield, Defender, Paisley/Paisley
Niall Stott, Midfield, Dundee/Dundee
Ross Stott, Midfield, Dundee/Dundee
Alison Bell, Forward, Dundee/Stirling
Vikki Bunce, Midfield/Forward, Dundee/Dundee
Linda Clement, Forward - Captain, Inverness/Edinburgh
Aileen Davis, Defender, Brussels, Belgium/Bath
Leigh Fawcett, Defender - Vice Captain, Aberdeen/Aberdeen
Amy Gibson, Goalkeeper, Dumbarton/Dumbarton
Nikki Kidd, Midfield, Buckie/Edinburgh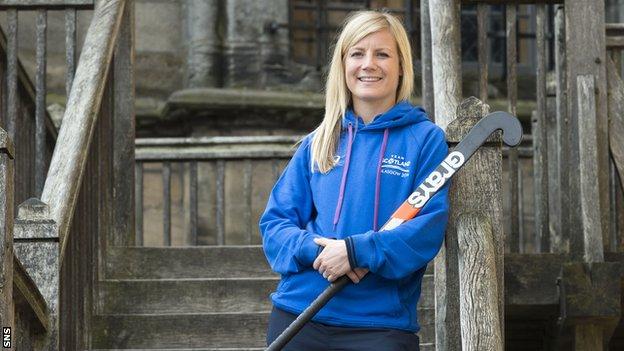 Nikki Lloyd, Forward, Farnborough/London
Emily Maguire, Midfield, Glasgow/Paisley
Susan McGilveray, Defender, Glasgow/Glasgow
Morag McLellan, Midfield, Glasgow/Glasgow
Catriona Ralph, Defender - Vice Captain, Glasgow/Glasgow
Sarah Robertson, Forward, Borders/Selkirk
Nicola Skrastin, Midfield, Vale of Leven/Glasgow
Rebecca Ward, Defender, Dundee/Dundee
Ailsa Wyllie, Forward, Dundee/Stirling
JUDO (14 athletes)
John Buchanan, -60kg, Born: Edinburgh/Lives: Broxburn
Andrew Burns, -90kg, Glasgow/Edinburgh
Euan Burton, -100kg, Ascot/Edinburgh
Patrick Dawson, -73kg, Edinburgh/Edinburgh
James Millar*, -66kg, Invergordon/Edinburgh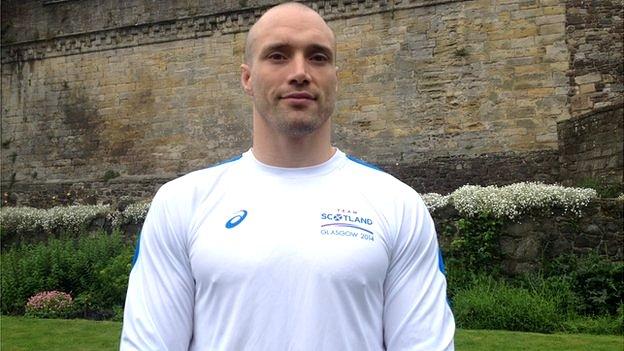 Matthew Purssey, -90kg, Chertsey/Edinburgh
Christopher Sherrington,+100kg, Ormskirk/Broxburn
*replacement for James Austin, who is injured
Sarah Adlington, +78kg, Shrewsbury/Edinburgh
Sarah Clark, -63kg, South Shields/Edinburgh
Sally Conway,-70kg, Bristol/Edinburgh
Stephanie Inglis, -57kg, Inverness/Edinburgh
Connie Ramsay, -57kg, Inverness/Edinburgh
Kimberley Renicks, -48kg, Bellshill/Coatbridge
Louise Renicks,-52kg, Coatbridge/Coatbridge
LAWN BOWLS (17 athletes)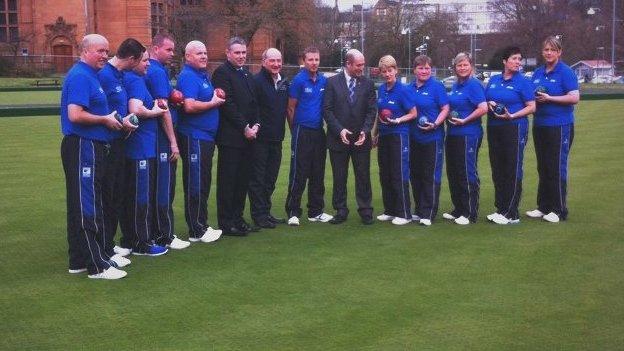 Darren Burnett, Singles & Triples (Skip), Born: Arbroath/Lives: Arbroath
Paul Foster, Pairs (Lead) & Fours (Third), Irvine/Troon
Alex Marshall, Pairs (Skip) & Fours (Skip), Edinburgh/Tranent
David Peacock, Triples (Lead) & Fours (Lead), Edinburgh/Dalkeith
Neil Spiers, Triples (Second) & Fours (Second), Edinburgh/Edinburgh
Lauren Baillie, Triples (Second) & Fours (Third), Edinburgh/Port Seton
Caroline Brown, Singles & Pairs (Skip), Holytown/Bellshill
Claire Johnston, Triples (Lead) & Fours (Lead), Irvine/Auchinleck
Margaret Letham, Triples (Skip) & Fours (Skip), Hamilton/Bothwell
Lorraine Molloy, Pairs (Lead) & Fours (Second), Broxburn/East Whitburn
Billy Allan, Para-Sport B6/B7/B8 Open Triples, Dunfermline/Cowdenbeath
Robert Conway, Para-Sport B2/B3 Mixed Pairs, Glasgow/Glasgow
Michael Simpson, Para-Sport B6/B7/B8 Open Triples, Kirkcaldy/Auchtermuchty
Kevin Wallace, Para-Sport B6/B7/B8 Open Triples, Stirling/Clackmannan
Irene Edgar, Para-Sport B2/B3 Mixed Pairs, Glasgow/Saltcoats
Ron McArthur, Para-Sport B2/B3 Mixed Pairs Director,Motherwell/Falkirk
David Thomas, Para-Sport B2/B3 Mixed Pairs Director,Old Windsor/Ardrossan
NETBALL (12 athletes)
Claire Brownie, Wing defence/Centre, Born: Aberdeen/Lives: Glasgow
Karin Connell, Wing attack/Centre, Bellshill/Glasgow
Rachel Forbes, Goal defence/Wing defence, Brisbane/Edinburgh
Lynsey Gallagher, Goal attack/Goal shooter, Rutherglen/East Kilbride
Lesley MacDonald, Goal shooter/Goal attack- Captain, Kirkcaldy/Glasgow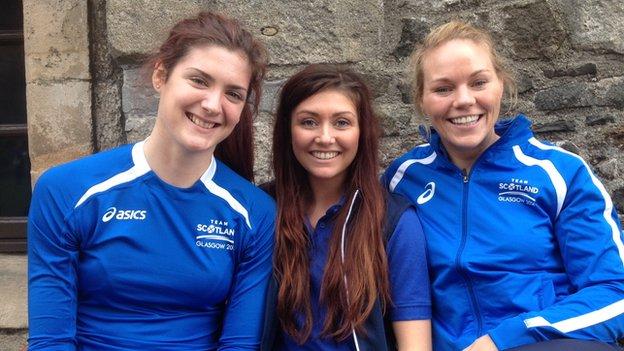 June McNeill, Goal keeper/Goal shooter, Glasgow/Glasgow
Fiona Moore-McGrath, Wing defence/Centre, Paisley/Paisley
Hayley Mulheron, Goal keeper/Goal defence- Vice Captain, Glasgow/Glasgow
Samantha Murphy, Centre/Wing attack/Wing defence, Rutherglen/East Kilbride
Jo Pettitt, Goal shooter/Goal attack, Edinburgh/West Linton
Gemma Sole, Goal shooter/Goal keeper, Edinburgh/Edinburgh
Fiona Themann, Goal keeper/Goal defence, Shepparton/Avondale Height
RUGBY 7s (12 athletes)
Mark Bennett, 10, Born: Irvine/Lives: Glasgow
James Eddie, 2, Paisley/Glasgow
Roddy Grant, 4, Jwaneng, Botswana/Edinburgh
Colin Gregor, 8, Glasgow/Glasgow
Stuart Hogg*, 12, Hawick/Glasgow
James Johnstone, 3, Dumfries/Edinburgh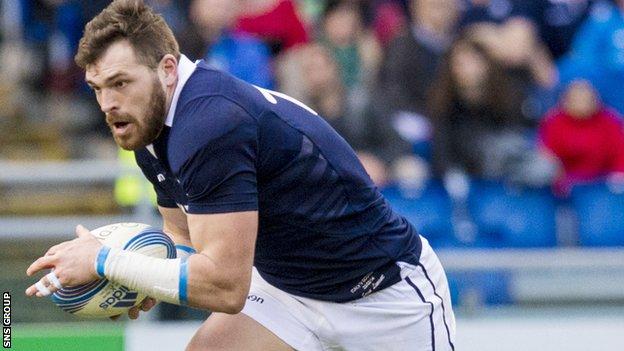 Lee Jones, 7, Edinburgh/Glasgow
Sean Lamont, 11, Perth/Glasgow
Scott Riddell, 5, Edinburgh/Edinburgh
Colin Shaw, 6, Irvine/Glasgow
Richie Vernon, 1, Dundee/Glasgow
Scott Wight, 9, Galashiels/Melrose
*replaces Tommy Seymour, who is injured
SHOOTING (16 athletes)
Drew Christie, Clay Target - Skeet, Born: Dundee/Lives: Dundee
Alan Goodall, Pistol - 50m Pistol, St Andrews/Leatherhead,Surrey
Jonathan Hammond, Small Bore Rifle - 50m 3P, 50m Prone, Aberdeen/West Virginia
John MacDonald, Clay Target -Trap, Fort William/Fort William
Angus McLeod, Full Bore Rifle - Individual & Pairs, Edinburgh/Warminster
David Owen, Pistol - 10m Air Pistol, Inverness/Carlisle
Jonathan Reid, Clay Target - Trap, Paisley/Brixham, Devon
Alan Ritchie, Pistol - 10m Air Pistol, 50m Pistol, Paisley/Johnstone
Ian Shaw, Full Bore Rifle - Individual & Pairs, Chatham/Epsom, Surrey
Neil Stirton, Small Bore Rifle - 50m Prone, 50m 3P, Aberdeen/Aberdeen
Caroline Brownlie, Pistol -10m Air Pistol, 25m Pistol, Edinburgh/Bishops Waltham
Sian Bruce, Clay Target - Skeet, Dundee/Dundee
Sarah Henderson, Small Bore Rifle - 50m Prone, 50m 3P, Edinburgh/Halkirk
Shona Marshall, Clay Target - Trap, Aberdeen/Alford, Aberdeenshire
Jennifer McIntosh, Small Bore Rifle - 10m Air Rifle, 50m Rifle 3P, 50m Rifle Prone, Edinburgh/Edinburgh
Seonaid McIntosh, Small Bore Rifle - 10m Air Rifle, Edinburgh/Dollar
SQUASH (7 athletes)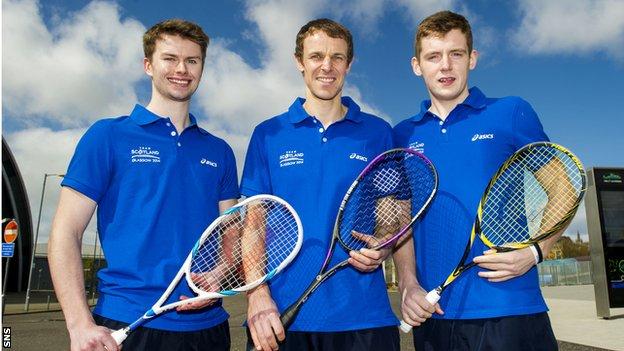 Alan Clyne, Men's Singles, Men's Doubles, & Mixed Doubles, Born: Inverness/Lives: Edinburgh
Stuart Crawford, Men's Doubles, Irvine/Edinburgh
Harry Leitch, Men's Doubles, Edinburgh/Cambridge
Greg Lobban, Men's Singles, Men's Doubles, Inverness/Edinburgh
Kevin Moran, Men's Singles, Mixed Doubles, Paisley/Edinburgh
Alexandra Clark, Women's Doubles, Mixed Doubles, Edinburgh/USA
Frania Gillen-Buchert, Women's Doubles, Mixed Doubles, Cape Town/Edinburgh
TABLE TENNIS (7 athletes)
Sean Doherty, Team, M Singles, M Doubles, Mixed Doubles, Born: Glasgow/Lives: Glasgow
Niall Cameron, Team, Men's Doubles, Mixed Doubles, Glasgow/London
Craig Howieson, Team, Men's Singles, Men's Doubles,Edinburgh/Edinburgh
Gavin Rumgay, Team, Men's Singles, Men's Doubles, Perth/London
Gillian Edwards, Team, Women's Singles, Mixed Doubles, Blairgowrie/Perth
Lynda Flaws, Team, Women's Singles, Women's Doubles, Lerwick/Glasgow
Corinna Whitaker, Team, W Singles, W Doubles, Mixed Doubles, Glasgow/Perth
TRIATHLON (5 athletes)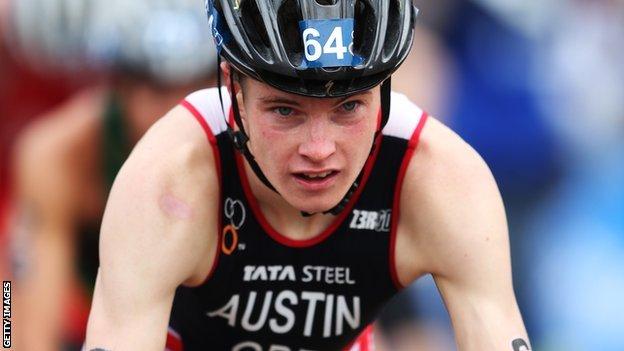 Marc Austin, Individual, Mixed Team Relay, Born: Glasgow/Lives: Glasgow
David McNamee, Individual, Mixed Team Relay, Irvine/Leeds
Grant Sheldon, Individual, Mixed Team Relay, Bellshill/Blantyre
Natalie Milne, Mixed Team Relay, Dundee/Stirling
Seonaid Thompson, Mixed Team Relay, Eastbourne/Leeds
WEIGHTLIFTING/POWERLIFTING (5 athletes)
Peter Kirkbride, 94kg, Born: Irvine/Lives: Hurlford
Micky Yule, Men's Heavyweight, Edinburgh/Lincoln
Georgina Black, 63kg, Irvine/Kilmarnock
Louise Mather, 69kg, Alexandria/Glasgow
Sophie Smyth, 58kg, Irvine/Kilmarnock
WRESTLING (14 athletes)
Joseph Luigi Bianco, 86kg, Born: Campbell River, Canada/Lives: Phoenix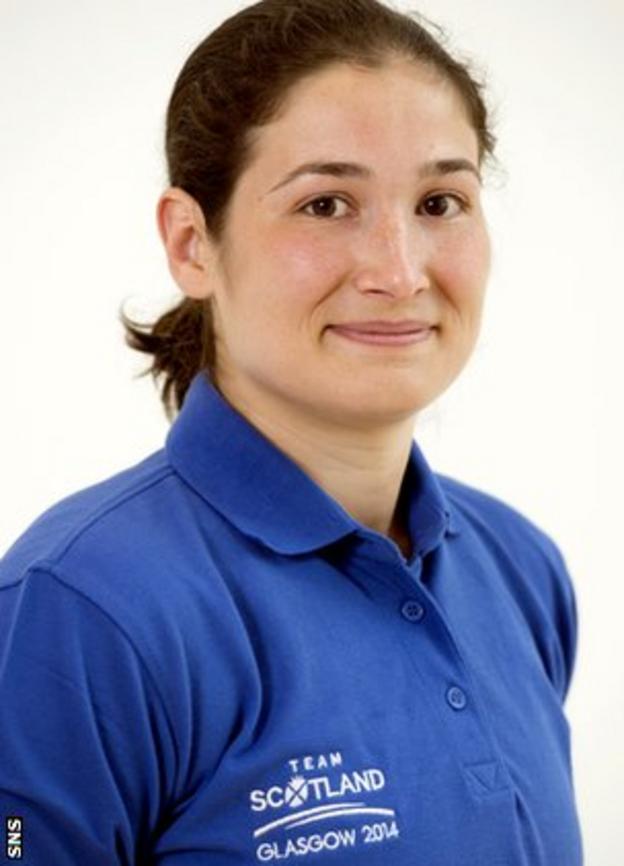 Viorel Etko, 61kg, Gorodiste/Aberdeen
Alex Gladkov, 65kg, Lugansk/Glasgow
Brian Harper, 57kg, Stirling/Tullibody
Gareth Jones, 65kg, Glasgow/Old Kilpatrick
Ross McFarlane, 57kg, Glasgow/Glasgow
Lewis Waddell, 86kg, Stirling/Alloa
Jayne Clason, 53kg, Falkirk/Grangemouth
Shannon Hawke, 53kg, Stirling/Tullibody
Sarah Jones, 69kg, Edinburgh/Glasgow
Kathryn Marsh, 55kg, York/Glasgow
Chelsea Murphy, 55kg, Stirling/Tullibody
Fiona Robertson, 48kg, Irvine/Hamilton
Donna Robertson, 48kg, Irvine/Hamilton