Glasgow 2014: Curtain to rise on 20th Commonwealth Games
By Neil Johnston
BBC Sport
Last updated on .From the section Commonwealth Games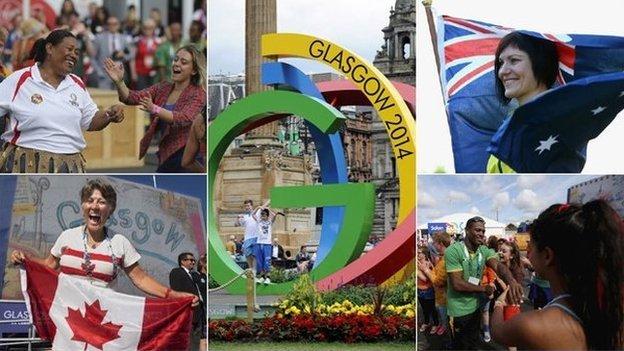 Glasgow 2014 Commonwealth Games
Opening ceremony:
21:00 BST.
Competition dates:
24 July - 3 August.
Coverage:
Live on BBC TV, HD, BBC Radio 5 live, BBC Radio Scotland, Red Button, Connected TVs, online, tablets and mobiles
Sir Chris Hoy says Glasgow will deliver "the biggest and best Commonwealth Games we've ever seen", ahead of Wednesday's opening ceremony.
About 4,500 athletes from 71 nations will take part in the 20th edition of the Games, which run until 3 August.
"It's going to be spectacular," said Scotland's six-time Olympic and double Commonwealth champion.
Swimmer Michael Jamieson, a big Scots medal hope, added: "You can already see there's a buzz around the city."
The 25-year-old silver medallist from the 2012 Olympics, who is chasing 200m breaststroke gold on the opening day of action on Thursday, said: "It's known as the friendly Games for a reason. It just has such a great feel about it."
The reputation of the Commonwealth Games was damaged by the 2010 Games in Delhi, which were plagued by poor ticket sales and problems with venues and accommodation.
Organisers were forced to give away thousands of free tickets after seats remained unsold, but that still could not prevent images of half-empty venues being beamed around the world, but Hoy is confident there will be no repeat in Glasgow.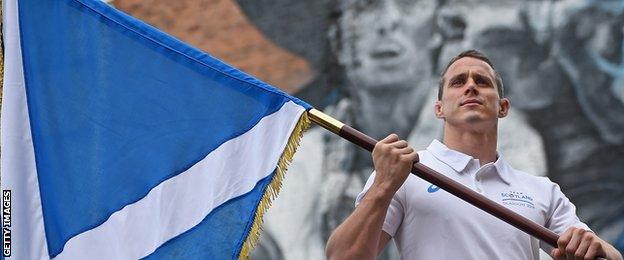 "We've been ready for the last year and a half," added the former track cyclist, who retired in 2013. "Everyone's desperate to get started."
Commonwealth Games Scotland chairman Michael Cavanagh added: "There's an enormous buzz in Glasgow and that's just going to continue.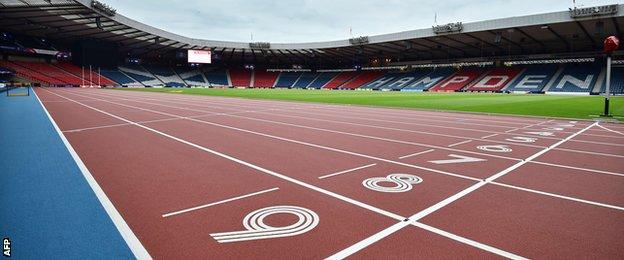 "It's going to be absolutely fantastic and the opening ceremony will be extraordinary and get us off to a terrific start."
Glasgow began preparing for the Games, which features 18 sports across 11 days of competition, in 2007, when it beat Nigeria's capital Abuja in the vote to stage the event.
Scotch on the rocks
The decision to award Glasgow the 2014 Games was announced in Sri Lanka in 2007. The bid team from Glasgow took a special bottle of Scotch whisky to Colombo to be opened after the result - win or lose.
Commonwealth Games-related contracts worth £401m have been awarded, Glasgow City Council has revealed, while there were 2.3m requests for tickets when the first one million went on sale last year.
"The Games will be delivered, to the relief of us all, within budget," said Scottish first minister Alex Salmond.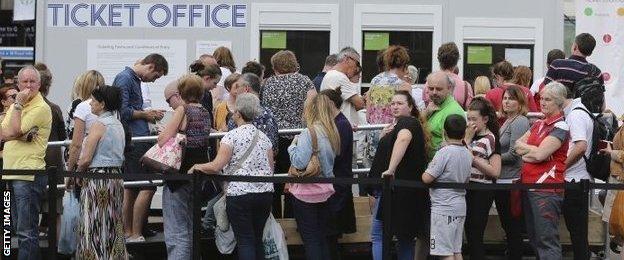 "To spectators, they will be the most affordable Games ever."
He said that London had set "a very high bar" when staging the 2012 Olympics but added: "It will be our task over the next 10 days to see if we can leap over that bar."
There will be some big names missing from the Games, though, because of a combination of injury, choice or other circumstances.
Five big names missing from Glasgow 2014
Heptathlete Jessica Ennis-Hill, England:
2012 Olympic champion and former world champion
Sprinter Yohan Blake, Jamaica:
Olympic silver medallist in 100m and 200m and former 100m world champion
Cyclist Mark Cavendish, Isle of Man:
Former world champion on track and road, plus multi-stage winner in Tour de France
Cyclist Becky James, Wales:
Double gold medallist at 2013 World Track Cycling Championships
Heptathlete Katarina Johnson-Thompson, England:
Gold medallist at 2012 World Junior Championships
Among them are sprinters Yohan Blake and Dwain Chambers, cyclists Mark Cavendish, Becky James and Wendy Houvenaghel, and heptathletes Jessica Ennis-Hill and Katarina Johnson-Thompson.
Welsh hopes have taken a major hit in particular, following the loss of James, athlete Gareth Warburton, boxer Fred Evans and triathletes Non Stanford and Helen Jenkins.
Jamaica sprint star Usain Bolt, winner of the 100m and 200m at the past two Olympics, will be in Glasgow but says he will only run the relay after minor foot surgery and a hamstring injury.
Five big names appearing at Glasgow 2014
Sprinter Usain Bolt, Jamaica:
Competing in the 4x100m relay
Runner Mo Farah, England:
Competing in the 5,000m and 10,000m
Sprinter Shelly-Ann Fraser-Pryce, Jamaica:
Competing in the 100m
Cyclist Sir Bradley Wiggins, England:
Competing in the team pursuit
Diver Tom Daley, England:
Competing in 10m individual event
"I'm going there for my fans and I'm going there to show that I'm getting back into shape and they can look for great things now and for the years to come," he said.
Distance runner Mo Farah, a double Olympic champion, and diver Tom Daley, who won a bronze medal at London 2012, will be in action too, while Sir Bradley Wiggins, winner of the Tour de France and Olympic gold in 2012, will compete in the velodrome.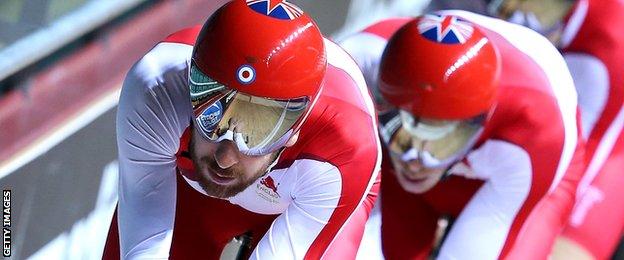 Scotland have several possible gold medallists, among them Jamieson and runner Eilidh Child, as they seek to better their 33-medal haul the last time they held the Games, in Edinburgh in 1986.
Team Scotland chef de mission Jon Doig said new national heroes would emerge during the next 12 days.
"We see people becoming household names every Games," he said.
Scotland is staging the Commonwealth Games for a third time, after Edinburgh played host in 1970 and 1986.
The first Games were held in 1930 in Hamilton, Canada, where 400 athletes from 11 countries took part in 59 events across six sports.
More than 10 times that number of athletes will compete in Glasgow, chasing gold medals in 18 sports.
St Helena are among the nations taking part and with construction of the South Atlantic island's first airport not due for completion until 2016, some of their team members have endured an epic journey just to make it to Glasgow.
Badminton player Lee Yon travelled five days on a ship to reach Cape Town in South Africa and from there he made it to Scotland via Amsterdam.
"I am still trying to get my legs back because I haven't played badminton since I left the island two weeks ago," he said.
"When you're on the ship you have your sea legs and then on land you are wobbling all over the place."
Five top facts about the Commonwealth Games
Only six teams have attended every Games: Australia, Canada, England, New Zealand, Scotland and Wales.
Australia have won the most gold medals - 804 - and are the only team to have amassed more than 2,000 medals.
The 3,000th Commonwealth Games gold medal will be awarded in Glasgow.
Australia has staged the four-yearly event four times as have Canada.
Glasgow marks the third time Scotland has staged the four-yearly event, after Edinburgh played host in 1970 and 1986.
Around 300 competitors in Glasgow, including Paralympic champions David Weir, Aled Davies and Neil Fachie, will be chasing 22 golds in the Para-sports of cycling, athletics, swimming, powerlifting and lawn bowls.
"The Commonwealth Games show that it doesn't matter if you are disabled or non-disabled," said Baroness Tanni Grey-Thompson, one of Britain's most successful disabled sports stars.