Tom Daley and England divers' flight has engine problem
By Brent Pilnick
BBC Sport
Last updated on .From the section Commonwealth Games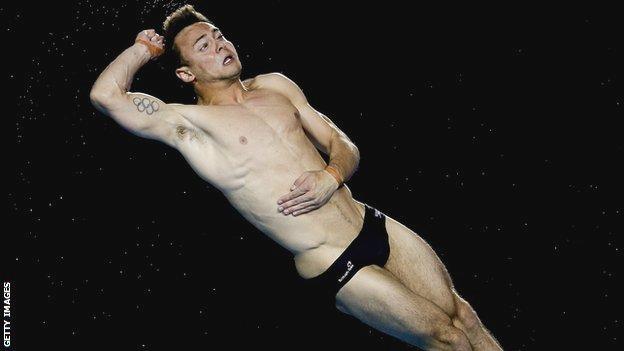 Glasgow 2014 Commonwealth Games
Dates:
23 July - 3 August
Coverage:
Live on BBC TV, HD, BBC Radio 5 live, Red Button, Connected TVs, online, tablets and mobiles
A flight with England divers including Tom Daley on board almost had to make an emergency landing in a river after developing a technical issue.
Daley and team-mates including Sarah Barrow and Tonia Couch were returning to London from Shanghai on Monday after
Their Virgin Atlantic flight eventually landed at a military base in the Russian city of Irkutsk.
The divers are not expected to miss any of the Commonwealth Games.
Kevin Barrow, the father of diver Sarah, told BBC Sport: "Over Mongolia, that's when things started going wrong and smoke was coming from the engines.
"The crew had their oxygen masks on and they prepared for an emergency landing.
"Sarah said afterwards that they were heading for a river as that was the safest place to land, but eventually the captain managed to make his way to an army camp with an airstrip where they managed to land.
"When they landed, people came round with extinguishers putting out the engine which was smoking."
All the passengers and crew went to a hotel and are set to return to London on Tuesday afternoon.
"It was strange feeling because it was after the event that we found out, so I wasn't really frightened as it had already happened," Mr Barrow added.

"It's after a few hours when you think 'oh my God', especially after the news of a few airlines recently."
Daley will defend his 10m individual title, while Barrow and Couch dive in the 10m individual and synchro events at Glasgow 2014.
But they will now be delayed in arriving in Scotland and will have less time to prepare for their events, which start for Barrow and Couch on Wednesday, 30 July.
"The plan was for them to go to Glasgow and stay for two nights to get a feel for it, and then go to Edinburgh as the diving is in Edinburgh, not Glasgow," Barrow said.
"This has delayed them a day, they've got jetlag to get over as Shanghai is seven hours ahead, then they've got to pick up their kit.
"They'll probably still make it, but they'll be a bit tired and shell-shocked."
The trio, along with a number of coaches, are set to arrive back in London later on Tuesday.
"Hopefully, they're due to land at Heathrow late this afternoon," Daley's mother Debbie told BBC Radio Devon.
"They're going to be at the Commonwealth Games as planned, just a little bit late for their training camp unfortunately."
When asked if Tom Daley was shaken up by the experience, his mother said: "At the time, I think, because you think 'what's going to happen?'.
"Everything goes through your head, but when I spoke to him this morning he was absolutely fine."