Non Stanford: Triathlon world champion 'excited' by Games
Last updated on .From the section Commonwealth Games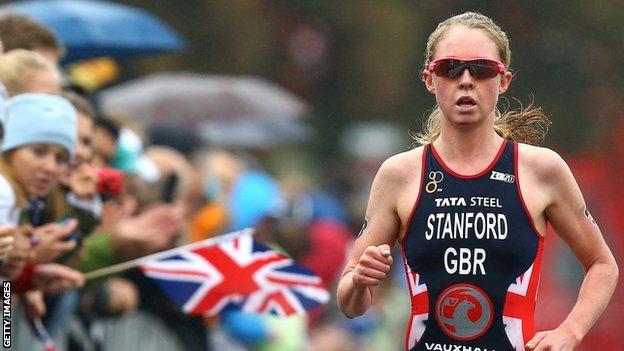 In her BBC Wales Sport column, world triathlon champion Non Stanford reflects on missing out on the Commonwealth Games because of injury and looks forward to Wales' chances in Glasgow.
The sun is shining in Glasgow and the atmosphere here is fantastic as everyone looks forward to the start of the Commonwealth Games.
I came to terms with the fact I won't be competing in the Games a few weeks ago.
I train with a lot of the people that will be racing and I couldn't mope around feeling sorry for myself when they were preparing for the Games themselves.
I really didn't want to bring the morale down in the camp by being upset so I think that actually helped me because I had to get on with it.
I was determined to make sure that their build-up to the Games was as positive as possible and they went in as prepared as possible by helping them where I could.
It will be a bit difficult watching the race start on Thursday and watching it unfold but I'm excited to be here and making the most of a bad situation I guess.
Medal contenders
Alistair and Jonathan Brownlee are two of my training partners and they're both quite confident. You can tell with the boys if they're in good shape because they exude confidence.
Barring any disasters they should be absolutely fine.
I think the women's race is much more open than the men's race and I wouldn't like to call it because there are a lot of things that could happen and it will be really interesting to see how the race unfolds.
The major threats are going to be the Canadian Kirsten Sweetland, the Australian Emma Jackson and the New Zealander Andrea Hewitt.
You've also got Jodie Stimpson, Vicky Holland is an outside chance as well and Northern Ireland's Aileen Reid so it's a wide open race and it will be exciting to watch.
Helen Jenkins and Leanda Cave
Helen would have been the favourite had she not been ruled out by injury. She is the complete triathlete. It's a massive shame and I'm sure the other girls are rubbing their hands together with glee because the favourite is out.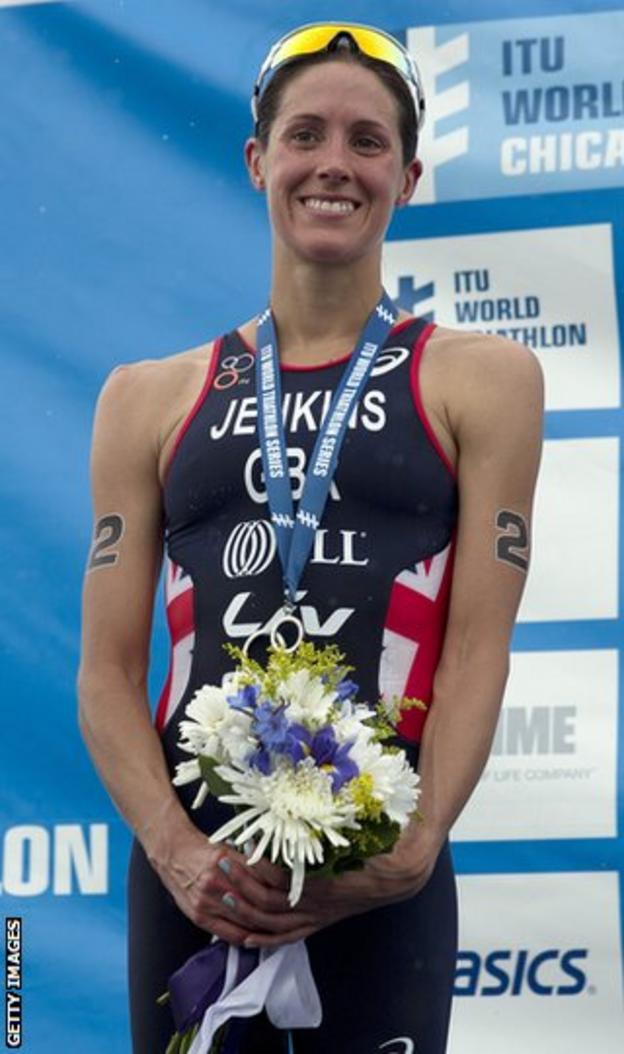 She's dealing with it as best she can. She's obviously upset but she's had to deal with so much disappointment in the last two years anyway.
But she's still positive and still smiling and I'm sure she will back to fight another day.
I was disappointed Leanda Cave wasn't selected from the outset. How amazing would it have been to have three world champions on the start line.
It's not just that. She's an incredibly experienced athlete who has won a medal at a Commonwealth Games and a former world champion over the distance.
Wales definitely missed an opportunity there because she was also willing to act in a support role for Helen and myself.
But I knew that she wouldn't be selected once Helen and me were out because her name was never put forward to the Commonwealth committee.
I've spoken to the [Welsh Triathlon] selectors and they have their reasons for not selecting Leanda but they won't disclose what those reasons are so I'm still in the dark as much as anybody.
I do feel sorry for Leanda because I think it's a kick in the teeth for her and a bit of an insult, but you have to put your faith in the selectors.
Wales' young team
Hopefully the team on Saturday can prove everyone wrong and go out there and deliver. They have an outside chance of medalling if they all perform at their absolute best.
They are on the whole quite a young team and a lot of them are real potential talents for the future, especially Liam Lloyd and Morgan Davies.
For them it will be a massive learning curve and part of their development and fingers crossed they will get a positive experience from it and go forward over the next couple of years.
Commentating duties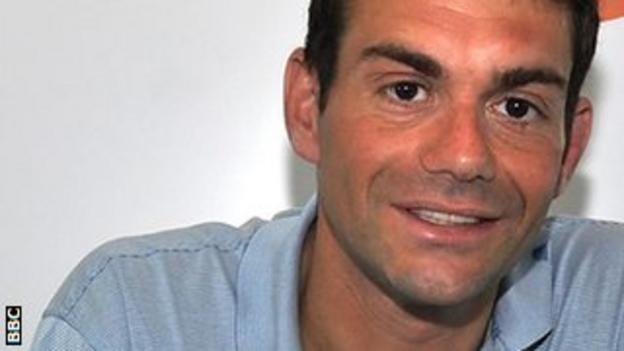 I'm really excited to be working for Radio 5 Live during the Games.
When I found out I was commentating with Vassos Alexander I rang my mum and dad who listen to Radio 2, on which Vassos does the sport on the Chris Evans Breakfast Show.
I can't wait to meet him and I think I will be a bit star struck when I do. I'm looking forward to it and it will be good fun.
I'm just seeing it as an opportunity to do something different and see what life is like on the other side, which could help me in my own career.
*Non Stanford was talking to BBC Wales Sport's Aled Williams