Glasgow 2014: The novice cyclist looking to inspire a nation
By Ben Dirs
BBC Sport in Glasgow
Last updated on .From the section Commonwealth Games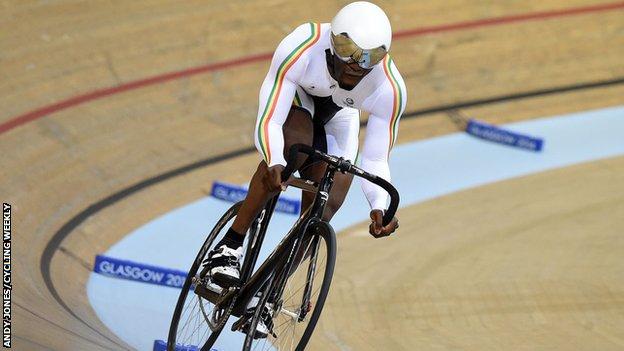 If you're not going to be the best, then at least try to be the first. Because by being the first, you might at least inspire somebody else to be the best.
Ten months ago, Jeddie Amoako-Ackah was "an ordinary lad from Glasgow", and happy with it.
Having moved from Ghana to Scotland as a 10-year-old, via Botswana and London, he was two years into a sports therapy degree, happily settled, Ghana an obscure and fading memory.
On Thursday morning at the Sir Chris Hoy Velodrome, Amoako-Ackah became the first Ghanaian to compete in track cycling at a Commonwealth Games.
The 23-year-old finished 26th out of 28 in sprint qualifying.
But that's not really the story.
Amoako-Ackah's incredible journey
Born in Asamankese in Ghana on 20 April 1991
Moved to Scotland in 2001
Only began training at the Sir Chris Hoy Velodrome in Glasgow in 2013
Sporting philosophy: "We face neither east nor west, we face forward."
The real story begins last March, when a man came to Amoako-Ackah with a mad, mad plan that would reconnect him with his roots and set him on a new path completely: "What do you know about cycling? Nothing? Nae bother..."
"He was a Ghanaian-Scottish businessman called Sean Dyantyi and he told me he wanted to bring the first Ghanaian track cyclist to the Commonwealth Games," says Amoako-Ackah, who came to the attention of the rubbish removal merchant because he had dabbled in boxing and judo and seemed an ideal fit.
"At first, I didn't really plan to get involved but shortly after our meeting I went to Ghana for seven weeks, having not been back there for 18 years.
"I felt like a bit of a stranger. I couldn't really understand the culture or what people were saying to me. But I had an awakening; I fell in love with the place.
"So when I got back to Scotland, I arranged another meeting with Sean and we decided to go ahead with his plan.
"I thought it was a great opportunity - to either make a fool of myself or do something great for the Ghanaian people."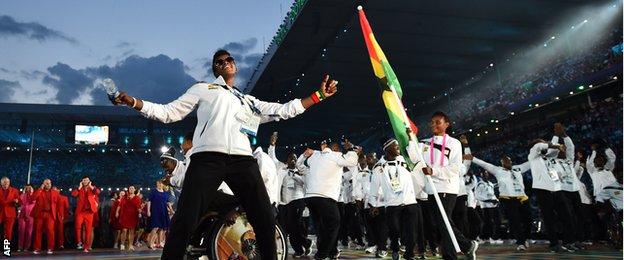 Amoako-Ackah, whose mother is a midwife and father a pastor, postponed his studies at the University of Chichester and resolved to be the first.
But being the first is even more difficult than it looks.
"I turned up in tracky bottoms and trainers," says Amoako-Ackah, whose accent veers between a soft Scottish twang and what he calls "pseudo-American".
"I went round the track a few times and thought 'this is no big deal'."
In fact, it took Amoako-Ackah seven attempts to pass the final two accreditation tests that would even allow him to train at the Sir Chris Hoy Velodrome.
"You keep pedalling or you fall off," he says. "Especially at the speed I was going."
Between last September and March, Amoako-Ackah trained himself, learning the fundamentals of track cycling.
Amoako-Ackah on living in Glasgow
"I love the humour on the streets. I was walking along with my bike the other day, but just the frame, and somebody tapped me on the shoulder and said: 'Pal, I think somebody's nicked your wheels.' There's no place like Glasgow."
Despite his thick frame, he convinced himself he was an endurance athlete, before David Daniell, who won a silver medal for England at the 2010 Commonwealth Games, offered his services as a coach.
Even doing the wrong training, Amoako-Ackah had managed to cut his flying 200m time from 19.57 seconds to 13.12 in six months. With Daniell involved, he lowered his personal best to 11.7 - some way off world class but only 0.8 seconds behind the slowest time recorded at the 2012 Olympics.
While Daniell provided the know-how, the funding and the kit was provided by Dyantyi and various local businesses.
But top of the range track bikes don't come cheap, while the closure of Glasgow's velodrome for two months before the Games meant he completed his preparations out on the streets.
Meanwhile, the Ghana Cycling Federation, while thrilled to discover it had somebody competing on the track in Glasgow, was unable to provide much beyond moral support and approval.
Ghana at the Commonwealth Games
Ghana have been a regular force in the Commonwealth Games since 1954, missing only the 1986 Games in Edinburgh as part of a widespread boycott.
Only their debut Games and the 1982 event in Brisbane failed to deliver medals, with Jamaica in 1966 producing their biggest haul of golds (five).
At the 2006 Games in Melbourne, Ghana took home two gold medals while the Games in Delhi in 2010 yielded one silver and two bronze medals.
"They were shocked when I got in touch last December, but they also saw me as someone who could progress the sport in Ghana," says Amoako-Ackah, who is involved in a project to build his native country's first velodrome and dreams of being part of Ghana's first track cycling team at the 2016 Olympics in Rio de Janeiro.
Amoako-Ackah has reconnected with his past, but he retains a deep love for his adoptive country and its people.
"Now I'm pure Scottish, you know what I mean?" says Amoako-Ackah, affecting a thick Glaswegian brogue.
"When I first came to Glasgow, I couldn't understand my teachers or my fellow pupils. They spoke so fast. But I also remember my dad giving me a CD of bagpipe music, which he'd got free from a newspaper. I listened to it for a year, almost continuously. I was weirdly obsessed with it.
"I've really warmed to the people and the culture and I've always felt accepted.
"I love the humour on the streets. I was walking along with my bike the other day, but just the frame, and somebody tapped me on the shoulder and said: 'Pal, I think somebody's nicked your wheels.' There's no place like Glasgow.
"I've benefited greatly from being in Scotland and I'm very proud to be Ghanaian-Scottish, or Scottish-Ghanaian, whichever way you look at it."
Amoako-Ackah clocked 12.678 seconds in Glasgow on Thursday, three seconds behind Australia's Matthew Glaetzer, the fastest qualifier.
But while Glaetzer is the ripe fruit of a bountiful tree, Amoako-Ackah is proud to be a seed sower.
"There's been a big burden on my shoulders but you should never be too frightened to take a risk," he says. "That's what makes us great.
"When I pulled on that skinsuit before my race, I felt so proud. I'm only just getting my feet wet and I may not turn out to be the best Ghanaian sprint cyclist ever.
"But I can pave the way for my fellow Ghanaians to be better than me."