Glasgow 2014: Farah forgotten as the Games bask in golden glow

By Tom Fordyce
Chief sports writer
Last updated on .From the section Commonwealth Games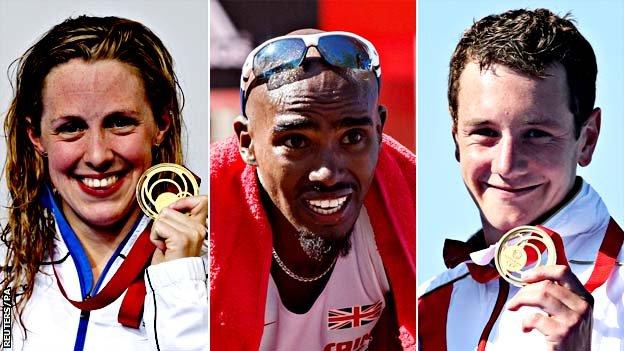 On another sun-buttered day in Glasgow, it was the only grey cloud in the sky: the announcement that double Olympic champion Mo Farah was pulling out of the Commonwealth Games.
Along with his friend Usain Bolt, Farah was the biggest individual name at these Games, one of the few instantly recognisable, not only to athletics fans but also the dabblers and part-timers whose interest is so important to an event like this.
It explains the early panic in some quarters. But Glasgow will survive and prosper nonetheless.
When an 11-day multi-sport extravaganza is less than 24 hours old, it is always the withdrawals that are likely to make the biggest headlines.
The good stuff is only just beginning. The new heroes are still warming up or arriving.
Farah's 5,000m and 10,000m finals, two summers on from his golden double at London 2012 and 12 months on from his peerless repetition at the World Championships in Moscow, were two of the undoubted highlights of the athletics programme.
But, after a summer defined by injury, it was always doubtful whether he would make it to the start-line and, if he did, whether he would be in good shape.
Rumours coming from his training base in the Pyrenees in the past fortnight had already suggested the 5,000m would come too soon.
That he has chosen now to stay in France to prepare instead for August's European Championships in Zurich makes logical sense, even if the manner of the decision will grate with some.
Farah has always been equivocal about these Commonwealths. It is one of the reasons he decided to make his marathon debut in London this April. Rather than risking a World Championships or an Olympics had it gone wrong, he was jeopardising only the two lower tier events in his calendar.
As it turned out, his marathon debut was disappointing rather than dismal, but it slowed his start to the summer - as did an abdominal illness earlier this month, which forced him to pull out of all his scheduled races in the build-up to Glasgow.
Now, he will turn his attentions to the European Championships, which, without the east African challenges that the Commonwealths bring, will offer an easier ride.
Farah is less swerving a challenge than listening to his body. Where some will criticise him is in not making a decision sooner, not only to free up a possible place in the England team but to avoid the start of the Games being overshadowed by the eventual announcement.
But this is how the rhythm of big sporting events works.
These Commonwealths have already lost Olympic heptathlon champion Jessica Ennis-Hill (proud new mother of son Reggie), Jamaican sprinter Yohan Blake (hamstring tear) and Isle of Man cyclist Mark Cavendish (shoulder wrecked after crashing on the opening stage of the Tour de France). It is par for the course.
Melbourne 2006 saw Australia's great hero Ian Thorpe miss out through illness and fellow swimming superstar Grant Hackett withdraw with an injured shoulder. The Games went on regardless to be one of the great Commonwealth showpieces.
Manchester 2002, another recent Commonwealth success, lost Olympic 400m champion Cathy Freeman - the biggest star in women's athletics at that time - when she withdrew to spend time with her seriously ill husband. By the end of a spectacular fortnight, it was the packed stadiums and multiple medals for the home nations that was the talk of the host city, not those athletes who were elsewhere.
Commonwealths are as much about emerging talent as established superstars.
At those 2002 Games, a young Scottish cyclist named Chris Hoy won his first international gold medal.
Four years earlier, a 17-year-old Bradley Wiggins won a silver for England in the team pursuit to begin his own long ascent to the stars, while, in the pool, a 15-year-old Thorpe was serving notice of his own prodigious physical gifts in winning two individual golds and two more in relays.
In the athletics arena alone, these Glasgow Games can still look forward to the stellar talents of David Rudisha, the Olympic 800m champion and world record-holder, Kirani James, Olympic champion over 400m, and Olympic 100m hurdles gold medallist Sally Pearson.
If it's British Olympic lustre you prefer, there is Greg Rutherford, crowned long jump champion in London a few minutes before Farah took his 10,000m gold on the night of Super Saturday.
The first day of these Commonwealths also offered several rich narratives to illustrate the point that it will be the deeds of those athletes who are here, big names or nobodies, that decide the memories of Glasgow rather than the early absentees.
Nothing makes a grand event resonate like home success.
On Thursday, Scotland began with a charge.
First, there was judo gold for Kimberley Renicks in the 48kg category, then - as many had been praying - another for swimmer Hannah Miley in the 400m individual relay.
A few minutes later, Kimberley's sister Louise bagged the family's second gold of the evening in the 52kg category, soon followed by another gold in the pool, this time a shock success for Ross Murdoch, who bettered home favourite Michael Jamieson, forced to settle for silver.
Old heroes, new favourites. Glasgow would have liked to see Mo, but not as much as this gold rush.
There was more to get excited about, too.
On a scorching day in Strathclyde Country Park, Alistair Brownlee's delight in winning triathlon gold at the end of a blistering battle with younger brother Jonny represented elite competition at its finest.
Brownlee already has Olympic, world and European titles to his name, but the Commonwealth crown clearly counted alongside them.
Way behind him, floundering in the unseasonably warm waters of Strathclyde Loch, Kenya's Vincent Onyangi was a remarkable tale for differing reasons.
Onyangi has never before swum in open water. He had to borrow a wetsuit from the Brownlees two days ago before the weather made the wearing of one unnecessary. While the big boys out front powered through the swim in under 18 minutes, the Kenyan was bobbing around doing breast-stroke and had yet to complete his first lap when the leaders were on their bikes.
Then there was Gibraltar's Christopher Walker, racing against the 26-year-old Olympic champion despite having recently turned 47.
Stories abound in Glasgow - and the next week and a half will bring them to the fore.
Do not be entirely surprised either if Bolt, too, fails to appear.
Scheduled only to run the 4x100m relay, having been notable only by his absence across the Diamond League this summer, he has no sort of form and very little incentive.
Glasgow would love to see the six-time Olympic champion perform at Hampden Park. But if he does not, thousands of others will.