Glasgow 2014: Best Manx female swimming result since 1970
By Mark Edwards
BBC Sport in Glasgow
Last updated on .From the section Commonwealth Games
Isle of Man swimmers Laura Kinley and Charlotte Atkinson have become the highest-placed female Manx swimmers at the Commonwealth Games since 1970.
Both teenagers finished sixth in their respective semi-finals in Glasgow.
Kinley, 18, finished sixth in her 50m breaststroke semi-final (32.05 seconds) while Atkinson's result came in the 100m butterfly (1:0.12).
And the Manx team's youngest member, Niamh Robinson, 14, finished just behind Kinley in the 50m breaststroke.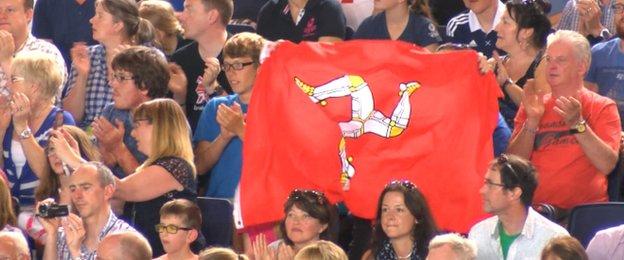 The result made the Lancashire-born schoolgirl the youngest IOM competitor to make a semi-final and the highest-placed junior Manx female athlete ever.
She said: "It was the biggest race of my life. It was amazing and I am thrilled - the crowd were magnificent."
Isle of Man swimming coach Lee Holland said: "They have rewritten the history books. It has been a great start for the Isle of Man."
The Isle of Man's Grant Halsall finished eighth in the semi-final of the men's 100m backstroke in a time of 56.78.
Earlier in the day Guy Davies and Alex Bregazzi both set personal bests but did not qualify in their events.
Bregazzi, who turns 16 this week, said: "It was great to see so many Manx flags it was an incredible atmosphere to swim in."
Halsall added: "It is really rare to represent the Isle of Man at anything. To go out with the three legs on your cap is pretty special and everyone has raised their game today."