Sir Bradley Wiggins - I will not ride Tour de France again
Last updated on .From the section Commonwealth Games
Sir Bradley Wiggins says he will not ride the Tour de France again after claiming that road racing is "cut-throat" with "no kind of loyalties".
He said: "The road is quite cut-throat. The track feels more like a family and a closer-knit group of people."
Wiggins won a Commonwealth Games silver medal in Glasgow on Thursday as England lost to Australia in the team pursuit.
He will now make track racing his priority as he targets gold at the 2016 Olympics in Rio de Janeiro.
Wiggins has not ruled out doing some road events, but in an interview with BBC Sport he said: "That will probably be it for the Grand Tours. I can't imagine doing that now.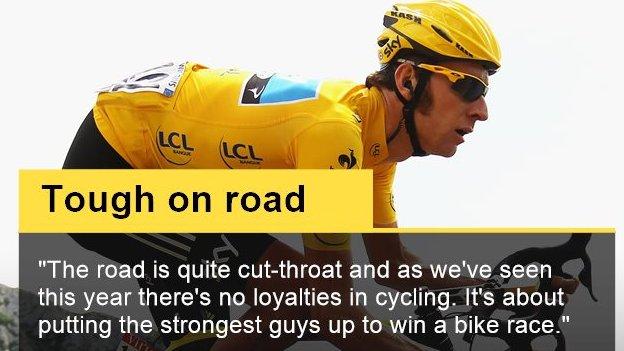 "The priority will have to be the track and the training towards that. I may need to change my body composition, maybe getting a bit heavier or stronger to deal with the event. We will use the road to complement it but the priority will be the track."
He said he was "pretty happy" with the performance in Glasgow and had enjoyed working and training with the rest of the team.
"They are a fantastic bunch and it's been a great couple of weeks," he said.
Wiggins has enjoyed remarkable success on road and track.
The same year he became the first Briton to win the Tour de France, he won Olympic gold in the time trial.
Rob Hayles, track cycling Commonwealth Games gold medallist
"What Bradley sometimes likes to do is throw a grenade to see what happens while he runs away giggling. I do think he is quite hurt by what has happened this year, but I don't think it is it the end of his road career."
He had already tasted success on the Olympic stage, winning gold in the individual pursuit at the Athens Games in 2004, then gold in the individual pursuit and team pursuit in the 2008 Games in Beijing.
Wiggins said he was in discussions with Team Sky about his future, having been overlooked for this year's Tour de France as boss Sir Dave Brailsford opted for Chris Froome, the 2013 champion, as team leader.
But Wiggins, who says road cycling has become "so political", gave a clear indication where his focus would be when he said: "I don't want to have to miss things on the track because of my commitments on the road.
"I've had my time there and had success with it. Things move on and it's natural evolution."
He also suggested that Team Sky might not want him.
"Team Sky have become so competitive now and it's all about winning Grand Tours," he said. "It's whether they've got a place for an ex-Tour winner to use the racing to prepare for the track.
"It's about putting the strongest guys up to win a bike race. It's not necessarily the most enjoyable thing to do."
Wiggins, who said he would return to training on Monday, also insisted he was not taking a "step down" by concentrating on the track.
"The track is where it all began for me," the Ghent-born star added. "I'd love to finish it on a high there."