Glasgow 2014: Ross Murdoch becomes nation's new local hero

By Tom English
BBC Scotland
Last updated on .From the section Commonwealth Games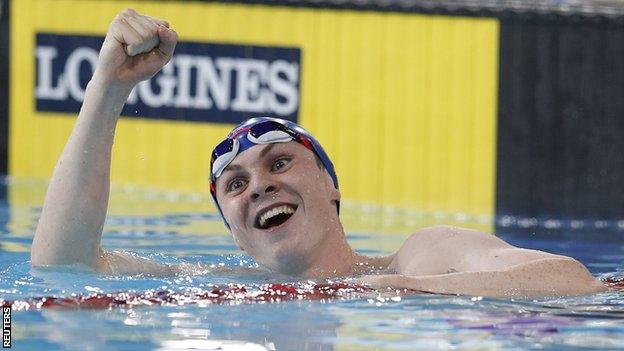 Even as they turned for the last 50m you sensed that Michael Jamieson was going to reel in the extraordinary Ross Murdoch.
You felt that the great man, the marquee act of Team Scotland, was going to eat up water and push past the young pretender.
Fifty metres became 40; then 30 and 20 before the moment of realisation hit: Murdoch, the Lion, was not for weakening.
Later, Murdoch said he couldn't describe the feeling and then proceeded to give a lyrical explanation of what went on.
"Coming down that last 50m and seeing nobody beside you - goosebumps," he said after striking gold.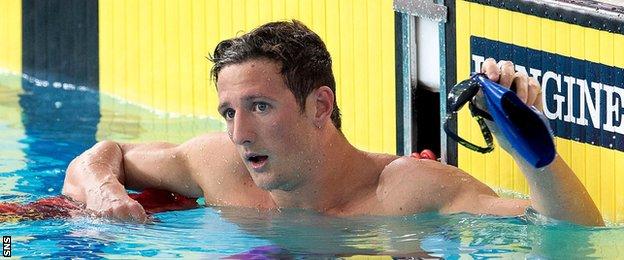 He powered on, super-charged by the roar of the crowd. Not just British-class or Commonwealth-class but world-class.
In the aftermath, Murdoch said he refused to believe his victory over Jamieson, who won silver in the 200m breaststroke at the London Olympics in 2012.
"There is no way that just happened," he said.
But it did; the gold around his neck and the tears flowing from his eyes told him that soon enough.
It would be wrong to say that Murdoch was unheralded in the build-up but there was an assumption that he wasn't going to barge in on Jamieson's fairytale and steal his happy ending. Nobody really saw this coming, not even the new champion.
He was confident of a medal, sure. He out-qualified Jamieson in the morning heats and did it with energy left in the tank.
He said that in the hours before the race he had allowed his mind to drift to what could possibly be in the final and he began to well-up with emotion. Then he gave himself a metaphorical slap.
Dreams come true, but not this kind of dream, he thought. This was a dream too far.
This was sport at its most dramatic and most unpredictable. Nobody wanted to think of Jamieson walking out of here without having added to his legend. That was no slight on Murdoch, it was just an illustration of the love that is shown to Jamieson in Scotland.
He has stood like a colossus above these Games for two years and it felt right that he would be its ultimate feel-good story. Tollcross was ready and waiting for a coronation of a great Scot. But it was a different Scot. Still great, but different.
It was reckoned that Murdoch's greatest strength in the pool was over shorter distances.
The morning session altered the narrative somewhat when he broke the Commonwealth Games record in qualifying. Even then, the collective wisdom of Tollcross had it that Jamieson had kept something in reserve, that when the moment of truth arrived The Man would emerge.
It wasn't a man, but a boy. Murdoch is 20 years old. A pup and an underdog. His face at the end was a picture to beat all pictures.
There will be so many wonderful images of joy in these Games but Murdoch's look of shock as he stared up at the board that hailed him as the champion was one that will live long in the memory.
He uttered an expletive in that moment and later apologised. No need. No need at all. The boy won a gold medal, broke a second Commonwealth Games record in one day and came wondrously close to breaking the world record that Jamieson had targeted so publicly and, perhaps, so naively.
All around the pool there was acclamation of the new master but it was acclamation heavily laced with shock. This was not the story they were expecting to see. Side by side in the water, Murdoch in lane four and Jamieson in lane five, the twin emotions of joy and despair were so evident.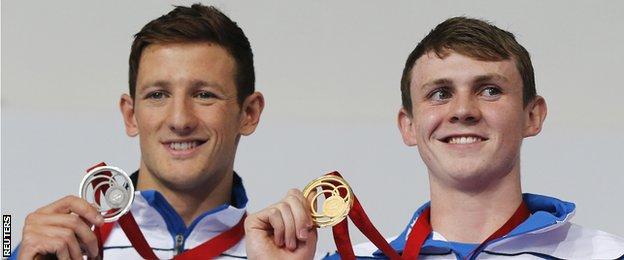 After the medal ceremony they walked around the pool and Jamieson looked shattered. Time and again on that circuit of Tollcross the bronze medallist Englishman, Andrew Willis, comforted Jamieson. He had a little word in his ear.
He patted him on the back. He tried to do something that was impossible in those minutes.
No acts of kindness - however generous and classy - were going to lessen the dejection.
Tollcross is such an intimate venue. When the swimmers go by you can almost feel the spray on your face.
When the giant board reveals the winners and losers you can almost make out the emotion on the faces of their family members on the other side of the pool.
Team Murdoch were just another bunch of faces in the crowd in the preamble. Murdoch's grandfather was in there somewhere, sitting quietly in the stand on the night of his 70th birthday until such time as his grandson brought him to his feet.
This was riotous stuff. A golden night for a new golden boy.
A night when Ross Murdoch announced himself on the Commonwealth stage - and far beyond.