Glasgow 2014: Judo cost worth it, say Renicks sisters
Last updated on .From the section Commonwealth Games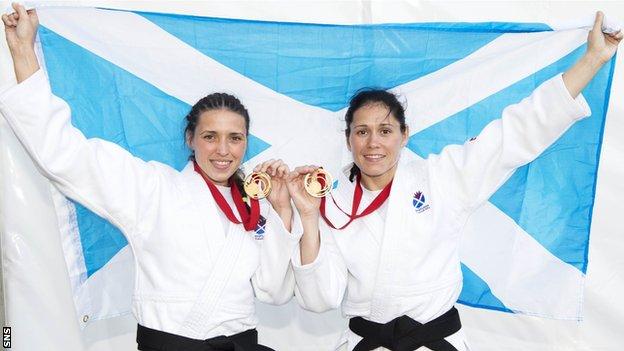 Commonwealth gold-winning sisters Kimberley and Louise Renicks say their personal investment in judo has been hard but worth it.
Kimberley, 26, beat India's Sushila Likmabam in the -48kg weight category before Louise, 31, overcame England's Kelly Edwards in the -52kg final.
Together, the sisters have spent around £25,000 on competing.
"It's not a money-making sport but we have such a passion and a love for the sport," Louise told BBC Scotland.
"Everybody thinks an athlete's life is lovely but it's hard.
"We've had the support of the Scottish Institute of Sport and Judo Scotland. They've got us in the best fitness and health we can be in.
"But it is an expensive sport and unfortunately they can't fund all 20 athletes so we have had to get sponsorship and it has been expensive. It's really, really hard because judo's a minority sport.
"It's train, work, train. In the last 10 weeks, we made sure we didn't work and our family have really had to support us. It's obviously been quite a financial stress.
"It's been worth it but obviously you couldn't spend every year like that."
And Kimberley added: "Judo's an international sport. You've got to travel to get the fights, to get the competitions. It's not like you just travel down to England and fight. You're over to Samoa, Japan, France - you're just constantly travelling.
"This is what we wanted to do so we go through it."
When asked about the issue of athletes raising their own funding, chief executive of sportscotland Stewart Harris responded: "We try to help as many athletes in as many sports in Olympic, Paralympic and Commonwealth realms that we can.
"We have given Judo Scotland £2.5m over this Glasgow cycle, which was a 24% increase.
"The girls themselves [the Renicks] will be part of a programme that's supported by Sports Scotland Institute and because they are deemed to be in the medal zone, they receive some additional help as well.
"We can never fully fund every athlete's aspirations but we're trying to do our best to achieve that and particularly here in Glasgow.
"We work with each of the sports to make sure there's a clear list of athletes that can receive the funding we have and make the best of it.
"We're always working hard to make sure that we have the right athletes on the right programme getting the right funding."
The Renicks sisters are now looking forward to supporting their fellow Scottish judoka and then the rest of Team Scotland at Glasgow 2014.
And, of their medals, Kimberley said: "I had it sitting just next to my bed but I lay facing it so I could see it when I opened up my eyes in the morning."
And Louise added: "I slept with mine under my pillow."