Glasgow 2014: England's Richard Kilty aims to 'shock'
By Gemma Collis
BBC Sport Kick Off reporter
Last updated on .From the section Commonwealth Games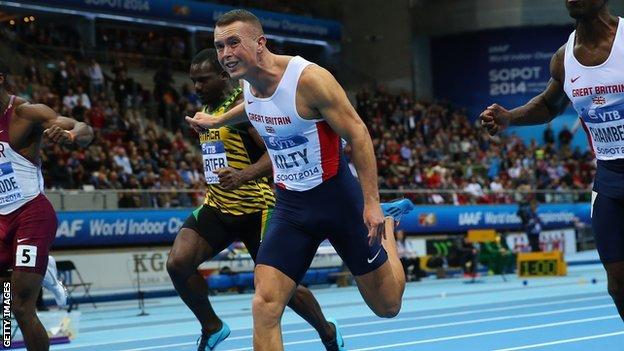 Glasgow 2014 Commonwealth Games
Dates: 23 July - 3 AugustCoverage: Live on BBC TV, HD, BBC Radio 5 live, Red Button, Connected TVs, online, tablets and mobiles
Gateshead Harriers and England sprinter Richard Kilty hopes to prove his doubters wrong once again as he targets success at the Commonwealth Games.
But he has since struggled to achieve competitive outdoor times.
"I think people have started to doubt me a little bit, so now I can go out there hungry and hopefully shock a few people," Kilty told BBC Newcastle.
Despite a promising opening to his outdoor season - with a time of 10.12 seconds in the 100m at the Elite Sprint Meet in Florida - Kilty has failed to make the progress that the 6.49 seconds he produced over 60m to become world champion suggested he could do this year.
Much to his own disappointment and that of his fans, Kilty has not yet come close to dipping below the 10-second barrier for 100m.
"It's been really frustrating because of the expectation that a lot of people have put on me and the expectation I put on myself," he added.
"I know that [6.49 seconds] is the time to carry you under 10 seconds [at 100m], almost definitely.
"There was a statistic that 75% of the people that have run under 6.50 seconds have broken 10 seconds so I should be in that shape."
The failure to convert his indoor form into outdoor performances has led to criticism on social media of the British sprinter's ability, something Kilty has tried to ignore.
"I just try to keep my comments to myself," he said.
"I guess maybe those people that are tweeting bad things about me are just a bit confused as to why I was running so quick indoors, but not outdoors.
Key Commonwealth Dates for Richard Kilty

Sunday 27 July (14:35-15:25)

100m heats

Monday 28 July (19:35-19:50)

100m semi-final

Monday 28 July (21:50)

100m final

Friday 1 August (21:35-21:55)

4x100m relay heats

Saturday 2 August (21:15)

4x100m relay final
"It's clear to see that I'm not performing outdoors as I was indoors, I'm not running at the same speeds as I was and there's obviously reasons for that which people don't see," he said.
"I'd have liked to have run a lot quicker than I have by now. But I've had a couple of health problems since I won World Indoors.
"It's the first time I've spoken about them. I've tried to keep quiet and make no excuses but I have had my fair share of personal problems which have prevented me from running as quick as I would outdoors."
Kilty says he is not worried by other British sprinters now getting more attention and hopes the pressure being off will give him chance to rediscover his form.
"Before the World Indoors nobody had any expectations of me whereas outdoors I went into the first couple of races and I was the poster boy for the Great Manchester City Games," he added.
"I was on the posters for the British trials and people had a lot of expectations of me.
"Now I haven't been running so quick people aren't expecting much.
"The pressure's off me and the limelight's back on them and to me that's great. I'm world champion and that title's always going to be with me.
"But now I don't feel like there's as much pressure on me, my goal is just to go out there and shock people.
"Hopefully the championship atmosphere will draw the best out of me and I can run a bit quicker than I have done before."